December Newsletter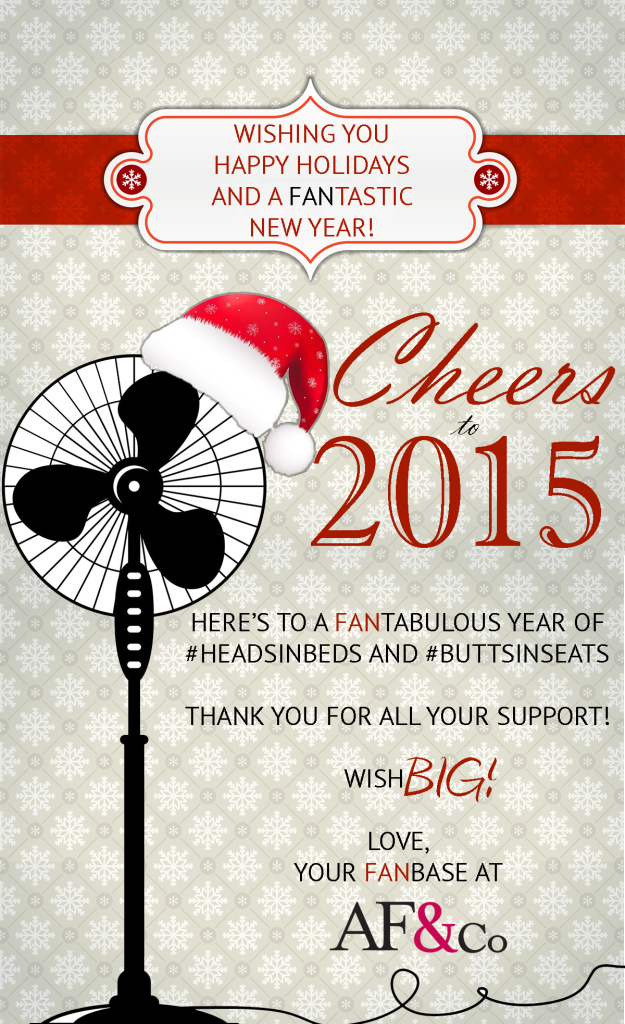 Haven't made your plans for New Year's Eve yet? Let us help! We've got you covered  — on both sides of the bridge!
San Francisco
E&O Kitchen and Bar Located in the heart of San Francisco's vibrant Union Square, E&O Kitchen and Bar is the perfect place to begin New Year's Eve festivities! Groups small and large can enjoy a delicious a la carte meal full of bold Asian flavors without the hassle or expense of a pre-fixe menu. Pair your meal with handcrafted cocktails like the Sutter Punch, made with pineapple-infused Matusalem rum, pineapple gum and lime. E&O's sleek interior, coupled with some of the friendliest service around, makes it the ideal spot to ring in 2015 in style. For reservations and more information, please visit: www.eosanfrancisco.com
Crystal Jade Located in San Francisco's Embarcadero Center, Crystal Jade is offering a special New Year's Eve six-course menu for $99 per person. The pre-fixe dinner includes savory dishes such as Apple Wood Roasted Duck, Deep Fried Wild Gulf Prawns with a Beijing-style sauce, Sautéed Beef Tenderloin with garlic slices, as well as a choice of a holiday dessert, including Baked Pumpkin Pastry or Japanese Mochi. To toast to the New Year, Crystal Jade will also offer a complimentary glass of champagne.
For reservations and more information, please visit www.crystaljade.com or call (415) 399-1200.
Bluestem Brasserie Join Bluestem Brasserie for an extravagant New Year's Eve event as they transform the restaurant to take guests on a Mediterranean Voyage. Inspired by a fantastic luxury liner cruise through the waters of the Mediterranean, Executive Chef Francis Hogan has created a very special menu to transport diners to different port of calls, including Barcelona, Monte Carlo, Italy and Istanbul. Bluestem will offer two menu experiences – a three-course adventure for $65 until 8:00 p.m. or a five-course luxe experience including cocktails, additional courses and entertainment for $125. Dressing for the occasion is strongly encouraged.
For each course, Chef Francis Hogan will offer guests two to three options to choose from. He will start the journey in Barcelona with an amuse bouche of either Tortilla Espagnole or a White Anchovy, Meyer Lemon, and Green Olive "Roll Mop" then move to the French Riviera with a Saffron-Fennel Soup, Frisee Salad with duck breast, or Caramelized Onion and Camembert Tart. Followed by a mid-course in Monte Carlo (second seating only) of Maine Lobster with caviar-vodka gelee. The next course will take guests to Italy (second seating only) with Beef Carpaccio, Crispy Sweetbread Picatta, or Burgundy Black Truffle Risotto. The third course will take guests to the Greek Isles with a Grilled Rack Of Lamb, Roasted Branzino, or Pine Nut, Goat Cheese, and Roasted Grape Stuffed Artichoke. For dessert, Pastry Chef Curtis McDonald will take guests to Istanbul with the choice of a White Chocolate Mousse with rose-infused lychee or Pistachio-Raspberry Entremet with mint and lemon infused formage blanc mousse or orange water and Vanilla Bean Roasted Banana Tat.
Bluestem will be open on New Year's day serving brunch favorites like their Mocha Brioche French Toast and Bluestem Burger along with recovery cocktails like a Rude Awakening, Hair of the Dog, and a Red Eye.
For reservations and more information, please visit http://www.bluestembrasserie.com/ or call (415) 547-1111.
Hog & Rocks: For New Year's Eve this year Hog & Rocks will offer a five-course family-style meal for $65 per person. Chef Robin Song will also offer an additional luxury supplement for $30 and expert beverage pairings from their amazing bar staff for $35. Chef Song will start the evening with Oysters served with Horseradish Ice, Pickled Mushroom, and Pine Oil as well as Pork Rillettes with crispy potato, radish, and chive, followed by a Winter Root Vegetable Salad. Next, he will offer Tarragon Paparadelle with Dungeness crab and sunchoke followed by a Roasted Quail with roasted chicory, truffled blackberry jus and a Fennel Cake Citrus with earl grey ice cream for dessert.
Reserve your spot here or by calling (415) 550-8627.
Palm House: Revel in the perfect Cal-Tropic party with Palm House at a Havana Nights themed New Year's evening, a nod to their Cuban influences. Guests can enjoy two options: an early seating with a three-course menu for $65 per person or a late night all-out bash including the three-course menu and access to their late night event. Starting at 10:00 p.m. Palm House will offer open bar, live entertainment, and passed appetizers to ring in the new year. Guests can experience both the dinner and party for $145 per person or simply the late night party with tickets starting at $95.
Chef Walker will be offering a number of choices to allow guests to create their perfect pre-fixe menu. Highlights include: Pumpkin and Ginger Bisque with Lobster or Seared Scallops with Rum Beurre Blanc. For entrees, guests can choose between four options including Peppered Skirt Steak with Chimichurri Sauce and Turmeric Sweet Potato Gratin or Seared Sea Bass with olive tomato chutney, black bean ragu, okra, plantain crisps. For dessert, Warm Chocolate Cake with roasted banana ice cream, dark chocolate sauce and rum caramel or Strawberry Short Cake with champagne sorbet and spiced chantilly cream.
Head to their website for more information: http://www.palmhousesf.com/
Perbacco: Celebrate New Year's Eve with Perbacco or barbacco as they raise their glasses to 2015. They will be offering their regular menu supplemented with a number of specialty items. Dashing off to a New Year's Eve party? Join barbacco for a delicious and simple meal of small plates and fine wine. Or, if you'd rather make your reservation the main event of the evening, join Perbacco for the full experience. Both Perbacco and barbacco will be closed New Year's Day.
Visit them online for more information, www.perbaccosf.com
Precita Park Café: Precita Park Café will be offering a special New Year's Eve menu until 10:00 p.m. – the perfect reservation for those enjoying a late holiday party.
They will be offering a number of delicious specials as well as wine promotions and beverage pairings. Appetizer highlights include Dungeness Crab with Winter Radishes, Avocado and Blood Oranges with Serrano Chile Vinaigrette or Local Smoked Sablefish with Satsuma Tangerine Vinaigrette, Crème Fraiche, and Micro Herb Salad. Entrees will include a selection of pizzas and handmade pastas including Crispy Ricotta Gnudi, Black Olives, Preserved Lemon, Spinach  or Lobster Mushroom and Ricotta Ravioli, Chanterelles and Lemon-Chive Butter and delicious proteins including Crispy Chicken with roasted chestnut bread pudding, butternut squash puree, fenugreek infused chicken jus or Stuffed Delicata Squash with smoked black eyed peas and romanesco, crispy quinoa. For dessert, they are offering Egg Nog Panna Cotta with cocoa nibs, whiskey sauce and cinnamon sabayon or Meyer Lemon Curd, Shortbread Cookie, Lemon Chantilly.
Precita Park Café will be open on New Year's Day offering brunch all day from 9:00 a.m. – 4:00 p.m. In addition to their standard brunch offerings, they will offer specials including Southern Fried Chicken and Waffles with Organic Maple Syrup and Dungeness Crab Benedict with fresh chive Hollandaise sauce.
For more information please visit, www.precitaparkcafe.com
East Bay
Wente Vineyards: End 2014 with a bang at The Restaurant at Wente Vineyards! This New Year's Eve, Executive Chef Matt Greco and his culinary team are celebrating with a special four-course pre-fixe dinner. To ring in the New Year, the team has crafted a festive menu featuring dishes such as Castlefranco with artichokes, parsley root and blood orange fennel vinaigrette and Braised Duck Ravioli with brown butter, chestnut, Brussels sprout and black truffle, as well as one-of-a-kind desserts including Caramelized White Chocolate Cheesecake with apple-currant graham streusel and caramel corn and Sticky Toffee Pudding topped with persimmon and brown butter malt ice cream. This four-course dinner is $95 per person and an additional $40 per person for wine pairings.
For reservations and more information call 925.456.2450 or visit www.wentevineyards.com/restaurant.
plank: Ring in the 2015 at Oakland's newest gaming and dining destination – plank! Their New Year's Eve party package promises a night of entertainment with live music, a $20 game card, prizes, and a balloon drop with champagne toast at midnight. Enjoy their specialty entrée station with offerings including Herb Pepper Prime Rib, Mushroom and Artichoke Stuffed Chicken Breast and Three Cheese Macaroni as well as an array of appetizers and assorted desserts. Tickets are $60 per person/$110 per couple. Capacity is limited so reserve your spot at their extravaganza today!
Hopscotch is worth the drive across the Bay Bridge to celebrate 2015!  Start with an osechi-themed amuse and choose any four dishes from the 12-item menu. Executive Chef/Owner, Kyle Itani, has created a delicious menu with choices including the Oyster Plate with four Shigoku oysters plus a garnish tray (uni, ikura, ponzu, yuzu kosho, yuzu zest); Dungeness Miso Soup with matsutake mushrooms and mitsuba; and 36-hour Short Rib, among other delicious options.  A few of the dishes including the Matsutake Risotto with uni, Robata Miso Black Cod and the Fried Chicken Leg have the option to add truffles for an additional $15. The four-course pre-fixe menu is $75 and $20 for any additional course. Owner/Beverage Manager, Jenny Schwarz has also created beverage pairings that will available for an additional $45.
Visit their website for more information: hopscotchoakland.com
CONGRATULATIONS!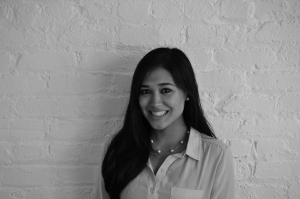 Mika joined AF&Co. in August of 2014 and quickly became an integral part of our team. It is with great pleasure we announce that Mika has been promoted from Account Coordinator to Associate Account Manager! In her short time here, Mika has demonstrated a vast awareness of the food and restaurant scene in the city as well as keen eye to the ever-changing media landscape. Congratulations Mika!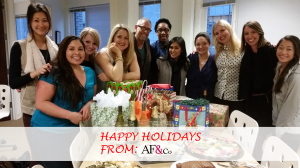 Wishing you all HAPPY holidays!
<3 AF&Co