Eastover Is Here At Last!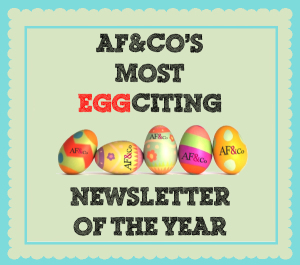 Happy Spring Everyone —
Can you believe how fast the year is flying by?  We blinked and it was April!
Why is this month different than all other months?
The coming week is filled with celebrations of all types as Easter and Passover arrive together. Of course it takes me back to the hybrid family celebrations of my past. As you may recall from my previous stories – ours was a very nontraditional Jewish family. My mom Gerry didn't believe in celebrating just one holiday – she believed in celebrating all holidays. She truly defined the concept of blurred lines. For Hanukkah we had a Christmas tree with a star of David on it and our Passover always included some sort of Easter Egg hunt along with the hunt for the hidden matzo. The primary reason for this was that our friends and family were truly a blended group and my mom wanted to please everyone. Of course this was all done to the absolute disgust of my very religious Grandma Esther.  (Though I do recall watching her search frantically for the hidden eggs in 1975).
Over the course of my childhood I must admit I was pretty confused all the time about Passover and when I asked my Mom what the heck was going on – Eastover was born! My mom explained that religion was purely a state of mind (god is everywhere) and that we should celebrate everything and everyone. During Eastover dinner prep, our house was always very frantic.  Mom was prepping matzo balls and my brother Ricky and I were painting blue and white Easter eggs (in honor of Israel). Dad, as usual, just rolled his eyes and prepared to carve the Passover rack of lamb. Once we were seated at the dinner table, we were reading the four questions and finishing the meal with Easter baskets filled with jelly beans and macaroons. We never knew if Elijah or Peter Rabbit were going to join us at the table!  I love our wonderful holiday traditions and I know you all have your own as well.
This year for the holidays – the Freeman family is embarking on a holiday cruise to Mexico. I've got my nausea patch ready to go!  (Talk about blurring those lines once again!) I encourage you to enjoy Easter, Passover and everything in between.
Lots of love,
Andrew
The Original April Fool for Love Click here to read my matzo ball story from the fabulous new book, Eating Delancey: A Celebration of Jewish Food, by my wonderful friend Jordan Schaps! This is a really exciting time at AF&Co. – so many happenings and so much news. Read on to get all the delicious details – celebrations, a new chefs series, spring recipes and five questions with our very own Lauren Shortliffe.
To read the full newsletter click here