Bay Area Halloween Round Up
Let's get spooky! Here's a list of some of the frightful and delightful happening around the Bay Area this month.
A new set of spooky and sweet flavors that beat plain ole Halloween candy any day have made their way to Salt & Straw. For the adventurous, this month's series features blood and bugs but was also built to please the masses by highlighting some of your favorite seasonal flavors and Halloween treats. Brave enough to try them? 
The Great Candytopia – Swarms of house-made trick or treat favorites make up this one with crisp shortbread and nutty nougat buried in caramel, peanut butter trapped inside walls of chocolate, pecans smothered in BOOrbon vanilla toffee—get folded into a disgustingly delicious salted butterscotch ice cream, stuck for eternity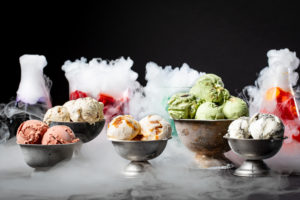 Mummy's Pumpkin Spiced Potion (v) – In the middle of the lab, a cauldron boiling. Amber leaves of rooibos flicker, then flakes of pumpkin make the gruel thicker. A fuming broth of caramel sizzles, while a sliver of blackberry shoot fizzles. Three stinging droplets of vanilla smolder. Featuring August Uncommon Tea, this intoxicating, buttery concoction will satiate your deepest, darkest PSL desires.
Black Cat Licorice Lavender – In this ominous, unexpected flavor, we've conjured up superstition with a silky, pitch-dark anise and fennel caramel swirled with luminous salted lavender ice cream.
Creepy Crawly Critters – Dozens of critters are hiding in the grass by way of this matcha ice cream with toffee-brittle mealworms and chocolate crickets. Don Bugito in Oakland provided the delicious insects.
Dracula's Blood Pudding – A blood-curdling chocolate-y ice cream. We start with pig's blood from Portland butcher Nicky USA and cook it with warm spices like cinnamon and coriander and brandy. The flavor ultimately is a nod to the Italian dessert sanguinaccio, with rich cocoa notes and a hint of minerality.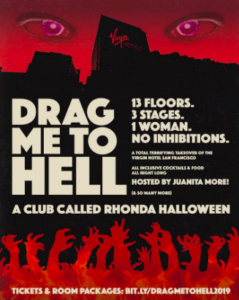 In celebration of Halloween, Virgin Hotels San Francisco is throwing a hotel-wide takeover party – DRAG ME TO HELL – from 8:00 p.m. – 2:00 a.m. on October 31. The party will be hosted in partnership with "A Club Called Rhonda" featuring special guest,  Juanita MORE!  All 13 floors will be transformed into a tantalizing tower of terror and decked out with Halloween decor, withthree stages and other activations in Commons Club, Upstairs at Commons Club, and Everdene. A variety of local DJ's will set the mood and unlimited passed appetizers will be available throughout the night to accompany a premium open bar with free flowing cocktails and champagne. For those seeking an alternative and unique experience, Virgin Hotels will be rounding out the Halloween bash with a groovy silent disco! Executed in true Virgin Hotels style, this is the perfect event for the die-hard Halloween fanatic who still wants in on the fun.
Early bird tickets will start at $100 and can be purchased here. Guests also have the option to turn Halloween night into a staycation with special Chamber packages.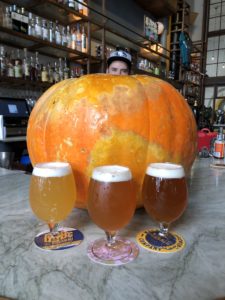 At both San Francisco brewery locations, Magnolia will be offering a variety of pumpkin-flavored beers to win over the hearts of all levels of fall fans. Only available while supplies last, the featured beers and style details are included below.
Brother Gourdo
Style: Belgian Table Beer, 4.2% ABV and 25 IBU
Insult to Injury
Style: Sour Pumpkin Peach Ale, 4.6% ABV and 12 IBU
Trendy Trainwreck
Style: Hazy Blood Orange Pumpkin IPA
Barking Pumpkin
Style: Classic Five-Spice Pumpkin Ale
In celebration of Halloween, Bluestem will also be offering holiday-focused dishes and drinks. They will be available starting on October 16th and will run through October 31st.
Halloween Desserts:
Curse of the Were-Rabbit
Butternut Squash Spiced-Charcoal Cake, Salted Maple Cheesecake, Espresso-Cookie Butter Frosting, Cranberry "Blood" Splatter, Candied Cranberries
Spookies & Scream
Trick or Treat Brownie, Peanut Butter Spider Cookie, Orange & Black Whoopie Pie, Pumpkin Streusel Bar, Haunted Milkshake
Halloween Cocktails:
The Hook
Rum, green chartreuse, luxardo, applejack, lime
Slender Man
Whiskey, averna amaro, angostura bitters, activated charcoal
Spider Bite
Amaretto, whiskey, lemon juice, lime juice, zinfandel
Red Ribbon 
Aperol, dry vermouth, Gin, peychauds bitters, rinse of absinthe, lemon.
High Beams
Lime, elderflower liquor, mint, seasonal fruit, vodka or whiskey, sparkling wine, butterfly pea tea
E&O is getting in the Halloween spirit  with their #FreakyFritterFest October 31st & November 1st, complete with all of the Indonesian corn fritters your heart desires. Oh yeah, did we mention fritters are complimentary (with a purchase)? But wait, there's a catch! To take advantage and get your FREE corn fritters, you must be dressed in costume. What better way to get in #SpookySeason spirit? 
Copita, the contemporary Mexican restaurant located in the  heart of downtown Sausalito, is preparing for the celebration of Hanal Pixan and Dia de los  Muertos. The deeply rooted hispanic custom takes place in all the towns in the state of the  Yucatan, between Thursday, October 31st and Saturday, November 2nd.
Hanal Pixan establishes the link between the living and the dead, honoring friends and relatives who have passed away to their eternal rest. Altars are set with the food, candies and the soul's favorite things, placing colored candles on the children's altar and black or white candles on the adults'.  According to the belief, there are dead people who don't have relatives to honor them or set an altar for them.  These spirits are called "Lonely Souls". These souls get sad and begin their return without having accomplished their mission. In this case, a small and simple altar is set on the corner of the house, placing different kinds of offerings. Then, they are loudly called to invite them to take the essence of the food.
To honor both holidays, Copita will be transformed with festive décor inspired by the themes and colors of life and death.  Marigold flowers mixed with traditional candles to honor the spirits and tributary photos and mementos will fill the restaurant and a local chalk artist will bring Copita's sidewalk to life with drawings of sugar skulls and other holiday symbols.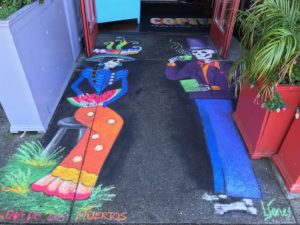 Managing Chef, Daniel Tellez has created a special menu, that will be available for both lunch and dinner.  Copita's full menu will also be available. Make a reservation online or by calling Copita (415) 331-7400.  Full menu is below:
Hanal Pixan Menu
Ensalada XEC (XEC Salad) – Orange, jicama, mandarine, powder chile, lime 
Camarones en Chilmole (Prawns in Chilmole Sauce) – Prawns, white rice, chilmole sauce, roasted leeks 
Mucbipollo (traditional day of the dead tamale) – Chicken, Corn Masa, Achiote, Beans
Café Maya – Mayan Coffee with Xtabentun (anise) liquor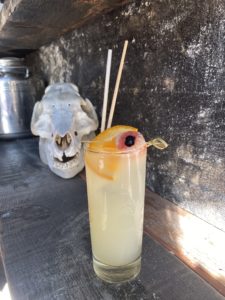 The Halloween cocktail at Duende Oakland is so good it's scary! Head to Oakland's favorite Spanish restaurant for El Ojo de Bruja(The Witch's Eye). This wickedly good cocktail made with gin, green chartreuse, lychee soda, cardamom, lime, and a Freshly Plucked Witch's Eyeball (don't worry, it's edible!) is the perfect seasonal accompaniment to all of your favorite dishes.
Make your way over to Castro favorite, Canela for one of the best Halloween dining experiences in San Francisco. For Friday and Saturday weekend customers, you may also receive a surprise visit from the bride of Frankenstein who will be performing on three separate occasions each night. With your eyes already engaged, the spooky atmosphere will be matched with equally exciting food and drinks. The annual special Halloween menu will be available throughout the week leading up to the holiday (from Thursday, October 24th to Thursday, October 31st). For dish details and pricing, please see below: 
Pricing – $49 or $69 with paired drink/wine flight (+tax/gratuity)
Monster Menu:
Course 1: Caught in a Web Spider Salad, Dark World Lettuce, Roasted Fall Harvest Fruit, Spanish Olives, Toasted Pumpkin Seed Vinaigrette
Course 2: Monsters of the Deep Halibut Cheeks & Squid, Black Blood Syringe Sauce, Baby Spanish Eels
Course 3: Under the Earth and Back from the Dead Tetilla Cheese Stuffed Piquillo Peppers
Course 4: Floating Fairy Ice Cream Sundae Fresh Corn Ice Cream, Pumpkin Ice Cream, Smokey Chocolate Sauce, Chocolate Corn Nuts, Whipped Cream and Trick or Treat Candy (Dairy Free Sorbet Available)