Beyond the Bay This September
Ocean Prime
Earlier this year, associates at 15 Ocean Prime locations participated in bourbon blending workshops with a representative from Woodford Reserve, creating one-of-a-kind selections to be served in-house. Woodford Reserve sent each participating Ocean Prime restaurant three single barrel samples of Woodford Reserve, which were then blended at the associates' discretion into three two-barrel batch blends (the smallest small-batch of bourbon possible). From those blends, they then selected their favorite batch blend of Woodford Reserve, which is now only available at that particular Ocean Prime. 
Woodford Reserve filled 15 barrels with their custom creations and aged them over several months. All of the barrels will share the same complex, well-rounded flavor associated with Woodford Reserve but each will be slightly distinct.
"We offer a unique experience at every Ocean Prime and our beverage program is no exception," says Andrea Hoover, Beverage Director. "Each blend represents an expression of the local taste and is not available anywhere else."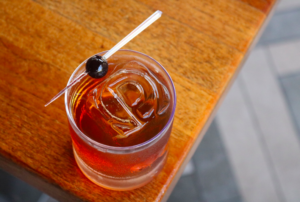 Ocean Prime is the first restaurant to participate in an offsite bourbon blending program with Woodford Reserve, and the associates are excited to showcase their custom creations to guests.  Pours can be enjoyed neat, on the rocks, or in a signature OP Manhattan. Creating the perfect chill and melted water ratio in the OP Manhattan is a large format ice cube branded with the Ocean Prime logo.
Spork
Spork, a modern American small plates restaurant in Pittsburgh, recently acquired its first duck press and now offers a two-course tasting menu for two of canard à la presse for $62.50 per person. To begin, Executive Chef Christian Frangiadis procures fresh duck from Jurgielewicz & Sons, a local Pennsylvania fourth-generation duck farm, and dry ages them in-house for two weeks. Dry-aging the duck makes the meat tender by breaking down the enzymes and shrinks the duck to about half of its original size. The tasting menu consists of various parts of a duck served in a sauce of its blood and bone marrow, which is extracted by way of a press. Together, the two methods create a contemporary interpretation. Read more about this unique offering in Pittsburgh Magazine.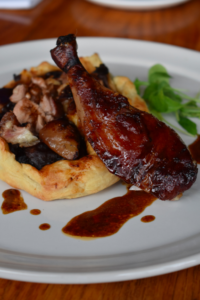 Chowbotics
Many college students heading back to school this year will encounter a new coed on campus: Sally, the world's first fresh food robot. Created by food robotics company Chowbotics, Sally the Robot offers thousands of custom meal options from any combination of up to 22 ingredients, in addition to chef-crafted, pre-programmed salads, grain bowls, Acai bowls, and breakfast bowls.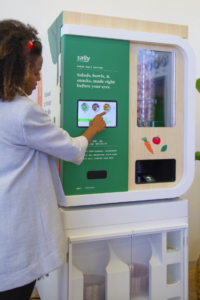 The following schools have enrolled Sally for the 2019/2020 school year:
Case Western Reserve University in Cleveland, OH

College of the Holy Cross in Worcester, MA

University of Guelph in Ontario, Canada

Elmira College in Elmira, NY

University of Memphis in Memphis, TN

Wichita State University in Wichita, KS
These campuses join Marshall University in Huntington, WV, which was the first college to install Sally in 2018. Sally especially benefits those studying late, as the robot can offer fresh, healthy meals to students when other campus facilities have closed. The robot accepts meal plan card payment in addition to credit and debit cards.