Non-Spooky Ways to Celebrate the Season Around the Bay
Congrats to Jack's on the refresh and reopening of their Pleasant Hill location! No matter the occasion or time of day, Jack's is the place to eat and drink with friends and family.
Thanks to the talented Lori Baker, Bluestem has done it yet again with their new fall flavored Butternut Squash Spice Cake! Two layers of cake sandwich an addictive salted maple cheesecake and an espresso cookie buttercream frosting surrounds the rest of the dreamy dessert. To top things off, the cake is plated atop a cranberry sauce swoosh and accompanied by candied cranberries for an extra kick of tartness. And to make things even better, $1 from every cake sale will be donated to local San Francisco organization, Breast Cancer Action.
Wente Vineyards is the perfect escape from the city fog and lends a hint of fall for the nostalgic folk in the Bay Area. To celebrate harvest season, they will be offering a new selection of dishes that reflect the local and seasonal bounty including many items from their own garden. One notable addition to the bites section of the menu is a Butternut Squash Hummus with Pepitas & Pita Chips perfect for sharing among friends or family. 
Is it the Great Pumpkin? Join One Market for the annual "Guess the Weight of the Pumpkin" contest for a chance to win a $150 gift card. 
Plus, Chef Mark is launching an all new fall menu the week of October 21st, including seasonal favorites such as Sunchoke Ravioli, Duck Breast,  a Vegan Cabbage Steak, and so much more. He'll be featured at a CUESA Chef Demo on Saturday, October 26th where he'll reveal the secret to creating such delicious fall flavors.
Celebrate National Pumpkin Day on October 26th with the returning of everyone's fall favorite: The Gott's Pumpkin Shake! Made with organic vanilla ice cream hand-spun with organic milk & spiced organic pumpkin, it will have you wishing it was fall all year round.
As the Dungeness Crab make their way to the Bay, M.Y. China is firing up their woks. Although the start date of crab season, around mid November, can be unpredictable, the word on the street is that this crab season will be one of the best yet, and M.Y China is ready to capitalize on the fresh catch. In celebration of their 7th anniversary, M.Y. China will be offering a Dungeness Crab menu that will feature the crustaceans in seven unique ways. The dates of this special promotion will occur around the peak of crab season, so mark your calendars for mid to late November, you won't want to miss this.
Bierhaus Oakalnd is excited to introduce its all-new Happy Hour, offering select biers and bites for $5. The best part of all? You can get happy DAILY from 3-6 pm. Diners will choose from Bavik Pilsner and Hofbrau Munchen Helles Lager, plus Kennebec Fries, Warm Pretzels, or Flammkuchen. Lecker!
Looking for the best way to spend your Tuesday? Look no further! Head to Sausalito for Poggio's Tuesday Night Supper any Tuesday of the month. Chef Ben's October menu features five seasonal antipasti, Chef Ben's Handline Caught Fresh Fish for the main dish, and a sweet Apple Crostata for dessert. 
If you can't make it in this month, be sure to keep his upcoming menus in mind. November features Pan-Seared Duck with Red Wine Braised Lentils and Pumpkin Cheesecake, while December highlights Short Ribs and Panettone Pudding.
On Tuesday, October 1st, Super Duper launched the Mr. Espresso Shake, a surefire pick me up combining organic Straus vanilla soft serve blended with organic Mr. Espresso cold brew. Super Duper Marketing Manager Jonathan Banasky says "We've been working with Mr. Espresso for a few years now as our coffee supplier and we've developed a strong relationship with their team. This new Mr. Espresso Shake collaboration is a great way for us to expand our partnership in a creative way, bringing Mr. Espresso products into another area of our menu outside of breakfast service. Both Super Duper and Mr. Espresso are Bay Area born and bred companies that value great service and quality ingredients, so this relationship makes a lot of sense and we're excited to see it grow." Available in both regular ($5.75) and kids sizes ($3.25), the shake will be on the menu at Super Duper's 15 brick and mortar locations. ( not available at Oracle Park, Levi's Stadium, or SFO. )
Perbacco has two new autumnal cocktails to help you get in the spirit of the season.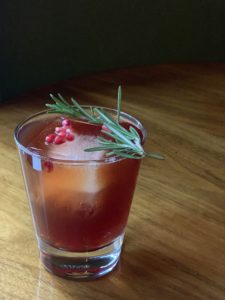 It's Fall Again
Goslings Black Rum, Ciociaro, Lime, Rosemary Demerara, Ginger Beer, Pomegranate
Amore Amaro
Amaro Nonino, Averna, Tuaca, Zucca Rabarbaro, Lime
Northern California favorite, Gott's Roadside, is debuting the Chicken Schnitzel Sandwich, a full-flavored fried chicken sandwich that takes inspiration from the classic German dish, Schnitzel. Gott's schnitzel is made with breaded, fried, buttermilk-dipped Mary's Chicken, making for a light, crisp base. Built on a toasted sesame brioche bun and topped with arugula herb salad, cucumber and pickled turnips, the dish is rounded out with harissa and turmeric spiced mayos, evoking the colors and flavors of autumn.