Passover 2021 Specials
Passover is March 27 – April 4 and our clients are doing some pretty delicious things to celebrate. You don't have to be Jewish to enjoy these incredible specials and menus!
Brought back by popular demand, One Market continues their tradition of a four-course dinner that includes Matzo Ball Soup, Pickled King Salmon, 12-hour Smoked Brisket with onion jus, and Flourless Chocolate Cake. Adult portions are $59 per person and children's portions are $29 (half-portions). This dinner is available for pick up and delivery from March 27 through April 3. Place your orders on Tock!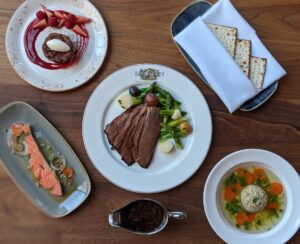 Celebrate Passover with Canela's 4-course meal with an optional wine pairing, "Elijah's 4 Glasses to Redemption." The menu will be available for pick-up and delivery from March 27 through April 4. Reservations are available on OpenTable for limited indoor and outdoor dining. Canela will also be offering housemade matzo and a special Manischewitz Sangria.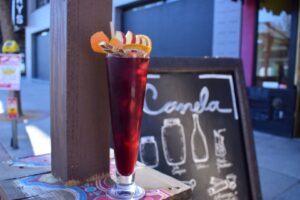 The four-course meal includes:
Passover Trio: apple-pecan charoset, herbed egg salad, horseradish dip with crudites and matzo
Not Your Bubbe's Matzo Ball Soup
Roasted Whitefish or Roasted Duck Breast with carrots, artichoke, and parsnips
Passover Dessert Triffle

Optional 5th course: Braised Lamb Shank with roasted root veggies and lamb jus.
Enjoy Perbacco's special four-course Passover dinner, which includes an antipasto of Roasted Marinated Beets with horseradish aioli and poached asparagus, Smoked Salmon with Meyer lemon vinaigrette, Umberto's Matzo Ball Soup, and Citrus and Herb Roasted Chicken with fingerling potatoes and a mixed salad. 
Their four-course meal is available on Tock for takeout & delivery only on March 27 and March 28. Make sure to place your orders by Thursday, March 24. A la carte Passover specials will be available for indoor and outdoor dining from March 27 through April 5.
Pomella is offering a Seder meal that feeds 4 people and will be available for pickup and delivery, as well as for outdoor dining from March 25 through March 28. The meal includes:
"Everything but the Plate" Seder Plate (charoset, hazeret, lamb shank bone, parsley, lettuce, hard-boiled eggs, matzo)
Matzo Ball Soup
Cod Cakes in Tomato Sauce
Brisket Tagine with dried fruits and preserved lemons
Potato Shallot Kugel
Spiced Rainbow Carrots with Raisins
Spring Salad with Fine Herbs
Pistachio Pavlova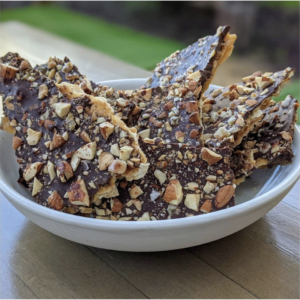 Chef Mica Talmor has also created special sweet treats for the occasion: Pistachio Pavlova, Chocolate-dipped Macaroons, and Matzo Brittle. All Passover meal items are available while supplies last so make sure to place your orders!