Thanksgiving Menus You'll Want to Gobble Up!
IN SAN FRANCISCO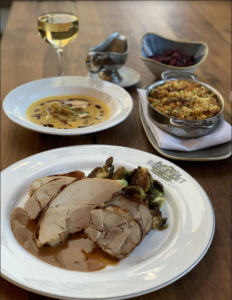 Chef Mark Dommen's four-course Thanksgiving menu features a choice of Roasted Willie Bird Turkey, Pan Seared King Salmon or Roasted Cauliflower Steak, alongside a course of Duck Liver Mousse and Pickled Vegetables, Caramelized Pear & Arugula Salad or Butternut Squash Soup and choice of Pumpkin "Pie" Tart or Chocolate Pot de Creme for dessert. The meal comes chilled to heat and serve at home. $65 per person, minimum of two people. 
Available for pickup and delivery on Wednesday, Nov. 25, 12-8pm and pickup only on Thanksgiving, 8am-noon. Pre-order by Nov. 20. Wine and cocktails also available. Order here.
This four-course Thanksgiving menu with a Piemontese twist includes Autumnal Salad, Butternut Squash Soup, Roast Turkey with Sage Stuffing and Black Truffle Gravy, Mashed Potatoes, Roasted Carrots and Brussels Sprouts and Butternut Squash Crostata for dessert.
$66 per person, with a minimum of two people. Wine also available.
Pick up or delivery on Wednesday, November 25th from 3 pm – 8 pm and Thursday, November 26th from 10 am – noon  Pickup order via Tock or email: umberto@perbaccosf.com. Delivery via Tock. Pre-order by Sunday, November 22nd at 5 pm.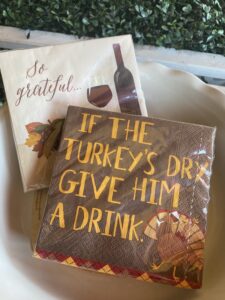 Canela is offering pre-orders on your favorite holiday meats and desserts to pre-order for pickup and delivery. The Thanksgiving Butcher Shop offers Marinated Natural Turkey, Rolled, Stuffed Turkey Breast and Holiday Spiral Pit Ham. The Thanksgiving Bake Shop includes Bubbe Pearl's Mandel Bread + Cookie Canister, Bourbon Chocolate Chip Pecan Pie and Walnut-Cranberry Pie. You'll also find a festive selection of holiday table decorations, cooking tools, and gifts. All available for pick up and delivery as early as November 15. Order here.
IN OAKLAND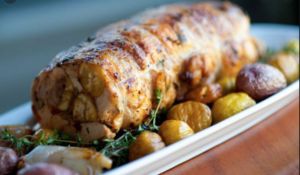 Israeli-born Mica Talmor prepared Thanksgiving dinner for her husband for many years and grew to love traditional Thanksgiving fixings. She's offering a multi-course meal featuring Harissa Turkey Wings, Mushroom Bastilla, Celeriac Mashed Potatoes and Green Salad with Persimmons, Pomegranate, and Feta. Pomella will also be offering lots of add-ons–all with her distinctive twist. Order in increments of two, four or six people.
Menu is $110 for two people and dishes are also available a la carte. Order by noon on Nov. 21 for pickup until noon. Order here.
IN NAPA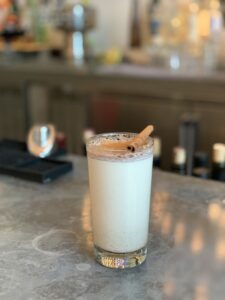 Thanksgiving dinner is being served on Thanksgiving Day from 5-8 pm at River Terrace Inn's gorgeous riverside restaurant. The a la carte menu includes Turkey Ballotine, Roasted Mushroom Linguini, the signature ALBA Burger and Spiced Pumpkin Tart. A holiday cocktail menu also available, including a Pumpkin Spice Martini.