The Couples Behind the Restaurants You Love
From peanut butter and jelly to burgers and fries, nothing in the food industry goes together better than these Bay Area restaurant couples.

Bluestem –Stacy and Adam Jed

Bluestem has helped bring San Francisco a fresh perspective on dining with its emphasis on 100% grass-fed meat from highly regarded purveyors and zero-waste initiatives. Co-Owner, Stacy Jed, is credited with the rise of this downtown neighborhood gem with her husband/Co-Owner, Adam Jed. They were driven to open a restaurant that was right for the neighborhood and wanted to build off the energy around them, being in a very urban, bustling area.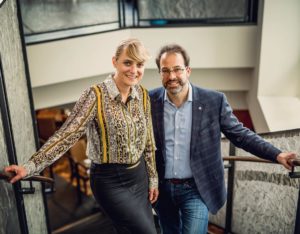 When Stacy and Adam aren't at the restaurant, you can find them enjoying their daily morning ritual watching the sunrise at Fort Funston with their dog, Lola.
Magnolia Brewing –Kim Jordan & Dick Cantwell

Kim Jordan and Dick Cantwell had brewing in common long before swooping in to save Magnolia Brewing. Kim is the co-founder and Executive Chair of Colorado-based New Belgium Brewing, and Dick is the co-founder of Seattle's Elysian Brewing, a renowned brewer, and accomplished author. They connected over their passion for beer, which initially brought them together as a couple, and, later, led them to embark on this exciting venture with Magnolia Brewing.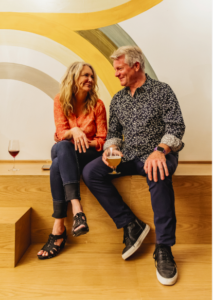 Nico –Nicolas & Andrea Delaroque

In 2013, Nicolas and Andrea Delaroque embarked on a whirlwind adventure to open their own restaurant in San Francisco and have been knocking it out of the park together at Nico ever since.
Chef Nicolas Delaroque is the culinary mastermind of the pair, utilizing his skills in the kitchen to create delicious modern French cuisine using the Bay Area's produce and bounty, and not changing, but rather respecting and accentuating their natural goodness in their cooking. When their adventure began, Andrea's work was about as far from a restaurant as one could get, practicing commercial and business litigation. Since Nico's opening, she has embraced what can be a trying business and supports however she can, primarily focusing on the administrative and operational needs, but has also gone as far as washing dishes when needed.

Oren's Hummus – Co-Owners: Mistie & David Cohen // Oren & Nancy Dobronsky

The team at Oren's Hummus, a Bay Area favorite, has two power couples at the reigns. A technologist with 4 successful start-ups under his belt, Oren Dobronsky was drawn to the Silicon Valley, the epicenter of today's technological innovations. Life was good in the valley, but one thing was missing: A big plate of creamy Hummus –with fresh pita & Mediterranean salads –just like back home in Tel Aviv. An entrepreneur at heart, Oren decided to take matters into his own hands. With the help of his wife Nancy, an experienced restaurateur, the couple opened Oren's Hummus in Palo Alto. With the success of that first location, Oren and Nancy decided that the lively casual concept should be expanded. They formed a partnership with David Cohen, a chef who previously worked at Scala's in SanFrancisco, and his wife, Mistie Cohen, who owns EyeSpy Critiquing & Consulting, a San Jose company that trains incognito diners to evaluate restaurants, as well as offers operations expertise to restaurants.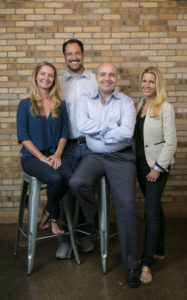 Perbacco –Umberto and Leslie Gibin

Perbacco's chef-owner Staffan Terje and co-owner Umberto Gibin are two of the proud leaders of the new wave of Italian cuisine that began in San Francisco nearly two decades ago. Many people who are familiar with restaurant know the two, but some may be less familiar with the strong, talented woman who works alongside them to ensure a fabulous dining experience from start to finish, day in and day out. Umberto's wife and co-owner Leslie Gibin shares her husband's passion for genuine hospitality. You can find her helping to greet diners and managing the front of  house on Friday and Saturday nights in addition to her regular 9-5 at First Republic Bank and chairing various philanthropic committees around the city.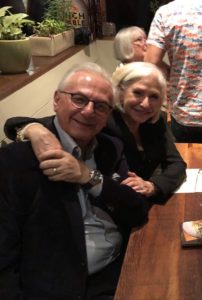 ROOH –Anu & Vikram Bhambri

Anu and Vikram Bhambri are the proud owners of the progressive Indian restaurant, ROOH (San Francisco Chronicle's Top 100), located in San Francisco's SoMa district, Good Times Restaurant LLC, that currently operate more than nine fine and casual dining restaurants across Delhi, Pune and NCR regions in India, and are partners of the recently opened Indian gastro bar in New York City, Baar Baar, and soon to open, ROOH Chicago. Vikram and Anu started their professional careers in engineering and technology, respectively and together at Microsoft.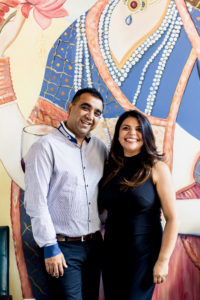 Throughout their time together they have enjoyed experiencing different cuisines around the world and their views on food are influenced by this colorful cultural city. Anu and Vikram are deeply involved with daily operations at ROOH, working closely with Executive Chef Sujan Sarkar to create elevated cuisine and a memorable dining experience at ROOH. Vikram continues to hold a VP position with HP and assist in the operations of ROOH with Anu.