Where to Celebrate Pride Month in SF
It may be mid-June, but you better believe the PRIDE month party is just getting started! From rooftop disco parties to boozy milkshakes and rainbow cocktails, we've got the best ways to celebrate and support the LGBTQ community in San Francisco.
Brian Kent Productions presents the Daytime Disco Pride Kick Off Party at Virgin Hotels San Francisco's Everdene rooftop! Get a jump on showing your PRIDE at Virgin Hotels San Francisco's rooftop destination Everdene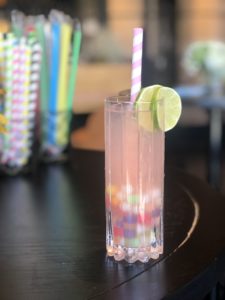 with the Daytime Disco PRIDE Kickoff Party! Saturday, June 15th, 1PM –6PM, suit up and don your most disco fab threads to win special prizes and boogie as day turns into night.
Before the party starts, enjoy brunch downstairs at  Commons Club with their Pre-Game Beats Brunch on June 15th. There will be music, and special cocktails "God Save the Queens" made with Common's Club Jefferson's Small Batch Bourbon, J'enwey Tea Co. Champagne and Berries Tea, Giffard Creme De Framboise Liqueur, Rosemary, Lemon, Honey, and Rainbow Boba available all month long. 10% of proceeds from the featured drink purchases will go towards the SF LGBT Center.
Tickets to the party are going fast! Get yours here.
The SF trifecta of co-working, events and demos has partnered with The Sisters of Perpetual Indulgence for their annual PRIDE at the Disco Party! The party will include glam stations by Sephora, rainbow macaroons from Woops!, and a raffle to win a Kate Spade shopping spree. All proceeds from the event will benefit The Sisters of Perpetual Indulgence.
Get ready to taste the rainbow with the limited return of Salt and Straw's crowd-pleasing Skittles Sherbet! The fun flavor will be available from June 28th – 30th, and will be available at all Bay Area locations.
The iconic SF restaurant will be celebrating SF PRIDE with their outrageously good Harvey Milkshake made with homemade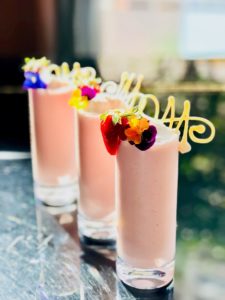 vanilla ice cream Stolichnaya Vodka, crème de cacao, prickly pear and the Friends of Dorothy cocktail with Gloria Ferrer Private Reserve Cuvée and prickly pear. A portion of the proceeds from these cocktails throughout the month of June will be donated to REAF (Richmond Ermet Aid Foundation of San Francisco). Cheers!
Available June 15th-30th, modern Asian restaurant E&O Kitchen and Bar will celebrate PRIDE with a special vibrant Pork RainBOWL. Executive Chef Sharon Nahm's PRIDE creation incorporates lemongrass and soy marinated pork, sweet peppers, zucchini, radish sprouts, brown rice, and crispy mung beans. There will also be a Rainbow Jell-O Shot and Rainbow Confetti Cake featuring guava sponge cake, guava mousse, vanilla cream cheese frosting, and rainbow sprinkles. All of the PRIDE inspired offerings will be available for lunch and dinner with a percentage of proceeds going to REAF (Richmond Ermet Aids Foundation).
The Castro's favorite Spanish spot is holding their third Progressive Dinner in the neighborhood on June 19. Along with Canela, this year's roster includes Izayaka Sushi Ran and Blush! Wine Bar. This is the perfect opportunity to enjoy the neighborhood and make some new friends along the way. Tickets are going fast though, so be sure to get yours here.
Get ready for the 5th Annual Gay Pasta Night! Enjoy a memorable dinner at this sweet little lower-Bernal, lesbian-owned neighborhood cafe. Bring the crew, your favorite date, or join a table of friendly strangers. Proceeds from this night will go to benefit UCSF's Alliance Health Project.
Head to Bluestem during the month of June to enjoy their two PRIDE inspired cocktails! Choose between Envious Child: Kiwi Lime Julep made with kiwifruit, lime, mint leaves, lime juice, sugar, creme de menthe, vodka, aperol and a splash of one hope sparkling wine, and Ring Around the Rosie: rose syrup, gin, aperol, aquafaba, lemon-lime scrub, activated charcoal, absinthe rinse and rose water.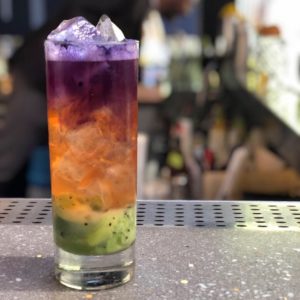 In addition to their delicious sips, Bluestem will also be holding their annual Pride Parade Brunch and Viewing Party on Sunday, June 30th from 10:00am-3:00pm. Guests will get to enjoy a brunch buffet, a welcome cocktail -the Glitter & Be Gay–and a wristband that offers access to the rooftop overlooking the parade. The wristband will also allow guests to come and go as they please to stroll Market Street and be a part of the festivities. There will also be a full bar for guests to purchase additional drinks to celebrate PRIDE, including the Fresh & Fruity and the Prickly Pair.
You can purchase your tickets on Eventbrite.
Chef Tony Wu takes hand pulled noodles to the next level with Rainbow Scissor Cut Wild Boar Noodles with bean sprouts,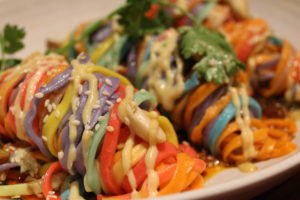 scallions, wood ear mushrooms and Rainbow Dan Dan Noodles with seasoned pork, peanuts, chili garlic sauce, served chilled, and the PRIDE AF Cocktail (Ming River Baijiu, St. Germaine, & New Amsterdam Gin). Two dollars of the proceeds from the special PRIDE dishes will be donated to REAF (Richmond Ermet Aid Foundation of San Francisco).