💖It's the month of love and we  know where to go eat your hearts desire. Read on for all the offerings in the Bay Area.💖
SAN FRANCISCO
PABU Izakaya is a un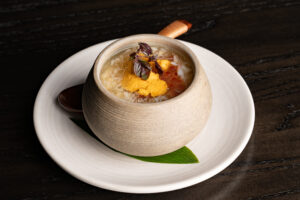 ique take on the classic Japanese Izakaya experience modernized by Chefs Ken Tominaga and Michael Mina. PABU Izakaya has decided to run a special menu in addition to their full à la carte offerings during Valentine's Day weekend. Please note that the restaurant is closed on Sunday, February 13th. For Valentine's Day, enjoy the following in-restaurant and to go/delivery experiences:
Details: PABU will feature a 7-course Luxury Omakase Menu at $155 a person with an optional $95 Sake pairing. The whole table must order the Omakase menu to participate
Reservations can be made on Opentable and Sevenrooms.

PABU Izakaya to go & in your home
If you prefer to have a low key Valentine's Day weekend at home, PABU's to-go and delivery menu (available here). Enjoy a special selection of hand-selected rolls and nigiri by PABU's sushi chef YamaSan (starting at $90). Or, enjoy an interactive food experience alongside your Valentine's with PABU's handroll kit ($95). Choose from additional a la carte items and beverages to pair including a selection of sake (handpicked by PABU Sake Master Stuart Morris) and cocktails to go.
Valentine's Day experiences can be ordered for delivery or pick up seven days in advance via SevenRooms.
One Market will offer a 4-course prix fixe menu on Monday 2/14 for $95 per person. One Market's Braised Lamb Shank will be a star of the show among other popular appetizers such as Hama Hama Oysters on the Half Shell or a seasonal Dungeness Crab Salad.
Complete menu viewable here.
Canela Bistro & Wine Bar will offer a 4-course menu for $79 per person.
Course 1: Mixed Mushroom Soup, Mushroom Broth, Grilled Spring Onion and Rainbow Chard, Goat Cheese Toast (Veg, can be GF)
Course 2: Choice of Salpicon of Pulpo; Chilled Octopus Salad with Citrus Segments and Cava Vinaigrette OR Warm Cabbage Salad with Sliced Duck Breast (DF, can be VEG, GF)
Course 3: Wild Halibut Filet, Manchego Arroz Cremoso, Winter Veggies (GF), Vegetarian Version Available
Course 4: DESSERT! Choice of:  Vanilla Cheesecake with Passionfruit Drizzle, Churros con Chocolate, Chocolate Almond  Cake, Chocolate Flan (Can be GF, DF)
Optional Course $49: Bone In Ribeye to Share, Potato Mash, Shallot-Tempranillo Reduction, Winter Veggies (GF)
Reservations can be made on Opentable and through the Canela website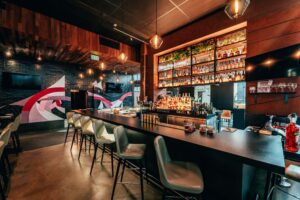 Ignite a culinary trip around the world with Ayesha Curry and Michael Mina's International Smoke this Valentine's Day weekend.  On Valentine's Day – February 14 – International Smoke will only offer the Valentine's Day experience; $135 per person with an optional beverage experience (additional $50). Valentine's Day menu highlights include King Crab Fry Bread with cucumber raita, charred scallion and Punjabi spice; Roasted Duck Breast with butternut squash, confit tortellini and port jus; Baked Alaska with chocolate dacquoise, vanilla ice cream and Cognac flambé.
International Smoke at home: Create a custom Valentine's Day experience at home and build your own menu with International Smoke for delivery or pickup via SevenRooms. In addition to à la carte menu items and cocktails, try the BBQ experience for two which features American style ribs, BBQ Rib Tip Mac, Ayesha's fresh-baked cornbread with Thai red curry butter, Double Smoked Bacon Wedge and Walnut Chocolate Chip cookies ($98). Valentine's Day menu not available for pickup/delivery.
In whate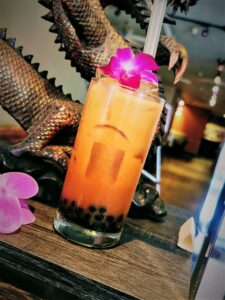 ver form it exists, celebrate your love this year at E&O. Pick and choose your way through special items as a la carte selections, or integrate some of E&O's other delicious offerings from their regular menu into your meal.
Drinks include The Black n' Orange – Natural Thai Iced Tea made with oat milk*, orange zest, pre-sweetened with brown sugar syrup. It has no artificial coloring, naturally flavored, dairy free, vegan, and is gluten free!
Celebrate Valentine's Day at The Vault Garden, under the glittering downtown lights of San Francisco's Financial District. In the newly revamped, outdoor oasis, enjoy a classic three-course menu by Chef Ryan Cerizo and seasonal cocktails that will warm you up (and so will their heaters).
Reservations available through OpenTable Experiences.
Join The Vault Steakhouse with a 4-course Dinner Menu featuring a shellfish platter fit for a king and finish with a fiery Baked Alaska for two! Don't miss the opportunity to invigorate your palate with a carefully curated wine pairing by The Vault's own Steve Izzo.
Reservations are available through OpenTable Experiences.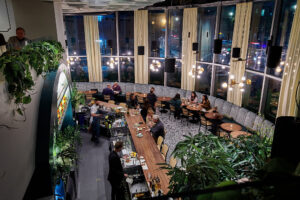 The Madrigal is serving up a unique booze and bites Valentine's Day offering in the Civic Center District. Enjoy signature cocktails by Mikey McCardle & shared bites including a fermented black garlic bread with nasturtium honey butter. Choose your experience with premiere seating along an oversized walnut bar, cozy booths and an intimate mezzanine that overlooks the action!
This Valentine's Day, Trestle is the place to be with a delicious 4-course menu by Chef Danielle LeFevre. Grab your loved ones and cozy up for an intimate dining experience. Enjoy Trestle's classics such as Dungeness Crab Risotto, Roasted Black Cod and Dark Chocolate Panna Cotta.
Reservations are available through OpenTable Experiences.
Villon at the San Francisco Proper
Celebrate love at the SF Proper's Villon Restaurant by indulging in a five-course tasting menu by Executive Chef Jason Fox. Enjoy a wine pairing for $75pp.
Reservations are available through OpenTable Experiences.
KAIYŌ Cow Hollow is offering a special 4-course menu to celebrate Valentine's Day. Choice of courses include beef tataki, lobster ceviche and an A5 wagyu teppanyaki. Starters, sides and drinks are additional. Trust us– the Nikkei oysters and spectacular seafood tower are worth the splurge.
Make your reservations through Yelp.
EAST BAY
Satisfy all of your chocolate cravings by supporting a local business that's pioneering the plant-based world. Whether you're looking to make a statement, or supplement another gift, TCHO has endless options. Grab a few of TCHO's former classics or try something new and exciting with an order of one (or a variety) of TCHO's new plant-based bars! You can find an assortment of TCHO's gift boxes, single bars, and sample size boxes to choose from here. Outside of TCHO's online offerings listed in the original outreach, they will also be participating in a collaboration dinner with Mago, an Oakland based restaurant led by Chef Mark Liberman. Available on Friday, Saturday, and Valentine's Day (2/11, 2/12 & 2/14) Mago will be featuring a $120 tasting menu featuring TCHO chocolate throughout in both savory and sweet applications. The menu will start with a selection of snacky amuse bouche and end with a variety of desserts. Optional beverage pairings will also be available for $65 as an accompaniment. Reservations should be made HERE
Valentine's Day Chef's Table Experience
Pomella's Valentine's Day Chef's Table is a unique experience for dining enthusiasts and offers the opportunity to meet with chef/owner Mica Talmor and enjoy an evening of memorable culinary surprises and conversation. Monday, February 14, 2022, 5:30pm. This is a prix-fixe, family-style meal. Each table will seat 16. Vaccination cards are required for this event. $90 per person.
Guests will be greeted with a special beverage and appetizer before being seated for a lavish dinner at a shared table. The meal includes five mezzes, two entrees, two sides and a dessert. An optional wine pairing is available for $55. Wine will be available for purchase by the glass at the time of the event as well. Make your reservations here
Alley & vine will celebrate Valentine's Day throughout the weekend and will be open for dinner from 5-9pm each night. Brunch will have regular weekend hours from 11am-3pm.
Make your reservation here.
MAMA is offering a four-course Valentine's Day meal on February 14 for $70 per person with an optional wine pairing for an additional $45.
Choice of Maine Lobster Bisque or Beet-cured Arctic Char, MAMA's Sugo & Ricotta Gnudi or English Pea Risotto a la Carbonara, house-made herbed focaccia, New York Strip and Day Boat Scallops for the table and choice of Sweet Cream Panna Cotta or Molten Chocolate Cake.
Reservations required; book through Resy. 
SOUTH BAY
For a steal at $75 per person,  Aurum will be plating an extravagant four-course menu (amuse bouche included) for Valentine's Day this year. With a variety of inventive flavor combinations to stimulate the taste buds, Aurum's menu will also feature a notable list of aphrodisiacs – saffron, chocolate, garlic, basil, figs – for those looking for a romantic start to their evening.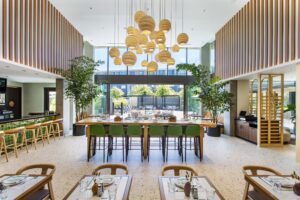 Wild Onion Bistro & Bar is the vibrant and upbeat signature restaurant of Hotel Citrine, a Tribute Portfolio Hotel by Marriott. The restaurant made its mark on Silicon Valley after its Summer 2021 opening, quickly becoming sought after for its sustainable and authentic experience. Under the direction of Executive Chef Ray Garrow, Citrine takes inspiration from its surroundings, featuring a menu focused on fresh, organic and local ingredients. This Valentine's Day weekend, from February 11 – February 14, enjoy a three-course menu with wine pairing. Highlights include Petit Filet of Beef and Shrimp with garlic butter and white wine, roasted tomatoes, garlic, crispy artichokes; Eggplant Bolognese; Grilled Salmon, citrus blackberry fennel salad, blood orange gastrique. Dessert highlights include Chocolate Crunch Cake with fresh raspberries and Red Velvet Cake with chocolate sauce. Reservations on OpenTable here.