I made a stop by  La Calenda, the next fast casual (?) Mexican concept from Thomas Keller in Yountville on Saturday. I'm a big TK fan and was very excited to check out the latest that's doing cultural appropriation right according to the Chronicle.
While you can sort of tell that they repurposed a previous space (definitely outside), but the atmosphere is still really nice on a sunny and breezy day! I was craving a glass of wine, but their cocktail menu looks really fire on Instagram – so that would be my move when staying for a few drinks.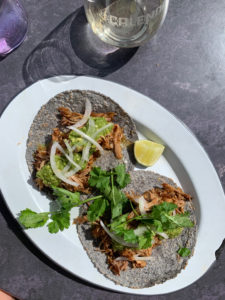 Menu
Aguachile de Atun: yellowfin tuna, avocado, sesame & chile costeno salsa macha, citrus
Tacos de Carnitas: slow cooked pork, salsa avocado tomatillo, white onion, cilantro
Enchiladas de Mole Negro con Pollo: chicken enchiladas in stone-ground mole negro, queso fresco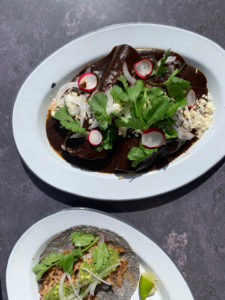 Takeaways
The patio seating was quite enjoyable – all kinds of groups were eating on a late Saturday afternoon – families, groups of friends, couples, mostly middle aged. The ordering experience was interesting – it seems the waiters sort of floated as the one that finally came up to me asked if anyone had taken my order yet and then gave me some menu ideas. She took the order in a handheld Toast device to submit the ticket. Then, multiple servers and bussers brought/took away food. It worked – but was interesting to underline the fast casual format.
The yellowfin tuna was seriously excellent – pieces of tuna served in a spicy/citrusy broth that the server recommended. I literally finished the broth with a spoon! The tacos were only 2 per dish, but both had a large portion of meat so this felt fine to me compared to 3 mini tacos. The salsa was fresh – lots of taco options to try them all! The mole, which apparently couldn't be missed (and I really like mole), left me a little unimpressed. Overall, the dish tasted dry despite being drenched in sauce. As mentioned, there are lots of yummy cocktails on this menu which I will definitely be trying more of in the future. The space inside has some classy touches, but was almost pushing restaurant chain in the main seating area. Outside is the way to go!