A few weeks back, my boyfriend, Kyle, and I had a date night at The House in North Beach. North Beach is one of my favorite spots in the city, so we were delighted to find this gem tucked away down a side street off Columbus. Once we were seated, we quickly realized we were going to get nice and cozy with our neighbors. The place was very small, so the tables were separated by 2 inches of space and the waiter took our order standing behind our seats. This led to some interesting and juicy eavesdropping on the table next to us (drama, drama)!
We started our meal by ordering Choya umeshu (plum wine from Japan with flavors of ripe apricots, sweet plum, and almond) and Hakkaisan (sake from Japan with flavors of apples and roasted nuts). We both agreed we are Sauvignon Blanc people, but it's always fun to venture out. Our meal came with a complimentary small plate of pickles, which were to die for.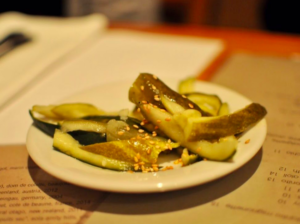 Kyle ordered the warm wasabi house noodles with angus flatiron steak. The thick noodles gave the dish great texture, and the wasabi packed quite a punch. The steak was cooked perfectly medium rare, and the presentation was beautiful topped with cucumber salad and kimchi.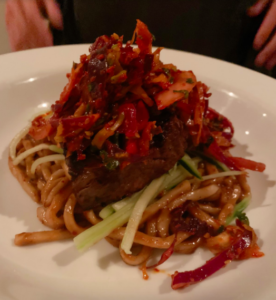 I ordered the chicken breast with roasted mushrooms and white truffle oil. The chicken was presented atop creamy mashed potatoes and a pool of truffle sauce. Crispy veggie strings were piled on top and provided the perfect crunch to finish off the dish. There was not one drop of truffle sauce left on my plate by the end of the meal – it was incredible. It will be hard for me to order any other item on the menu after this dish. 
Overall, The House has to be one of my favorite Asian fusion restaurants in the city thus far.