At the beginning of this month, I had dinner at Leopold's, a Bavarian-style gasthaus down the street from my apartment. Two of us walked into Leopold's on a Thursday night around 7pm. From the outside, the place looked quiet and almost closed, but the second we walked through the door we heard loud German music and the roar of the other guests. We were seated right away at a table in the back corner. It was a great spot to see the layout of the whole place and a perfect setup for people watching. The waitresses were dressed in traditional dirndls, while roosters and deer antlers lined the walls and window sills – there was no short supply of stimulus.
Our waiter was friendly and upbeat, offering us his recommendation of draft beers. It was quickly clear to us that the crowd at Leopold's was there to have a gooood time. There were 3 separate occasions throughout the night where "boots" of beer were ordered. These massive 3L glasses were accompanied by the ringing of the bell and the whole restaurant erupting in cheers. Our work schedules the next day prevented us from getting the boot, so we settled for 0.5L of the Erdinger Hefeweizen and the Kostritzer Meisterwerke Pale Ale. Both beers were extremely smooth, but my preference leaned towards the grapefruit and orange notes of the pale ale.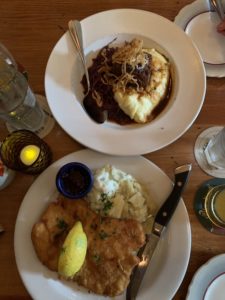 After our beers were delivered, we ordered the Wiener Schnitzel and the Braised Beef Short Rib (on Alyssa's recommendation). Both plates arrived together after a short wait. The wiener schnitzel was paired with a sweet lingonberry sauce, which complimented the thin buttery crust of the schnitzel incredibly well. I found myself hogging that dish (sorry Kyle!). The short rib came with gruyere mashed potatoes and crispy onion strings. The meat was full of flavor and so tender that it came apart with only a light pull of your folk. Both portions were huge and we left feeling comfortably full.
Overall, Leopold's was a fun experience and a good spot for an exciting night out. We will definitely be back for the boisterous atmosphere and great food.