Here is af&co.'s guide to celebrating Thanksgiving and Hannukah around the Bay. Whether you're planning a large family gathering, or a dinner for two, we have all the Holiday Happenings down below!
Gobble Gobble 
Back by popular demand, Canela's Thanksgiving dinner to-go includes everything you need for a cozy holiday dinner at home. Starting at $149, the standard meal-for-four includes your choice of a whole, small natural turkey or natural rolled turkey breast stuffed with shallots, apples and herbs, and show-stopping sides such as flash-fried brussels sprouts and Bubbe's cornbread stuffing. Pick-up orders can be made here for Wednesday, November 24th between 3-5pm.
One Market Restaurant will be offering their classic three-course Thanksgiving menu on Thursday, November 25th. For $85 per person or $49 per child 10 & under, the menu will feature dishes such as a Caramelized Pear & Arugula Salad, Roasted Diestel Turkey and Pumpkin Tart. Find the complete menu here.
International Smoke's Michael Mina and Ayesha Curry celebrate Thanksgiving with a buffet of fall classics and sweets on Thursday, November 25 from 11am – 6pm. Highlights include Cedar-Smoked salmon, Wagyu Prime Rib with smoked beef jus and horseradish cream, Smoked Turkey with cranberry and truffle gravy, and more! Find the complete menu here and make your reservation here.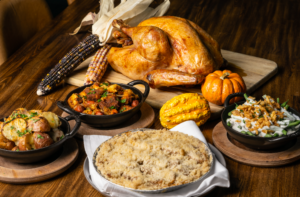 Head to Villon for a 'Proper' Thanksgiving dinner, located in the San Francisco Proper Hotel. Executive Chef Jason Fox has curated a four-course prix fixe menu, showcasing the seasonality of California ingredients ($105 per person, $40 for children under 12). Festive beverage sections will be available, in addition to indoor and heated outdoor seating. Make your reservation here.
You'll like this a latke – Hanukkah client offerings 
This year Pomella is partnering with local foodmakers Mark 'n Mike's, Bishulim SF, Boichik Bagels, Covenant Wines, Donut Savant, and more to offer fun and festive Hanukkah menu additions. There's something different happening nearly every night of the holiday. Pomella will also have its regular menu available, as well as house-made ricotta fritters. 
Whether you're looking to dine in or order delivery, One Market's Hanukkah menu is perfectly suited for intimate celebrations and larger parties. For $49 per person, their three course menu includes: Mark 'n Mike's Matzo Ball Soup, optional addition: Potato Latkes (2pcs), Twelve Hour Smoked Beef Brisket, and their traditional jelly doughnut, Sufganiyot.
This special menu will be available November 28-December 6 so make sure to stop by before it's gone!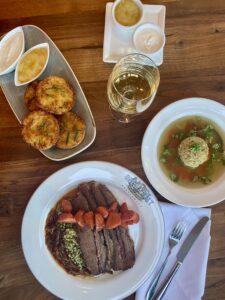 Canela's Hanukkah menu will be available from Friday December 3rd to Sunday December 5th and includes: Roasted Winter Veggie Salad, House-Made Chicken Soup with Pickled Veggies and Bagel Chips, Seared Sea Bass Filet with Spanish Tortilla of Tzimmes and Greens, and their fresh made Cinnamon Apple Churros with Caramel Sauce to end with a sweet note. Make your reservation HERE.
For those that are looking for a last minute Hanukkah gift, Canela has your back. On Sunday, December 5th from 3:00pm – 4:30pm, Marc Wade of Messermeister knives will be leading a seminar on knife design. The class includes your choice of an exclusive custom 6.5 inch Nakiri knife, 8″ chef's knife or 7″ santoku knife. All have a black linen mikarta handle (value $90).
Reserve your tickets and learn more about Marc Wade and Messermeister HERE