February Around the Bay Area
Happy Lunar New Year! Head to E&O to celebrate the Year of the Rat with The Lunar New Year which will be available starting on February 1st and will run through the San Francisco Chinese New Year Parade on February 8th.
Prosperity Salad
Fresh julienned vegetables, kelp noodles, crispy wonton, pomelo, plum-soy vinaigrette $15
–Traditionally, this salad is made with raw fish and eaten during new year, but this version was intentionally kept plant based.
Crab and pork siu mai dumplings
Chili oil, soy, ginger $16
Long life noodle
Prawns, rice noodle, curry laksa, tofu puffs, kaffir lime, bean sprouts $18
General's Chicken
Crispy battered Mary's chicken,  broccoli, ginger, garlic, sesame, chilies $20
Celebrate African American History Month at One Market Restaurant! From February 1-29, Chef Mark Dommen (One Market) and Chef Banks White (Rambler, The Brixton) are teaming up to celebrate African American culinary heritage. All month long, One Market will offer a collaborative four-course menu available during lunch Monday-Friday and dinner Monday-Saturday, alongside One Market's regular menu. Diners have the option to try the prix fixe menu for $55 or each dish à la carte dish priced individually. 10% of proceeds from the prix fixe menu will be donated to the Museum of the African Diaspora. To pair with the special dishes, Wine Director/Sommelier Tonya Pitts will hand select a variety of wines by African American Winemakers. The wines will be available by the bottle, in addition to One Market's regular wine list.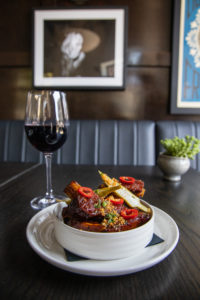 One Market | African American History Month Menu 
Available February 1-29th 2020
$55 Prix Fixe Menu – available at both lunch and dinner service 
Pickled Shrimp Salad
fennel, frisee, red onion
Chef Mark Dommen
South X Southeast Fried Ribs
adobo chile glaze, pickled okra, fried garlic, curry leaves
Chef Banks White
Grilled Trout
pineapple black forbidden fried rice, swiss chard, green papaya salad, 
Malaysian red curry
Chef Banks White
Pineapple Upside Down Cake
brown sugar ice cream, candied macadamia nuts, coconut, vanilla whipped cream
Chef Lyndsay Pullem
On Tuesday, February 11th, Virgin Hotels San Francisco will host its first chef collaboration dinner, featuring Executive Chef Nico Pena from critically acclaimed Tartine Manufactory. Commons Club's talented Executive Chef, Adrian Garcia and Pena will showcase their culinary prowess by creating a special four-course tasting menu. Each chef will produce two courses, alternating between every dish.  Along with the collaborative menu, wine and cocktail pairings will also be offered. Chef Garcia and Chef Pena will also make a few appearances throughout the evening.
Visit Little Creatures for their Little Creature Burger + Beer Decathlon 2/7-2/16, with a unique beer and burger/ sandwich pairing each day.  Ten days, ten beers, ten burgers.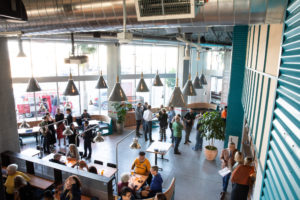 2/7 – Triple Stack | Three patties, mozzarella, brie, american, special sauce | Triple IPA
2/8 – Korean Burger | cheese, kimchi, gochujang, kaiware | WRW
2/9 – Ham Burger | cheese, special sauce, sliced ham, lettuce, tomato, onion | Lupulin
2/10 – Chicken Parm | fried chicken, mozzarella, pizza sauce | Hazy
2/11 – Lamb Burger | merguez patty, feta, tapenade, aioli, arugula | IPA
2/12 – Fish Sando | fried cod, sambal aioli, spicy slaw | Pilsner
2/13 – Double Bacon Burger | double patty, cheese, bacon, bbq sauce | Cider
2/14 – Veggie Burger | beyond meat, scallion aioli, crispy shallots | WRD
2/15 – Bahn Mi Burger | burger patty, pate, sambal aioli, carrot, cilantro, red onion, daikon, jalapeno | WRT
2/16 – Aussie Burger and the Lot | pickled beets, pineapple, bacon, egg, cheese, lettuce, tomato | Pale Ale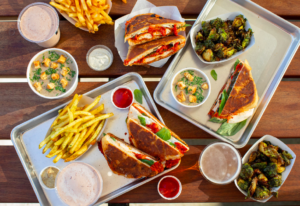 Gott's Roadside's February specials are here! Returning favorites are the Chicken Parmesan Sandwich with fresh basil and homemade tomato sauce and the Creamy Mushroom Soup topped with parsley and parmesan croutons. The crispy Fried Brussel Sprouts with charred jalapeño mayo will be continuing their run for another round of specials. Gott's is excited to announce that their Nutella Milkshake is now available for the first time ever.