Hanukkah Celebrations Across the Bay Area
Hanukkah may begin December 18th, but we have festive Hanukkah specials starting now! Celebrate the Festival of Lights in style
across the Bay Area this year.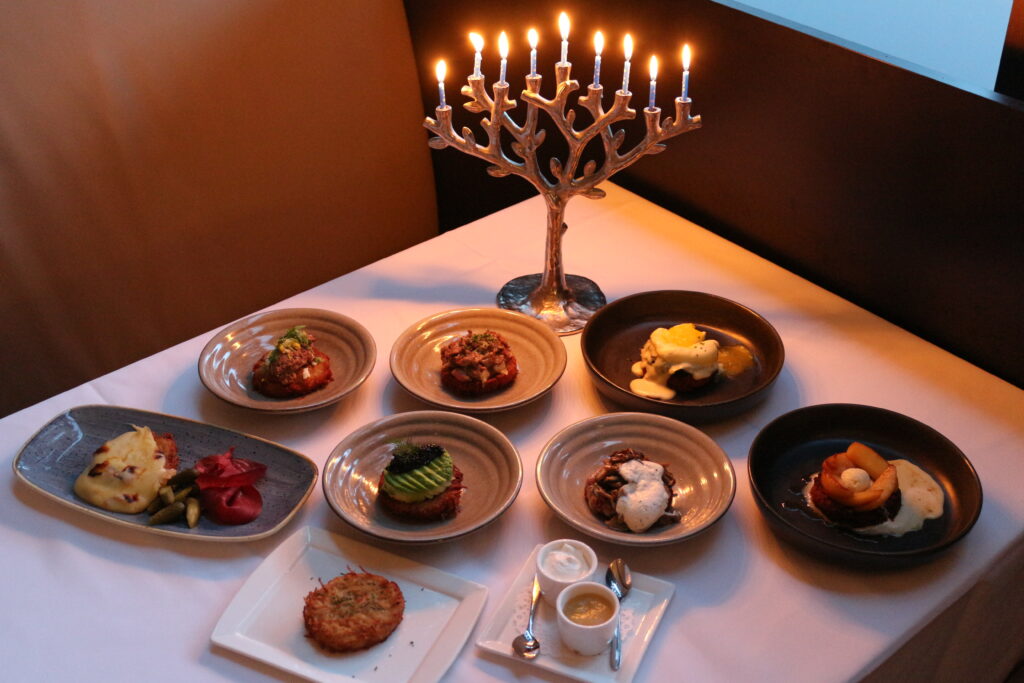 San Francisco
1 Market St, San Francisco, CA 94105
Hanukkah, alternatively referred to as the Festival of Lights, or chag ha-ooreem in Hebrew, is an annual celebration at One Market Restaurant. With New York style delicatessen pop-up concept turned permanent, Mark 'n Mike's, the restaurant celebrates Jewish cuisine on a daily basis. But this year, their Hanukkah offerings are expanding even further.
In honor of the eight days of Hanukkah, One Market will be featuring a menu of eight new latkes with ranging ingredients. Appropriately named the Festival of Latkes, this nearly month-long offer will run from December 1 – December 23 and will be available during lunch and dinner service.  
Some of the highlights include a Philly Cheesesteak Latke with thinly sliced roast beef, caramelized onion, and provolone, a Florentine Latke with poached egg, sauteed spinach, and hollandaise, and a Wild Mushroom Latke with Emmental cheese, crème fraiche, and chives. 
For those looking to branch out beyond OMR's variety of latkes, Mark 'n Mike's menu includes a showstopping Pastrami Reuben and Mark's "Better than Bubbie's?" Matzo Ball Soup during lunch and dinner.
2272 Market Street, San Francisco, CA 9411
Canela Bistro and Wine Bar is once again rolling out a prix fixe menu for Hanukkah! Feast with a Spanish-inspired meal kit, offered dine-in and to-go. To-go: Pick up Sunday, December 18th from 3-5 p.m. Dine in: Sunday, December 18th – Friday, December 23rd. Reservations are available on OpenTable.
East Bay
3770 Piedmont Ave Unit B, Oakland, CA
Come to the heated outdoor patio at Pomella on the first night of Hanukkah for the ceremonial lighting of the menorah, fresh latkes and donuts. Timing: Sunday, Dec. 18, 6-8pm.