THE TALE OF THE LIVING ROOM WALL COLOR CIRCA 1966
There is one very special holiday coming up this Sunday—Mother's Day!! As you all know, I love moms and it all started with my wonderful and wacky mom, Gerry (Geraldine).
Sadly, she was taken from us when I was 19 but the memories of our times together and the love she had for my brother Ricky and me are still quite vivid. If you will indulge me, I would love to share a story with you about my mom that may give you some insight into why I am the man I am today. And while you may doubt this one, I assure you it's 100 percent true!

My mom was a wildly creative person. She was funny, a bit out there, and had her own set of rules. She married my dad at 19. They actually met in the Catskills when she was a guest at the Falls View Resort and my dad was a busboy— it was all very Dirty Dancing. So she gave up fashion school and her dreams of being a designer and moved to New Jersey to become a wife and mom. While she was great at it, her unique sense of style and independent thinking were sometimes questioned by the other neighborhood moms. In other words, she was the coolest mom on the block and at times Ricky and I actually weren't allowed to play with some kids because their moms thought my mom was too liberal. Maybe she was – our house was the brightest on the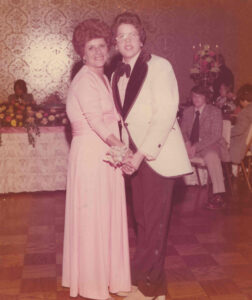 block – her design sense was almost psychedelic. She never left the house without her makeup on and she always dressed to impress, despite the fact that we got teased quite often. (When I complained, her answer was either "What doesn't kill you makes you stronger" or "A little teasing builds character.") And the cast of characters that showed up to our traditional two-family house in Passaic, NJ was a bit questionable. Mom always had something going on—from mah jong to canasta or to Mr. Frank stopping by to give her a dye job (over the course of my first ten years, she had at least five different hair colors and styles), our house was quite busy. Truth be told, I was in awe of her.
Now, back to the story. Each summer we would go to the Jersey shore for a week. This particular year, I was four years old and Ricky was nine. We were in the back seat noshing on peaches, plums, and grapes (keep this detail in mind!) and were playing punch car.  As usual, Ricky was roughhousing me a bit—I was the baby brother after all. Mom was screaming at him from the front seat with one hand on the steering wheel and the other flying over the seat giving him a calm down warning. All at once, Ricky announced he felt nauseous and was going to throw up. Mom was a neat freak so the idea that this might occur in her car was extremely stressful. She veered off the road onto the shoulder of the highway bringing the car came to a quick stop. Mom grabbed a baggie from her purse, raced around to the opposite side of the car and pulled my brother out in the nick of time. Ricky upchucked into the plastic bag. And then, there was silence.

Okay, this is where it gets a bit graphic and a little gross—so read on only if you can take it! First things first, Mom made sure we were both okay. She then held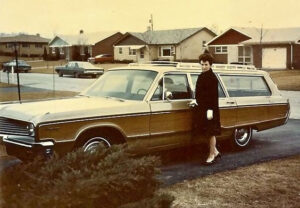 up the baggie in which Ricky had just done his business and, due to the fact that he had been enjoying the delicious fruit that mom packed, his vomit was the loveliest tone of peachy lavender. It was right then Mom exclaimed that this was the color she had been dreaming of for our living room walls. And here comes the crazy part (but also the part that I loved the most about her) – she took the baggie with its contents and froze it until we got back from our Asbury Park vacation. She took the bag to the paint store and had it matched. Do I need to say anything more? Yes, the happy ending here is that our living room wall color was inspired by Ricky's special moment in the car and we lived with it for the next five years.
While my mom may have danced to her own beat, she was fiercely loyal. She showed us an unconditional love that was epic and for that, I will always be grateful. Like mine, moms are amazing people! I am lucky to work with some of the most wonderful moms out there – they are extremely talented and driven but can still juggle the crazy demands that come with their kids. I salute you, ladies!

So there you have it. Now go give your mom a call or a kiss.
xxoo,

Andrew