These af&co. Clients Are Raising the Bar on Wine & Cocktails
Whether you're looking to celebrate a special occasion or just to congratulate yourself for getting through another week of the pandemic, there are ample pick-up, delivery and outdoor dining options at restaurants throughout the Bay Area. From garden-themed cocktails to a Spanish wine & cheese experience, there's something for everyone: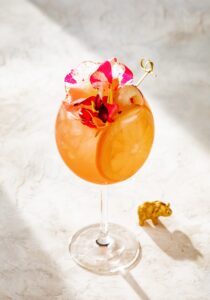 IN SAN FRANCISCO
E&O Kitchen & Bar (Union Square)
E&O Kitchen and Bar has re-opened and is offering large-format cocktails, including "Like Whoa, E&O" Agave-Rita Bar with all the fixin's to create eight to 10 margaritas and everything needed to make a carafe of E&O's popular "Sangri-La" White Sangria at home.
One Market (Embarcadero)

Offering a curated cocktail list for pickup with the restaurant's Prime Rib, Salmon, Fried Chicken and (new!) Pork Tenderloin meals. On Thursdays only, add a Throwback Thursday Cocktail to your meal for just $5 (choose a Grey Goose Martini, a Bombay Gin Martini, a Bombay Gin Negroni or Bulleit Rye Manhattan). 
The wine cellar is also open for summer wine deals chosen by sommelier Tonya Pitts at 50% off. 
Canela (Duboce Triangle)

For a taste of Spain, Canela offerings include rose sangria pouches (great for picnics!), an extensive Spanish wine shop and a complete Wine & Cheese Experience that includes a bottle of Spanish red, a loaf of bread and five Spanish cheeses. Pickup, delivery and outside dining by reservation. 
The Vault Garden (Downtown)

San Francisco's first outdoor-only venue offers an expansive cocktail menu curated by Kaitlin Ryan of Attagirl Hospitality. The cocktails are named after prominent gardens around the world, like The Horta Labyrinth (lo-fi Gentian, aperol, Mahon gin, cava, grapefruit) in honor of Barcelona's historic hedge maze and Okayama (Suntory Toki, Yun Wu green tea, shiso, Cocchi Americano, smoked saline), which pays tribute to the famous gardens of Okayama, Japan. 
Wine drinkers shouldn't miss the Bay Grape Blind Tasting Dinner every Sunday night through August, with each class featuring a different lineup of wines and a uniquely paired menu. 
Palette (South of Market)
Palette is now offering musically inspired cocktails for takeout and delivery. Named after bands or songs, like Joy Division, Summer Breeze and Sympathy for The Devil, these lively cocktails are packaged in an apothecary jar and come with a QR Code that provides instructions on how to serve the drink at home and suggested songs to set the mood.
IN THE EAST BAY AND BEYOND
Pomella (Piedmont Ave, Oakland)
Chef/owner Mica Talmor is turning out Israeli-inspired cuisine along with a thoughtful selection of local beer, wine and cider on her welcoming patio. Her refreshing White Raspberry Sangria is perfect for a warm summer day.
Gott's Roadside (various locations)

At its locations in San Francisco, Marin, Walnut Creek, Napa and Palo Alto, Gott's offers more than 15 beers, ciders and seltzers and 20 wine options, including cult favorite Pliny the Elder. No burger spot can equal Gott's elevated beer & wine selection. Wind down with a glass of wine on any of Gott's amply sized outdoor patios or order cans and bottles alongside your takeout meal.
Alba at River Terrace Inn (Napa)

Alba, the restaurant at River Terrace Inn, offers seasonal cocktails to enjoy on the terrace overlooking the Napa River with a fire pit to take off the chill.