Thinking about offering take-out or delivery for the first time? Here's some advice from Chef Sergio Monleon of Berkeley's La Marcha Tapas Bar
Over the past month, countless restaurants have had to pivot their business models from dine-in only to offering exclusively takeout or delivery. It's not a simple process, but there are tools that can help make it easier. We are inspired by the incredible job Chef Sergio Monleon of La Marcha Tapas Bar in Berkeley has done to ensure his restaurant survives past the pandemic, and wanted to share his hard-won tips and tricks with you.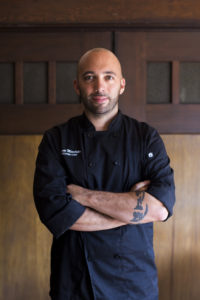 After a lot of research, hustle and implementation this is what I did for La Marcha and these are my recommendations for all restaurant owners. I had none of these systems in place before March, and if anyone needs help getting in contact with the right people let me know. I highly recommend getting ready for this style of dining, who knows how long we'll be like this.
1) Change your POS to Square for Restaurants. I had a lower credit card processing fee before, but honestly full service Square is key for this all to work. Plus it's free during this right now. It also has a payroll feature that is cheaper than Gusto and also streamlines the process. Syncs with Quickbooks and a number of other apps. 
2) Sign up for weebly. It's an online store with a curbside pick up request option. It links directly to Square, and you can set it up to print tickets directly to your kitchen printer. People order online, select a pick-up date and time, and I have it set to print 30 minutes before it needs to be ready. Super easy to use, also free right now during this pandemic. Lowers in-store transactions allowing for a safer environment for your staff.
3) Sign up for all third-party delivery companies. Some waive their commissions for the first 30 days. Plus they all send out professional photographers to shoot your food, at no cost to you. Turn them off during peak hours later, if you want. Or cancel them all together. Raise your prices and offer in-store pick up discounts. The next service is where it's at anyways.
4) Sign up for Go Parrot. For $150 p/month and $6.99 per delivery, it basically allows you to be your own delivery company. Charge a delivery fee to cover your cost. It's way less than the 30% commission these other companies take. There's so much more to this service but I'm keeping it short and sweet for this post.
5) Sign up for Chowly. For $99 it will communicate with all your third-party delivery companies and send them directly to Square, which prints in your kitchen automatically. I was managing 5 tablets, and during the rush that's not fun. I'm happy to pay $3 per day to not deal with that headache.
6) Upgrade your Yelp business profile account. It's also free right now. There, you can add tags to your business (like "offers delivery" or "take out" or "vegan friendly") so you show up in relevant searches. People are on Yelp searching for restaurants that offer take out and if you don't do this you won't be showing up. There are other useful marketing features they've added like adding posts, pictures and announcements that can reach thousands of people. Take some of those professional Grubhub pics and make some Yelp posts to announce what you're still offering during the shelter in place. It's free advertising.
7) If you've ever used OpenTable or any other reservation system, they have useful marketing tools. You can at the very least download the emails and send out some blasts. I see a spike in our sales every time an email blast goes out.
8 ) you should also be boosting Instagram & Facebook posts and running ads on social media. Highest ROI I've seen in marketing. You can get very specific as to who your target audience is, what their interests are, their demographics, etc.
There's other less essential but super useful services and apps that have helped tighten up operations. My last piece of advice is to be flexible and ready for whatever might come our way. From back to regular business, to extended quarantines and everything in between. Oh, and that it's ok if something doesn't work out. I have to remind myself of that one daily. Failure and mistakes are not always a bad thing.
I don't know if this is useful for anyone, but hopefully it helps. And if anyone needs introductions to any reps let me know. I've become friends with some of these people during this whole process lol. And I don't get a commission from any (already asked) but still down to help make an introduction by emailing me at sergio@510nora.com.
Published with permission from Sergio Monleon of La Marcha Tapas Bar, an Ellipses former client and dear friend. Originally posted April 9, 2020. 
af&co does not receive commission for any referrals or links in this post, but if you need our help please do not hesitate to ask!