Earlier this month I visited Elda, the Mission's beautiful new cocktail bar on 16th Street exuding Caribbean and Latin influences. It was my goal to get the recap done before the end of the month – low and behold, here we are. Two of us arrived around 6:30pm on a Friday, entering a loud and crowded space. We sat at the only two seats open on a narrow bar facing a wall, as all of the tables were taken. Chef Jose Flores took our order personally – casually and quickly. As we were waiting, a table opened up and we were lucky enough to swoop in, as it is first come first served. The restaurant was vibrant, with the flow moving quickly, full of energy. Below are the items we ordered:
Cocktails:
Hot Stepper | rye, grapefruit, spicy honey, ipa
Pink Flamingo | oaxacan rum, lime, tiki-tivo, pineapple, absinthe
Presidente #44 | pineapple rum, brandy, two vermouths
Food:
Coachella Yellow Corn w/ Basil Mayo & Quinoa | The quinoa added an interesting 'pop' on the surface which made it a fun experience. It was delicious, crunch, and perfectly seasoned.
Milk Bread Fried Chicken Sandwich w/ Chamoy | This was a great play on textures with the milk bread and perfectly fried chicken. The special red sauce which added a nice touch. It included avocado which wasn't mentioned on the menu – what if you were allergic to avocado? What if you didn't like avocado? It's a high-priced ingredient!
Jamaican Beef Patty w/ Plantain Dip | This was the dish we liked the least. It could have used more spice and texture. Having expected this to be a "patty," I was surprised to find it made as an empanada.
The drinks and food were delivered quickly, in no particular order. I thought there could have been a system of item delivery in place, although I'm sure they are trying to keep up with the volume to start. We were lucky to have our dishes spaced out enough to enjoy them while still warm, whereas the table next to us received all of their dishes at once.
Overall, I would recommend Elda as a quick easy bar to grab unique bites and cocktails when in the Mission. A fun spot to catch up and soak in the vibes.
At the beginning of this month, I had dinner at Leopold's, a Bavarian-style gasthaus down the street from my apartment. Two of us walked into Leopold's on a Thursday night around 7pm. From the outside, the place looked quiet and almost closed, but the second we walked through the door we heard loud German music and the roar of the other guests. We were seated right away at a table in the back corner. It was a great spot to see the layout of the whole place and a perfect setup for people watching. The waitresses were dressed in traditional dirndls, while roosters and deer antlers lined the walls and window sills – there was no short supply of stimulus.
Our waiter was friendly and upbeat, offering us his recommendation of draft beers. It was quickly clear to us that the crowd at Leopold's was there to have a gooood time. There were 3 separate occasions throughout the night where "boots" of beer were ordered. These massive 3L glasses were accompanied by the ringing of the bell and the whole restaurant erupting in cheers. Our work schedules the next day prevented us from getting the boot, so we settled for 0.5L of the Erdinger Hefeweizen and the Kostritzer Meisterwerke Pale Ale. Both beers were extremely smooth, but my preference leaned towards the grapefruit and orange notes of the pale ale.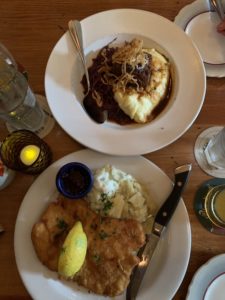 After our beers were delivered, we ordered the Wiener Schnitzel and the Braised Beef Short Rib (on Alyssa's recommendation). Both plates arrived together after a short wait. The wiener schnitzel was paired with a sweet lingonberry sauce, which complimented the thin buttery crust of the schnitzel incredibly well. I found myself hogging that dish (sorry Kyle!). The short rib came with gruyere mashed potatoes and crispy onion strings. The meat was full of flavor and so tender that it came apart with only a light pull of your folk. Both portions were huge and we left feeling comfortably full.
Overall, Leopold's was a fun experience and a good spot for an exciting night out. We will definitely be back for the boisterous atmosphere and great food.
The af&co. staff has been out and about tasting all of the best the Bay Area has to offer. Take a peek at where we've been and click through on the titles for the full reviews.
Alyssa Takes Herself to Mägo Oakland
More than anything, that kind of motivation and work ethic present at Mägo is what differentiates restaurants with character and potential from refined dining locations that leave you remembering the hefty price tag rather than the food…My best advice, give Mägo a few months to work out some kinks and then give it a try. They have the foundations to make a successful restaurant but will definitely benefit from focusing extra time into menu development once the bulk of their energy can transition away from all the chaos that accompanies opening a restaurant in this day and age.
Marcelle Recaps Her and Karina's Night at Rich Table
The hostess sat me right away and brought me to the back of the restaurant, where one of their very few larger party tables lives. The majority of tables accommodate parties of 2-4, which means you see quite a few dates in the dining room. I immediately fell in love with the interior of the restaurant. The rustic, simple, woodsy aesthetic is great — and I loved the location of our table. It almost felt semi-private and away from noise, but not to the point of it being too far removed from the liveliness. The ambiance and space itself had to have been my favorite part about the experience.
Take a Bagel Break at Daily Driver with Karina
The bagels were really good, although not EXTRAORDINARY. The cultured butter and cream cheese were unique in their own way. The grilled cheese bagel definitely topped the list (think ooey, gooey cheesy delicacy) – must try…Overall, it was a pleasant experience, but I wouldn't wait more than 20 minutes in line for it, unless you really want to! Fun fact, they have Magnolia beer on tap which you can enjoy on-site. If you're in the neighborhood, give it a try as it is a sight to see.
Amy Reviews Afternoon Team at Dandelion Chocolate's Bloom Salon
The room itself was lovely, and I can imagine seeing it over and over again on Instagram. We found it surprisingly cold. The only decision we had to make was whether or not we wanted the House Hot Chocolate or the (spicier) Mission Hot Chocolate. We did one of each and felt that they were the highlight of the experience. The accompanying house-made marshmallows were also excellent.
Alley Throws Back a Few at Willkommen
All of their drafts had fun names like Sparkle Pony Belgian Blonde Ale and Sunrise Set Sour Berliner Weisse. We tasted and enjoyed both. I usually don't like sour beers, but this one wasn't overpowering and I could actually see myself drinking a full glass of it. In the end, we settled on two half-liters of Summer Mixtape, a fruity, hazy IPA that wasn't too hoppy and would make for a great summer go-to, and the Heff Bridges Hefeweizen that tasted great but ultimately won out for its name…Overall, it was great experience. The staff was kind and the atmosphere was warm and welcoming. It was the type of place where you wanted to stay and hang out and it felt like that was encouraged as well. I think we'll probably be making this our go-to spot for a beer and a pretzel.