Hello all —
I hope you are all safe and well as we head into the eighth week of Shelter-in-Place. It used to be rare for me to be home and now it seems this is where I am almost all of the time, and to be honest, I'm not loving it. The beauty of representing the best chefs, restaurants and hotels meant never having to cook for myself. But, like the many other adjustments we are making, I am pivoting with the continuously shifting circumstances. (I have even learned to make a mean veggie omelet.) 
Pivot may as well be the word of 2020, especially if we plan to survive it.  Before we can even begin to talk about the new normal, we must imagine how all of the elements will return together. It eludes us like a secret recipe. As Governor Newsom said, "there's no light switch when it comes to the reopening of California. It will be more like a dimmer toggling back and forth between more restrictive and less restrictive measures."
While we are starting to see stories of cities coming back online (with overwhelming but necessary restrictions), we are also engulfed in conversations about how these models will possibly make sense for hotels and restaurants and whether we can all survive and possibly even thrive with our new reality. The angst and unknowing is justified, yet we still have a choice in how we show up each day and continue to fight the battle. Even with the concerning realities that surround us as we worry about shutting down for good, we are doing better than we were just two weeks ago. We are warriors! We have moved past the paralyzation of fear and grief and are catching a glimpse of light on the other side of the hill. Just eight weeks into this nightmare, we are realizing that we are still not there yet, and everyday wonder if we will make it to the top. There is no one to push us uphill but ourselves, and even if we have a strong support system, we dread that it may not be enough. And so, we keep fighting even when we don't know exactly what will greet us on the other side. I believe and have been telling myself during my sleepless nights, that we must try to complain less and focus more instead on what problems need solving now and in the future. And if you know us Jews, we thrive on complaining, so this one has been extra tough for me.
Survival will be the success stories of those who are able to navigate these shifting challenges with nimbleness. The groups like the Golden Gate Restaurant Association and The Bay Area Hospitality Coalition that are lobbying for support every hour of every day. The restaurants that are completely re-imagining their spaces (inside and out) making it as easy as possible for people to pick up to-go orders without getting parking tickets or having to touch anyone. The hotels that are thinking of the idea of "cleanliness theatre" and those talking about who will wear masks and who won't. The ones who are making the choice to look on the bright side as hard as this may be. (I'm convincing myself as I write this.) 
One thing I can say for certain is that the new normal will be anything other than what we are living at this moment. It will evolve every day, every minute and keeping up with it all, fighting the fight daily and celebrating the smallest of victories can be satisfying and yet exhausting at the same time. (Wait a minute, am I talking about a past relationship – I'll save that for story for another time.)
Eye of the Tiger
My "new normal" includes a walk to pick up groceries and a face hidden behind a bandana (which steams up my glasses regularly). I think about the fashion brands who have pivoted to create stylish facemasks.  If I'm going to have to wear one constantly (thank you Mayor Breed for keeping us safe), I'd like it to look good. So many companies like Cayson Designs and Hedley & Bennett that create most of the uniform apparel for the culinary industry have pivoted to create facemask lines, a perfect example of an innovative turn in a time of need. For me, as I smile at people passing on the street, I realize that most of my face is hidden. It makes me wonder — are my eyes enough? Do I look crazy? And even with this new focus on our eyes, we still can't quite yet see the future. Like the facemask, we are currently all coming up with new solutions overnight. For me, it leaves minimal time for sleep amid pulling all-nighters to fill out loan applications and create new operating models. There is little time, or the brain space required to see the bigger, future picture. And, all this alone time has clarified the difference between social distancing and emotional distancing. I think we all need contact more than ever. (I need a hug! Wait, I'm complaining – okay I'll stop!)
Yet, the collective warrior spirit of our industry motivates me to press on, as I watch restaurants (many of our clients) turn on a dime. Beloved favorites like Gott's Roadside have transitioned completely to online/pick-up and others like Lazy Bear  have completely changed their models –check out their Camp Commissary!  Some have pivoted their business models with thoughtful marketing tactics to address the new environment. At TCHO Chocolates, a growth in website sales led to an updated digital ad strategy to help chocolate lovers who are sheltering in place make more purchases from home. (As we write this I am nibbling on a delicious almond and sea salt dark chocolate bar – dark chocolate is healthy right?) Myriad Gastropub like so many others is supporting its team with a GoFundMe campaign and selling digital gift cards. Perbacco recently launched Perbacco Alimentari + Enoteca: an online grocery store that will serve prepared ready-to-eat meals along with a wonderful curated assortment of products and wine, while Palette is offering meals for home in the most creative artful delivery presentations that bring its brand to life. A neighborhood gem like the Park Cafe Group is offering online orders (with no fees!) of its heart-healthy foods available curbside at each of its four locations. And then there's One Market who is offering curbside pickup and delivery of their amazing deals (50% off select bottles of wine!) through their Raid the Cellar online wine store.  I could go on and on – as these stories of determination and inspiration are happening worldwide as our beloved industry fights to hold on.
Love Is A Battlefield
Our unwavering support for one another and the communities we live in continues. This industry, while down, is truly working to support each other and everyone in it, and it is incredible what is being accomplished. The team at Quince and Cotogna (Verjus too) have created a restaurant relief fund: Feed the Future, a not-for-profit charitable foundation aimed at helping their employees and local farming communities in the supply chain impacted by the COVID-19 pandemic. They are raising funds with an amazing online auction. Oakland's alaMar Kitchen & Bar is offering free meals for displaced restaurant workers in conjunction with Chef Ed Lee's Restaurant Workers Relief Program. And my hero, Chef José Andrés' World Central Kitchen and Frontline Foods has garnered incredible support from restaurants worldwide (and Oprah –another hero for another story) are feeding the hospital teams that are working tirelessly (and putting their own lives at risk) to get this &%$*# virus under control. I am sure like me you have cried many times since this all started but gestures like these do indeed lift me up.
They say a crisis can lead to creativity – so as we turn to planning, we face new learning lessons about social distancing, delivery, takeout, touchless everything and so much more. We look (and hope) to be getting people back into our hotels and dining rooms. We are reminded that the culture of timing and the deep need for connection must be a balanced effort. In order to give hotels and restaurants the opportunity to survive, our industry (the industry I know you all love) is seeking answers. Constant lobbying, discussions about relief, recovery and re-emergence, developing reopening strategies, and creating innovative marketing plans are now part of our daily lives.
When I am down, these stories from the battlefield and the passion behind them motivates me to put on my own boxing gloves, after my mask of course (and no eye rolling about the boxing reference) and join the fighting spirit that is this industry. We will win this battle as long as we remember that we must go the distance in the ring. 
If you want to set up a time to chat, I've pivoted to learn the beauty of Zoom, and would really like to see your eyes (and your smiles)! Let's look ahead to the future and believe that somehow, we will get past this if we at least try to look on the brightest side of a currently uncertain reality. Hang in there. Don't give up!  Use your eyes in new ways to see clearly ahead, and who you are and may become from all of this. Never forget that the future is still very bright indeed. We just need to make it up and over the hill to the other side. I plan to be there waiting for you with open arms and a huge smile.
With love, respect and gratitude,
Andrew
Over the past month, countless restaurants have had to pivot their business models from dine-in only to offering exclusively takeout or delivery. It's not a simple process, but there are tools that can help make it easier. We are inspired by the incredible job Chef Sergio Monleon of La Marcha Tapas Bar in Berkeley has done to ensure his restaurant survives past the pandemic, and wanted to share his hard-won tips and tricks with you.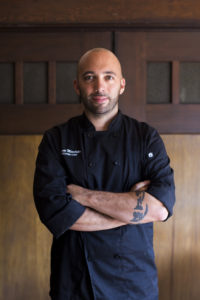 After a lot of research, hustle and implementation this is what I did for La Marcha and these are my recommendations for all restaurant owners. I had none of these systems in place before March, and if anyone needs help getting in contact with the right people let me know. I highly recommend getting ready for this style of dining, who knows how long we'll be like this.
1) Change your POS to Square for Restaurants. I had a lower credit card processing fee before, but honestly full service Square is key for this all to work. Plus it's free during this right now. It also has a payroll feature that is cheaper than Gusto and also streamlines the process. Syncs with Quickbooks and a number of other apps. 
2) Sign up for weebly. It's an online store with a curbside pick up request option. It links directly to Square, and you can set it up to print tickets directly to your kitchen printer. People order online, select a pick-up date and time, and I have it set to print 30 minutes before it needs to be ready. Super easy to use, also free right now during this pandemic. Lowers in-store transactions allowing for a safer environment for your staff.
3) Sign up for all third-party delivery companies. Some waive their commissions for the first 30 days. Plus they all send out professional photographers to shoot your food, at no cost to you. Turn them off during peak hours later, if you want. Or cancel them all together. Raise your prices and offer in-store pick up discounts. The next service is where it's at anyways.
4) Sign up for Go Parrot. For $150 p/month and $6.99 per delivery, it basically allows you to be your own delivery company. Charge a delivery fee to cover your cost. It's way less than the 30% commission these other companies take. There's so much more to this service but I'm keeping it short and sweet for this post.
5) Sign up for Chowly. For $99 it will communicate with all your third-party delivery companies and send them directly to Square, which prints in your kitchen automatically. I was managing 5 tablets, and during the rush that's not fun. I'm happy to pay $3 per day to not deal with that headache.
6) Upgrade your Yelp business profile account. It's also free right now. There, you can add tags to your business (like "offers delivery" or "take out" or "vegan friendly") so you show up in relevant searches. People are on Yelp searching for restaurants that offer take out and if you don't do this you won't be showing up. There are other useful marketing features they've added like adding posts, pictures and announcements that can reach thousands of people. Take some of those professional Grubhub pics and make some Yelp posts to announce what you're still offering during the shelter in place. It's free advertising.
7) If you've ever used OpenTable or any other reservation system, they have useful marketing tools. You can at the very least download the emails and send out some blasts. I see a spike in our sales every time an email blast goes out.
8 ) you should also be boosting Instagram & Facebook posts and running ads on social media. Highest ROI I've seen in marketing. You can get very specific as to who your target audience is, what their interests are, their demographics, etc.
There's other less essential but super useful services and apps that have helped tighten up operations. My last piece of advice is to be flexible and ready for whatever might come our way. From back to regular business, to extended quarantines and everything in between. Oh, and that it's ok if something doesn't work out. I have to remind myself of that one daily. Failure and mistakes are not always a bad thing.
I don't know if this is useful for anyone, but hopefully it helps. And if anyone needs introductions to any reps let me know. I've become friends with some of these people during this whole process lol. And I don't get a commission from any (already asked) but still down to help make an introduction by emailing me at sergio@510nora.com.
Published with permission from Sergio Monleon of La Marcha Tapas Bar, an Ellipses former client and dear friend. Originally posted April 9, 2020. 
af&co does not receive commission for any referrals or links in this post, but if you need our help please do not hesitate to ask! 
The Restaurant and Hospitality Industry Responds to Crisis
Andrew Freeman
April 2020
If you had told me on March 1st that this month would be unlike anything we have ever experienced, I'd ask who made your cocktail and consider avoiding that particular establishment. It is now April 6th, and there are no open bars or restaurants to have that conversation or a laugh with a cocktail and perfectly paired bite. As I write this, more than seven million workers have been laid off. Millions more who contribute to the restaurant industry, from farmers to beverage suppliers and delivery people are facing immediate uncertain futures. Local, independent restaurants represent 13 million employees nationwide, and $1 trillion contributed to our economy. They are experiencing challenges like never before in the face of circumstances beyond our wildest imaginations.
2020 began with a promising start for all of us at af&co. while we prepared to (and still plan to) celebrate our 15-year anniversary. In January, Candace and I were thrilled to announce the spin-off of our very successful consulting services division into a new sister company, Carbonate. On Monday, March 2nd, we announced and were celebrating af&co.'s merger with Ellipses PR. Just two days later, Coronavirus rumblings began and by Thursday, we began advising clients on messaging around reactions and started discussing the possibility of cancelling a few upcoming events. By Friday, we were grappling with the potential – which almost immediately became the reality – of shuttering restaurants, furloughing employees and going to delivery and take-out only models.
By the following Monday, we were all sheltered in place, realizing that in one week, we'd essentially experienced a global earthquake. The immediacy of this crisis came without warning and has shaken us to the core. The fires and floods of the last three years have shown us what catastrophe entails on a smaller scale, and we've responded with resilience. We learned the hard way that our industry still remains fragile to the ebbs and flows of people coming and going, and that when something stops people from moving, restaurants and hotels experience this first and are hit hardest. That ripple effect extends to everyone who supports the industry. The experiences of recent years helped us stand up immediately to this unprecedented challenge.
Still, as we push forward, it is not without sadness for the loss of so much so fast. I feel for the clients we support. I feel concerned for people and their health and have a newfound fear of touching the elevator button in my apartment building. I strategize 24/7 about how we are going to recover financially (and mentally) and yearn for the day when I can get a haircut and manicure again. As an extroverted gay man (just in case you didn't know), I am used to being surrounded by inspiring and interesting people and being able to give and receive hugs, all while dressed to the nines. I haven't worn a bowtie in three weeks! I miss having delicious meals and drinks at incredible restaurants, enjoying the theatre, spending time with my friends and meeting new people (aka dating). I miss having dogs — this would be the perfect time to be snuggling with Daisy and Tulip. I am happiest as a helper, and I miss taking care of others. I am feeling frustrated that I am not in a position to do that now, at least for the short term, although our number one goal is helping our clients make it through all of this! Boutique agencies are like family, and I am hopeful about bringing ours back together.  We have shared so many major life moments and victories and are surely due for more.  
The hospitality industry's reaction to Coronavirus is inspiring. We immediately came together to continue doing what we do best in new and different ways, and I'm realizing that this is just the beginning. Our clients have risen to the challenge while making difficult decisions to navigate this new landscape. Some have found creative ways to stay open by creating lunch boxes and brunch kits, and executing corner store collaborations. They have brought these ideas to life and literally delivered them in less than a week's time. Others have decided to temporarily shutter and focus on recovery efforts to reemerge when the time is right. We are truly thankful to the media for covering who is open, who is offering take-out and delivery, and other ways that consumers and the government can get involved.
The immediate rally within the restaurant and hospitality community is what makes our industry so resilient and a huge global family. What is also amazing, while we sort through the rubble of our own businesses, is that we are simultaneously looking to provide aid to those in need. The Golden Gate Restaurant Association,  The James Beard Foundation and the Independent Restaurant Coalition, to name just a few, have responded nearly overnight to take care of our employees, their families, and the bravest on the front lines who are supporting those who are sick.  
I am inspired by people like José Andrés, whose World Central Kitchen non-profit is setting up field kitchens with relief teams to provide nearly 100,000 fresh, nourishing, often hot meals every day across the country through #ChefsForAmerica. They have also collaborated with local restaurants in various cities on an initiative called Frontline Foods, that provides meals to medical professionals. Media outlets like EATER, SFist, Food & Wine and The Infatuation have compiled lists of relief funds for restaurant and food service employees while restaurant groups have started their own GoFundMe pages and gift card campaigns to raise much needed funds for displaced employees which have been supported by their loyal customers.
Here at af&co. and at our partner-company Carbonate, like our industry family, we are warriors. Like our clients, we are survivors. From 9/11 to the economic downturn, fires and floods, we have learned how to be resilient, hopeful and committed. I believe that we all will emerge stronger and wiser with the lessons we are learning now. Now that the initial shock has hit, we are working with our clients and the industry at large to focus on what we will do to recover, rebuild and reemerge. We have moved to creating comeback plans and programs. I worked with the Carbonate team to create three resources that we will share in the next few days: Brand Marketing in the Time of Coronavirus, The Effect of Shelter in Place on Food & Beverage Trends, and Turning on a Dime: New Operating Models. All three will be available on the Carbonate website. 
I must acknowledge the af&co. and Carbonate teams that have been working tirelessly through this crisis. You have my endless gratitude for your insights, passion, commitment and the sacrifices you are making right now. Knowing what I know (I'm old!) from more than 20 years in the hospitality and travel industry, I am confident that we will get through this trying time. The Disney Princess in me (no comments please!) says a whole new world of hospitality awaits, and it will be all the more magical when it does.  
Wishing you all the best. Stay healthy, friends.
– Andrew
P.S. If you'd like to set up a virtual cocktail and a chat, I'd love to know what's in your drink and on your mind. Email me at andrew@afandco.com. I am looking for every opportunity to get out of these pajamas. Also, stay tuned for weekly updates through the af&co. website's News You Can Use, and follow us on Facebook and Instagram.