Valentine's Day Around the bay
Forget the roses. What you should really get your love (or yourself!) this Valentine's Day is some good food, wine, and beverages from our clients! Trust us, you are going to fall in love with their special menus and offerings. ❤️
SAN FRANCISCO
One Market Restaurant will offer a delicious three-course Valentine's Day menu for $75 per person on February 13th and 14th. The meal includes a choice of carrot soup or shrimp cocktail, a choice of grilled filet mignon or baked American red snapper for your entree, and a delicious Valrhona chocolate cake drizzled with raspberry sauce to finish the evening. If you're really trying to impress your date, add on Osetra caviar or Dungeness crab cakes. You can place your orders online for pick up and delivery.
Mark 'n Mike's, One Market's NY-style delicatessen is in the romantic mood Valentine's week, too! They'll be offering adorable heart-shaped latkes available during their regular hours of Wed.-Sat., 11:30 am – 7:00 pm.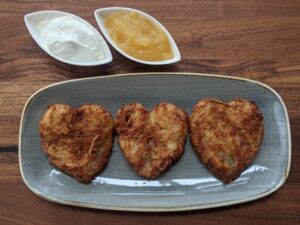 Canela is offering a three-course Valentine's Day Dinner for $89 per person. The menu will be available for outdoor dining, pickup, and delivery from February 12th through February 14th from 3 pm to 5 pm. The tapas-style meal includes warm cheese fondue with assorted dippers, roasted and stuffed Spanish piquillo peppers, grilled bavette steak with blistered shishito peppers and onion marmalade, and so much more! 
Canela will also have another pop-up shop at their parklet for all of your gifting needs. The Valentine's Day Emporium will be on February 12th through February 14th from 2 pm to 5 pm. It'll be your one-stop-shop for gifts, curated chocolate and candy boxes, fresh flowers, and more. They are adding new items daily, so be sure to follow along on their Instagram for updates.
Chao Pescao is offering a romantic four-course Caribbean style surf & turf dinner for two ($120) available for pickup and delivery. This mouth-watering menu features gluten-free Pan de Bono (cheese bread), two Colombian-style empanadas (choice of beef, pork or chicken,) mojo butter-poached lobster tails with Bistec de Palomilla, thin cut marinated sirloin steak, with black beans, rice and plantains, and Tembleque, a  gluten-free coconut custard with Grand Marnier and cinnamon, plus two alfajores. Add two cocktails, like their signature Daiquiri with 12-year aged Rum for $18, or a bottle of wine to create the perfect romantic dinner at home. 
Indulge in San Francisco Proper Hotel's Proper Kitchen's delightful Lover's Cheese Fondue experience for two, with a keepsake fondue kit ($270). The kit includes a fondue pot with all tools, your choice of signature cocktail for two (choice of Negroni, The Libby, Vesper, or Manhattan), fresh Dungeness crab salad, truffled cheese fondue, sourdough bread, farmer's market vegetables and fingerling potatoes, shaved Wagyu beef, and a white and dark chocolate tart. Wash down all of those delicious bites with their paired bottle of Tohu Sauvignon, 2019 (Marlborough, New Zealand).
If your honey has a sweet tooth, be sure to elevate the experience for an additional $40 with the Dark Chocolate Fondue for two, served with Valrhona chocolate, seasonal fruit, and vanilla madeleines. The chocolate fondue is also available on its own for $95, pot included.
Both fondue kits are available for delivery 10 am-6 pm, February 12th through February 21st via Tock, SF Proper's website. You can also order on Postmates to get their special free delivery offer through for Valentine's Day and the following week.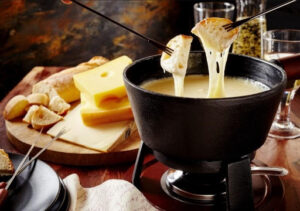 Villon, the property's restaurant, will also be offering a five-course Valentine's Day Dinner for safe outdoor dining on Valentine's Day from 5 pm to 10 pm for $125 per person (optional wine pairing $55). Menu highlights include a Mortadella Mousse Tart with black truffle and spicy greens, Spot Prawn Grilled Over Redwood with hazelnut and wild herbs, Lily Pasta with pumpkin, kale, and black truffle, Glazed Duck with chestnut honey quince, turnip and cocoa nib, and Vanilla Cheesecake with rhubarb granita. You can drool over the full menu and options here.
But wait, that's not all the Proper will be offering this year. Charmaine's, the property's swanky rooftop bar, will offer outdoor seated Valentine's Brunch on Saturday, Sunday, and Monday (2/13, 2/14, 2/15) from 8 am to 2 pm, featuring Chocolate Fondue and Strawberries and a special Valentine's Dinner on Saturday and Sunday (2/13 and 2/14) for $95 per person, not including beverages. Reservations are available online.
Perbacco is offering a four-course dinner menu for two priced at $90. The menu includes Dungeness crab salad, agnolotti with black truffle fonduta, beef Wellington, and a milk chocolate mousse bar with almond brown butter cake. The luxurious dinner will be available for delivery and takeout.
The Vault Garden is back for safe outdoor dining! (Valentine's Day wishes do come true!) They will be offering a four-course meal for $85 per person on February 12th, 13th and 14th. Menu highlights include ahi tuna crudo with marinated beets, tardivo and vadouvan, mushroom risotto with pecorino and fines herbes, butter-roasted beef strip loin, and a milk chocolate budino with passion fruit, coconut cake and praline crunch. 
The a la carte menu will also be available on the 12th and 13th, (prix fixe only on the 14th). Booking details and the full menu are available through Tock.
EAST BAY AND BEYOND
Federation Brewing has partnered with local chocolatier Michael Mischer to create the perfect pairing of chocolate and beer. This unique package ($48) includes chocolate made with Federation Brewing beers, and a 4-pack of 16oz beers to pair including their Purple Midnight Plum Sour, Low Boy Oatmeal Bomba Nights, and Utopia Planitia. There's a limited number of kits available, so make sure to place your orders online starting February 1st. Kits will be available for pickup starting February 10th. 
Federation also offers a flat $5 local delivery fee. For San Mateo, Santa Clara, Alameda, and Contra Costa counties, Valentine's Day orders will be delivered on February 11th. San Francisco Valentine's Day orders will be delivered on February 10th, and California shipped Valentine's Day gifts will arrive between February 10th and 11th.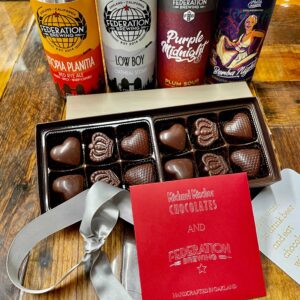 This newly opened Indian restaurant in Los Altos is offering an aromatic three-course meal that will indulge all the senses ($39.99 per person). The mouthwatering menu includes a choice between their galouti kebab or stuffed tandoori mushroom to start, followed by the main course of curry leaf butter-poached lobster tail or roasted stuffed zucchini. Each will be accompanied by mint and raisin pulao and garlic naan. The meal includes two cocktails and masala pot de creme for dessert. Place orders online for pickup or delivery, or reserve a table for outdoor dining. The menu will be available February 12th through February 14th. 
TCHO's Valentine's Day-themed gift box makes the perfect gift for all the people you love. The colorful box contains 36 eight-gram chocolate bars made in Berkeley using organic, fair-trade cacao ($25.99). The gift boxes are available online. Place your orders by February 7th for them to arrive by Valentine's Day.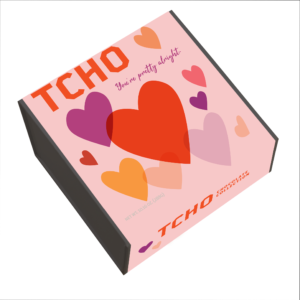 Add some sparkle to your Valentine's Day with Dough Wines' new sparkling Brut and Brut Rosé wines from the Willamette Valley. The newly released 2014 Brut, which is a 100% Chardonnay, and the newly released sparkling Rosé, a blend of Pinot Noir, Chardonnay, and Pinot Meunier, are perfect for any romantic occasion. They are all available online.