Celebrate Women's History Month
In 1987, Congress declared March as National Women's History Month. The movement was born out of a small-town school event in California and has since become nationally recognized. The purpose of the month is to identify and celebrate the pivotal role women have played in American history, culture and society.
We're lucky enough to have powerful women on our team and as our clients. Check out all of the wonderful ways we will be celebrating below.
Brunch Service – Saturday, March 7th & Sunday, March 8th; 11am-3pm 
In celebration of International Women's Day and Women's History Month, head to Bluestem to toast all of the badass women in your life. A weekend long celebration, Bluestem welcome's guests to gather for brunch (reservations accepted and encouraged!) where all proceeds from Iron Horse Vineyards' pink sparkling wine (Wedding Cuvee) will be donated to San Francisco's own, Dress for Success. Upon arrival, there will also be two large bins within the restaurant purposed with collecting accessories and donations for the organization throughout the weekend. Bring in your lightly loved pieces for a great cause!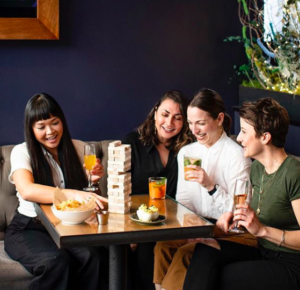 Bluestem will continue to highlight powerful women throughout the month of March by featuring a collection of the restaurant's women partners and purveyors on Bluestem's social channels @bluestemsf.
What often isn't acknowledged in the food industry are the countless individuals working behind the scenes who keep the ball rolling, the food coming, the beverages flowing and make your events unforgettable. At E&O, there are three women who are pivotal players in these efforts: Executive Chef and Director of Operations, Sharon Nahm, Director of Private Events & Sales, Beth Rankin, and Events and Sales Manager, Ashley Zimmerling.
E&O will donate 10% of all food sales from lunch and dinner to Dress for Success on Saturday, March 7th, 2020 in honor of Women's History Month.
In March, Bespoke Events will be hosting two very important events focusing on women in the data science and gaming fields.
March 17 | Women in Gaming 20th Anniversary
A talk looking into the decades of women in gaming will be followed by a networking event. Come join Xbox, Ubisoft, Electronic Arts, Activision Blizzard, Facebook Gaming, YouTube/Google, Women in Gaming International and Unity, to meet others, and take part in some fun activities. We will have photobooths, coffee carts, photo walls, silent discos, recruiting, swag, and more! Appetizers and drinks will be provided.
March 27 | Correlation One Data Science 4 All Women's Summit
This event is opening doors for aspiring women data scientists through training and mentorship.
The event pairs mentors with women STEM mentees – combining hands-on learning, mentorship, and professional development in a multi-day event. We want to create new opportunities for people interested in the wide range of possible data science & analytics careers.
Tratto will be offering two specialty cocktails for the Women's History Month — the Ananas Sbiancato (High West Silver Oat Whiskey, Cocchi Americano, Luxardo Bitter Bianco, Pineapple tincture) and a Coconut Sazerac (Coconut-infused Rittenhouse Rye, Chamomile-orange syrup, housemade Peychauds, Absinthe rinse, toasted coconut). Cocktails are $15. Cynthia Tran, Tratto's general manager and beverage director, is the mastermind behind these cocktails. Cynthia works alongside Shelia Turner, CEO of Pera Group, who operates Tratto and oversees food and beverage at The Marker Hotel.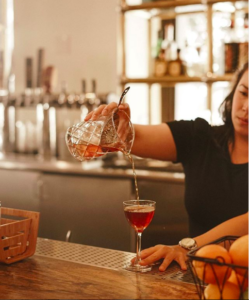 Virgin Hotels San Francisco will be celebrating Women's History Month in two different ways. Starting on March 8th, 2020 and running through the end of the month, the Commons Club bar will feature an inspired cocktail, "And Jill" playing off of the drink's Jack Daniels base. A percent of proceeds from the drink will be donated to Dress for Success. In addition to the special cocktail, VHSF's Upside Down Tea on March 21st will also support DFS.
On the final weekend of March (March 26th-March 29th) Canela Bistro & Wine Bar will be offering a special tasting menu featuring the creativity of Canela's long standing female Sous Chef, Soledad. The tasting will be priced at $65 for 4 courses with an optional $35 wine pairing. All of the wines will be sourced from female distributors and producers that Canela has established relationships with over the years. 
Menu
Course 1 | Layered Cornbread with Piquillo Peppers, Manchego Cheese and Jamon Serrano
Course 2 | Baked Calamari stuffed with Tuna, Cilantro, Onions, Crumb Crust and Tomato-Herb Broth
Course 3 | Lamb Roulade with Raisins, Pine Nuts, Hazelnut, Herbs and Sun-dried Tomato Rice
Course 4 | Lemon "Snowflake" Cake