Andrew's Upcoming Speaking Engagements
Hello from Europe! Andrew is currently in Madrid for his second year speaking at Expo HIP (Hospitality Innovation Planet). It's a 3-day exhibit that's a must for hotel and catering professionals and Andrew could not be happier to have been invited to return and represent Team USA. Be sure to follow along on af&co., Carbonate and @bossmanafco for behind-the-scenes and updates.
Don't think you need to buy an international plane ticket to hear all of Andrew's insights! Check out the events below that he'll be talking trends at.
CIA Summit for Sommeliers and Beverage Professionals | March 1-3, 2020
Presented by The Culinary Institute of America, the CIA Summit for Sommeliers and Beverage Professionals is an annual conference and enrichment program for career-driven individuals in the wine and beverage industry focused on mentorship, management, hospitality, and leadership.
Andrew will be presenting the trends report on Sunday, March 1 at 4pm. Tickets are available here.

Night Club and Bar Show | March 30 – April 1, 2020
At the end of March Andrew and Candace are packing their bags and taking to the trends report to Vegas! Nightclub & Bar Show is the nation's most influential gathering of bar, restaurant and beverage professionals. This is the only event that creates a one stop shop environment to learn about cutting-edge products, new technology and new trends in the industry to improve efficiency and ultimately boost profits.
Along with Donald Burns, the Restaurant Coach, Andrew and Candace to hold an interactive workshop that will help bars and restaurants break out of their marketing rut! It will be a party full of great information and interactive exercises.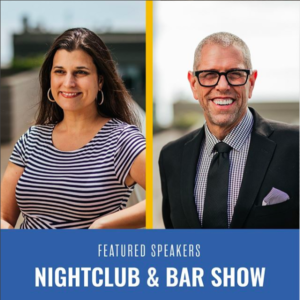 Don't miss this one if you are in the area. Get your tickets here!