Celebrating Dad in the Bay Area
Father's Day Favorites
Give Dad the night off from cooking and treat him to a delicious dinner this Father's Day.
Our restaurants have the recipe for a perfect Father's Day.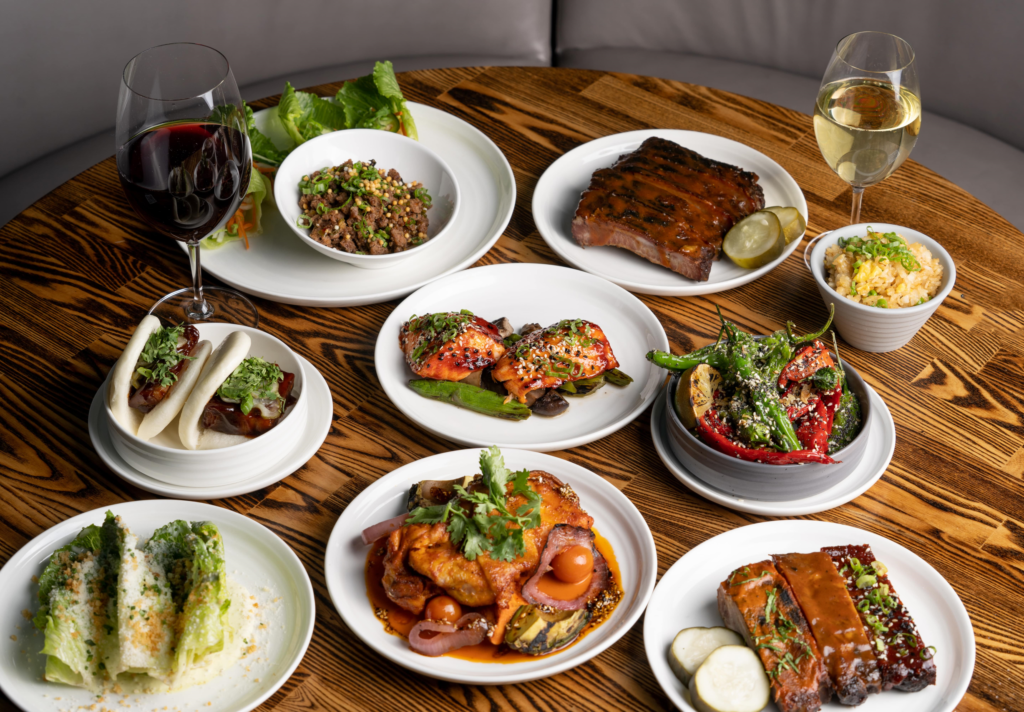 San Francisco
50 Moraga Ave, San Francisco, CA 94129
Send thanks to all of the dads and father figures out there with brunch or dinner at Colibri. The newly opened restaurant offers a sunny or shaded patio and candle accompanied indoor dining for those looking to share a few drinks or enjoy a meal. Live music will also warm the space during brunch service.
Make your reservation soon as the space tends to book out quickly!
811 Ulloa St, San Francisco, CA 94127
To up the ante on Lazy Susan's current Lazy plates for lunch, the restaurant will be offering a "double meat" option starting on June 1st. From June 13-17th, in celebration of Father's Day, they will be offering the meaty upgrade for free for those who use the promo code (FATHERSDAY). This is equivalent to a full meat-based entree alongside a crispy spring roll and side of white, brown, veggie fried rice, or veggie chow mein for $12.95. Thanks to the generous portions, the meal is guaranteed to satisfy any hungry dad out there, and who knows, maybe even result in some leftovers.
South Bay
132 State St, Los Altos, CA 94022
Why not escape the City for Father's Day this year in exchange for some wide open spaces and… parking. Aurum is the perfect destination. Add a family hike in the Los Altos hills to your plans before or after a meal or browse the walkable shops in Downtown.
Experience Chef Tyagi's fun spin on a few American classics with items like Tandoori Chicken wings. For the full list of specials, check out the complete menu here.
Adrestia at TETRA Hotel
400 West Java Drive, Sunnyvale
Chef Hideki Myo is serving up a made-for-dad special on Father's Day – a Togarashi Crusted Prime Rib with roasted summer squash, brown butter potato puree and roasted garlic au jus and wasabi cream ($58). The dish is served with a complimentary Toki Japanese whisky Old Fashioned. Enjoy the rest of Adrestia's menu on Father's Day, which celebrates local and seasonal ingredients and Japanese and broader Asian cuisines. Chef Myo's menu also features Father's Day favorites including New York Strip Steak with truffle potato puree, Bloomsdale spinach, Merlot reduction ($48), 40oz Bone-In Ribeye Steak that is great for sharing family-style with hand seared mushrooms and cherry brandy sauce ($165) and a Wagyu Burger with Tomarashi cheese, Miso Aioli on toasted brioche bun and served with fries ($25). Togarashi Prime Rib special available on Sunday, June 19 only. Reservations at OpenTable.
East Bay
Study Hall Rooftop Lounge at Residence Inn Berkeley
2121 Center St, Berkeley, CA 94704
On Father's Day weekend (Friday, June 17th to Sunday, June 19th), Study Hall will be offering two house-made BBQ Brisket sandwich combos.
For $25, guests can grab one of the Study Hall smoked sandwiches paired with a beer (Trumer Pilsner or Boont Amber Ale) or for $40, they can upgrade to a top shelf whisky shot pairing (Dalmore 12 year scotch or Pinhook Bourbon).
To the backdrop of 12-story campus views and the Bay Area skyline, Study Hall is the perfect East Bay venue to settle in for an evening of juicy meat and flowing taps and it's just steps away from Downtown Berkeley BART for easy access!
332 Park St STE D, Alameda, CA 94501
For Father's Day this year, Trumpet vine-draped alley & vine will be offering a prix fixe brunch (menu linked here) with the likes of Shellfish Bisque, A&V's new Burger, and Shakshouka alongside other favorites for $55 per person. For those who prefer a later start to their day, alley & vine will also be offering a Prime Rib special during dinner service.
On top of the food, local beers from Fort Point, Original Pattern, and Alameda Brewing would also be highlighted on the menu.
301 Mission Street, San Francisco
Michael Mina and Ayesha Curry have the recipe for a perfect Father's Day at International Smoke! In addition to its menu of globally-inspired dishes from the grill and smoker (ribs, filet mignon, Tomahawk ribeyes and short ribs), enjoy Father's Day specials all weekend long including Smoked Brisket Lumpia with spicy sesame aioli ($22) and Soft Shell Crab Tempura with crab-fat fried rice and blistered shishito peppers ($32). Both dishes are available Friday through Sunday. Explore the restaurant's list of signature cocktails like the International Smoked Old Fashioned or the Reserve Manhattan (with rosemary smoke!) to offer the perfect pairing for Dad! Full menu here. Reservations here.