The Best Places for Dinner & A Show in San Francisco
San Francisco favorites debut special menus in celebration of the Moulin Rouge! The Musical. Kick off a night at the theater at One Market Restaurant and La Bande and Villon in the San Francisco Proper Hotel and end the evening at The Madrigal's late night Happy Hour.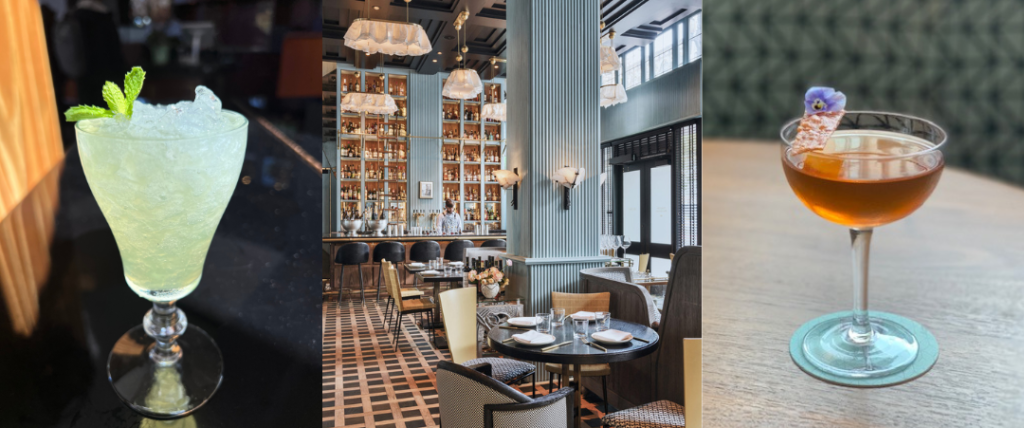 FROM OUR FRIENDS AT VILLON AT SAN FRANCISCO PROPER HOTEL
A perfect precursor to a weekday matinée, the Menu Belle Époque is offered Monday through Friday, 11:00am – 2:00pm, through November 6th. The special prix fixe menu features your choice between two appetizers and two entrées and includes a take-away box of rose petal macarons for $42 per person. In addition, The weekend Moulin Rouge! Brunch Buffet is offered Saturdays and Sundays, 8:00am-2:00pm and features a French-inspired buffet paired with bottomless bubbles for $59 per person. For an additional $25 enjoy bottomless mimosas with your pre-theatre meal.
Villon, a jewel box in San Francisco Proper's restored 1908 flatiron building on Market Street, a quick 3-minute stroll to The Orpheum Theatre, offers an elevated and sophisticated approach to California cuisine. Under the guidance of Executive Chef Jason Fox, Villon reimagines the classic "sexiness" of hotel dining with a return to glamour without stuffiness. The menu respects San Francisco's history with a reimagining of the past infusing the city's modern spirit and creativity. Follow along on Instagram at @sfproperdining for more information about Villon.
FROM OUR FRIENDS AT LA BANDE AT SAN FRANCISCO PROPER HOTEL
Enjoy the 3-course Menu Du Théâtre inspired by Moulin Rouge! The Musical. Offered Tuesday through Saturday, 4:30pm – 9:30pm, until November 6th, the special menu features European-inspired tapas, French cheeses and wine for $45 per person.
Aperitivo is a state of mind at La Bande, San Francisco Proper's Spanish-inspired tapas bar, merging the vibrant energy of Mediterranean cafés with the seasonal bounty of Northern California. Featuring specialty aperitif cocktails, Old World and biodynamic wines, and gourmet tapas curated by Executive Chef Jason Fox, La Bande is the perfect destination for an afternoon vermouth and Galician conservas, or to pick up a few delicacies from their Barcelona-inspired market selection on the go. Follow along on Instagram at @sfproperdining for more information about La Bande.
FROM OUR FRIENDS AT ONE MARKET RESTAURANT
Offered from September 6th through November 5th, the 3-course Fetez Le Montmartre! menu features classic French dishes and a dessert for $55 per person with an optional wine pairing for an additional $33.
Named a "Top 10 American Restaurant in the US" by Gayot Guide, One Market Restaurant is a quick 5-minute cable car ride to The Orpheum Theater and has set the standard for sophisticated dining in San Francisco since 1993. The restaurant honors the traditions of its celebrated founding through the work of award winning Chef, Mark Dommen, a culinary talent who encapsulates farm-to-table cuisine. In 2020, Chef Dommen and Principal, Michael Dellar added to the One Market concept by integrating a New York-style delicatessen, Mark 'n Mike's which is featured during lunch and dinner service. Follow along on Instagram at @onemarketsf for more information about One Market.
FROM OUR FRIENDS AT THE MADRIGAL
Sip on their Moulin Rouge! inspired Touche Pas! cocktail, available for a limited time. Keep the party going with The Madrigal's signature Late Night Happy Hour offered Tuesday to Saturday, 9:00pm-12:00am (last food order taken at 10:45 pm).
The Madrigal is a cocktail-forward bar and restaurant located steps away from the Orpheum Theatre. It is the perfect stop for drinks and bites before or after a show, with or without a reservation. Guests can enjoy artisan cocktails and artfully plated appetizers and dishes in a whimsical, lively space designed for a night on the town. The Madrigal is the latest concept from Hi Neighbor Hospitality Group, which includes Trestle, The Vault Garden, The Vault Steakhouse and MAMA Oakland. Follow along on Instagram at @themadrigalsf for more information about The Madrigal.