Eat Drink SF and Restaurant Week Officially Return to San Francisco
Get Ready for Ten Days of Deliciousness: October 21-30
Join the Golden Gate Restaurant Association and your favorite San Francisco chefs and restaurants for 10 days of dining, culture and community. This year's reimagined Eat Drink SF is all about showcasing San Francisco's culinary culture through decadent restaurant events and specials throughout our city.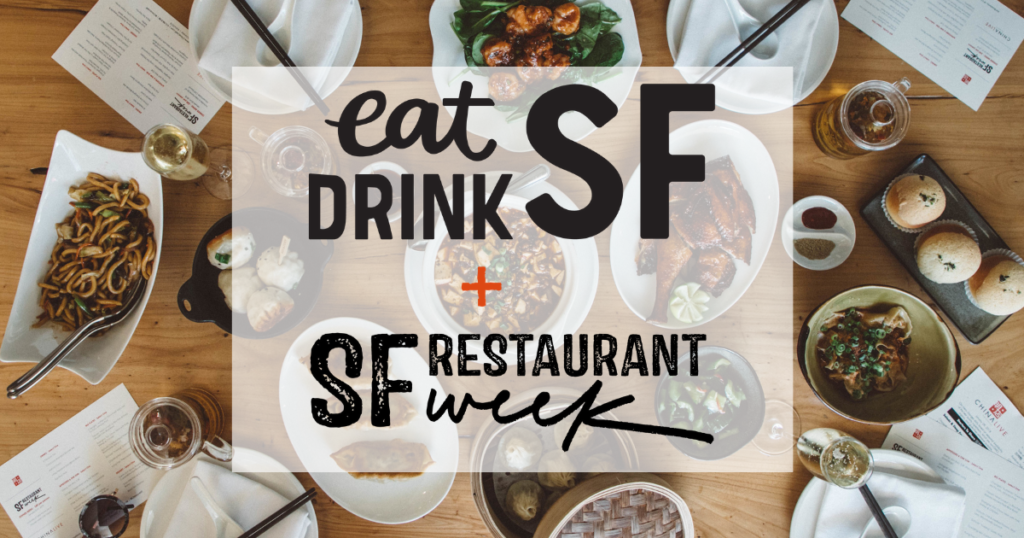 Special Events
Eat Drink SF Opening Celebration Dinner | One Market Restaurant
Friday, October 21 | 5:30-8:30pm
Join us for an All-Star Collaboration from One Market, Slanted Door, Mourad, and b. Patisserie. Purchase your tickets here.
Eat Drink SF Cocktail Party | Beacon Lounge at the Beacon Grand
Wednesday, October 26 | 5:30 – 8pm
Join us at the Beacon Lounge on the mezzanine for a cocktail party featuring specialty drinks, bubbles and appetizers from special guest chefs, Sharon Nahm from E&O Kitchen and Roland Passot from Left Bank Brasserie. Purchase your tickets here.
Eat Drink SF Closing Brunch | China Live
Sunday, October 30 | 11am – 2pm
Join us for a one-time only Sunday brunch at China Live, one of the jewels of San Francisco's Chinatown. Tickets include a specially created menu by Chef George Chen, a choice of welcome cocktail and paired beer or wine. Purchase your tickets here.
Spotlighted Participating Restaurants & Specials
301 Mission St, San Francisco, CA 94105
Chefs Michael Mina and Ayesha Curry present a Family-Style Prix-Fixe for Restaurant Week where guests can have a full International Smoke experience. Enjoy Thai Coconut Soup, Ayesha's Fresh Baked Cornbread, Truffle Caesar, Smoke Pork Belly Bao Buns, St. Louis Cut Pork Ribs, Sinaloan Mary's Style Chicken, and Garlic Fried Rice with Key Lime Crepe Cake for dessert. $75 per person; additional $25 for wine pairing. Full menu here and reservations here.
101 California Street, San Francisco, CA
Take a journey through Japanese cuisine at PABU Izakaya during Restaurant Week. Chefs Michael Mina and Keita Tominaga present a five-course tasting menu that takes you from the sushi bar to the robata ($75)! Begin with the Happy Spoon, PABU's signature bite with uni and oyster, enjoy miso-marinated black cod or 28-day dry aged rib eye along with poke, nigiri and a milk chocolate custard to finish the meal. Optional sake pairing for $45 with selections by the restaurant's Stuart Morris, its certified sake master. $75 per person; additional $45 for sake pairing. Full menu here and reservations here.
811 Ulloa St, San Francisco, CA 94127
Order online, or drop by in person for Lazy Susan's two outstanding Restaurant Week offers. Wrangle up the whole family to take advantage of the 5-course dinner for four or go solo for Lazy Susan's $15 Lazy Plate lunch special. For more details, please see below, and place your online orders here.
Lazy Plate ($15): Your choice of an entree and side with a crispy spring roll and side of Umami Crunch +
5 Course Dinner for Four ($65): Crab Rangoon, Garlic Broccolis, General Tso's Chicken, Pepper Beef, Veggie Fried Rice
1 Market St, San Francisco, CA 94105
Forget the special occasion or planned outing, One Market is a great everyday type of restaurant too. With weekly rotating specials and direct access to the Ferry Building Farmers Market, the One Market team prides themselves on capturing freshness at its peak. For fall Restaurant Week, OMR will be offering three different menus at a variety of price points to fit everyone's budget of choice.
Lunch ($25): Tortilla Soup and Pan Seared Gulf Flounder
Dinner ($45): Tortilla Soup, Grilled Pork Chop and Chocolate Pot de Crème
Dinner ($65) Grilled Octopus, Pan Seared Day Boat Scallops or Grilled New York Steak, Toffee Almond Crunch Cake
531 Jackson St, San Francisco, CA 94133
Choose one option per course from Trestle's three-course prix fixe menu and add shaved truffles to one course of your choice, $45.
555 California St., San Francisco, CA 94104
Two-course lunch menu, $30 per person. Choice of: Butternut Squash Soup or The Vault Caesar Salad and Mushroom Risotto, Fish & Chips or The Vault Burger.
555 California St., San Francisco, CA 94104
Three-course lunch menu, $75 per person (supplements and add-ons available). Choice of starter, entree and dessert: The Vault Caesar Salad or Lobster Bisque, Atlantic Salmon, Skirt Steak or Mushroom Risotto and Dark Chocolate Mousse.
2272 Market St., San Francisco, CA 94114
Canela is offering two menu options this year:
Chef's Tapas Tasting Menu ($65): Menu designed per person, full table participation required — welcome Cava plus 9 savory tapas and dessert.
Tapas Discovery Menu ($75): Menu is designed family style, price is per person, full table participation required.