Memorable Mother's Day Dining Experiences in the Bay Area
This Mother's Day, Bay Area restaurants are pulling out all the stops to make moms feel extra loved and appreciated. Wherever you are in the Bay, there are plenty of options to choose from.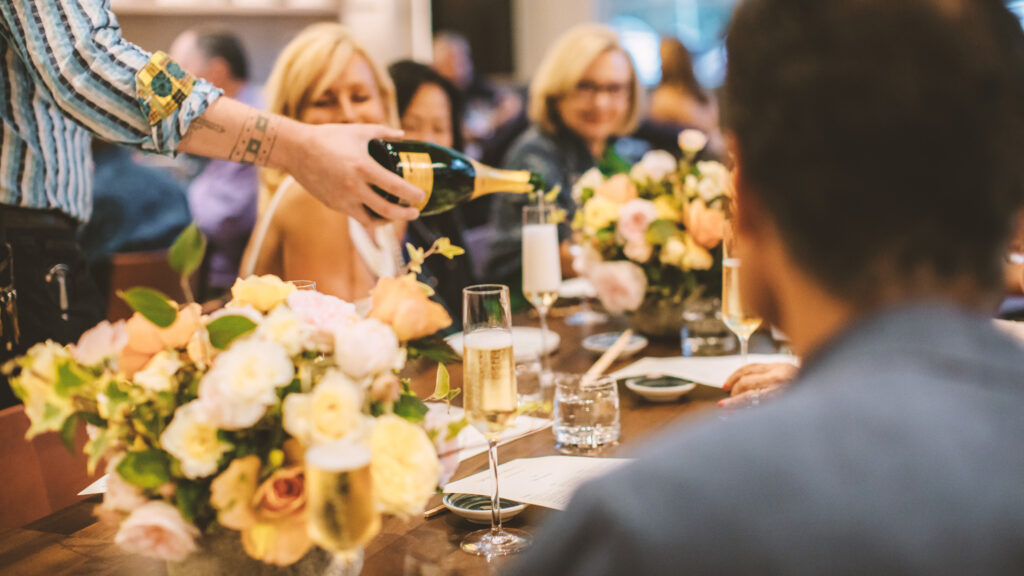 San Francisco
100 Van Ness Ave, San Francisco, CA
Show your appreciation for your mom or other amazing women in your life to a decadent prix fixe brunch in the Vault Garden's lush outdoor garden oasis. Hi Neighbor Hospitality Group is offering a special and memorable Mother's Day brunch on May 14th from 11AM-3PM. Chef Ryan Cerizo has created a 3-course prix fixe menu for $59 that includes brunch classics like Butter Lettuce Salad or Spinach & Mushroom Quiche to more innovative dishes like Smoked Salmon Carpaccio, Baked Egg Shakshuka or a Maine Lobster BLT, Chef has something for everyone to enjoy. Reservations are on Opentable HERE.
1 Ferry Building, San Francisco, California 94111
While the Ferry Building Marketplace is undoubtedly recognized as one of San Francisco's most beloved culinary destinations, the variety of artisans producing unique goods, wares, and gifts inside the building is not to be overlooked, especially around Mother's Day. Below are our picks for the ultimate self-care basket – that anyone can compile at the Ferry Building – to help mom achieve total R&R.
Skincare products made with 100% botanical, organic and biodynamic ingredients from Benedetta. Signature soy candles and gift boxes from Maison Verbena. Beeswax salve, lip balm and body butter from Carmel Honey Company. Summer seasonal collection of pottery, tableware and home goods from Heath Ceramics. Indoor and outdoor plants from the Gardeneur Plant Market. Organic cold-pressed juices, kombucha and nut mylks from Juice House Co. Handcrafted jewelry, clothing and stationary from Bay Area makers at Fog City Flea Trading Post. Locally grown bouquet of freshly picked flowers from the Ferry Plaza Farmers Market. Chocolate truffles and handmade delicacies from Recchiuti Confections.
Families are also invited to stop by the central marketplace next to Cholita Linda & DELICA on Sunday, May 14 to create pop-up cards, jewelry, and flower crafts for their mothers and mother figures. Add crepes, pastries and bagels to the mix and you have a Mother's Day to remember.
50 Moraga Ave, San Francisco, CA 94129
Colibri Mexican Bistro will be welcoming all moms to brunch with a flower and complimentary mimosa this Mother's Day. On top of Colibri's delectable brunch menu, the team will be showcasing two new cocktails, the Primavera and Spring Passion. To make a reservation, click HERE before they fill up!
2032 Union St, San Francisco, CA 94123
On Mother's Day, Sunday, May 14th, Palm House will have a two exciting brunch specials: Island Waffle – sourdough waffle, tropical fruit, coconut, ube and Crab Cake Benedict – Dungeness crab, cucumber, arugula, tapatio hollandaise. Make your reservation HERE.
2001 Chestnut St, San Francisco, CA 94123
Now featuring an updated list of local purveyors, The Dorian will be featuring California's bounty through two Mother's Day brunch specials on Sunday May 14th. Ricotta Pancakes – Double 8 Dairy ricotta, mixed berries, bourbon vanilla cream and Smoked Salmon Benedict – poached eggs, smoked salmon, English muffin, home fries, hollandaise, everything spice. Make your reservation HERE.
KAIYŌ (Rooftop) 🧉
701 3rd St, San Francisco, CA 94107
What better way to treat your mom than to a rooftop Nikkei inspired brunch with spectacular views of San Francisco and the surrounding Bay Area while indulging in a few cocktails. The brunch special includes an appetizer, mini entree, and one cocktail for $65 and will be offered until 3PM with regular dinner service thereafter. There will be two new cocktails featured on the menu all day. Brunch & Dinner Reservations available via Resy.
1838 Union St, San Francisco, CA 94123
Chef Alex Reccio has created the ultimate Nikkei experience for all Mother's and Maternal figures to enjoy with a 3-course prix fixe Brunch Menu at $45 per person and a 4-course prix fixe Dinner Menu at $80 per person. Both options are available on May 14th and include an appetizer, entree and dessert–including a special Lobster ceviche. There will be two new cocktails featured on the menu all day. Brunch & Dinner Reservations available via Resy.
1 Market St, San Francisco, CA 94105
On Mother's Day, May 14th, One Market will be opening up on Sunday to celebrate all the moms out there. Brunch will be served from 11am-3pm and will be composed of a list of starters, shareable plates, mains, and a few desserts. To make a reservation, click HERE.
In honor of his own mom, Chef Mark Dommen has also shared a Swiss family recipe stemming from his Swiss childhood. Officially known as Zurcher Geschnetzeltes, the recipe instructs how to prepare a Zurich Style Veal in Cream Sauce, a dish that Mark's mom prepared regularly.
This is a very traditional dish that my mother would make quite often for dinner. However, veal wasn't always available to us, so she would make it with pork loin or pork tenderloin. It's really quite simple. I've changed it a little by using reduced chicken jus instead of flour as the thickening agent and I cut the amount of cream in half. It makes the dish lighter to eat and it's gluten free. Geschnetzeltes is traditionally served with rösti (recipe also provided).
– Mark Dommen (Executive Chef, One Market Restaurant)
See the recipe for Mark's Mom's Zurcher Geschnetzeltes and Rösti here.
301 Mission Street, San Francisco
Ayesha Curry and Michael Mina celebrate moms with a special brunch buffet at International Smoke on Sunday, May 14. Raise a glass or two to mom with a bottomless Mimosa Cart featuring fresh squeezed orange, grapefruit or pineapple juice. Enjoy a selection of everyday brunch favorites alongside International Smoke signatures including Ayesha's Fresh Baked Cornbread and Truffle Caesar, Tokyo Hot Fried Chicken with yuzu honey and Beef Short Rib Benedict. Build your own waffles, pancakes or omelets or enjoy the American Wagyu Prime Rib and Herb-Roasted Salmon stations. End with Basque Cheesecake, Vanilla Creme Brulee or some bites from the Wall of Donuts! International Smoke's brunch buffet is $95 per adult, $45 per child ages 12 and under. International Smoke is open for dinner service as well. Reservations on Sevenrooms.
VILLON at the San Francisco Proper Hotel 🍸
1100 Market Street Hotel Entrance is at, 45 McAllister St, San Francisco, CA 94102
On Mother's Day, May 14, celebrate the mother figures in your life with a perfectly indulgent brunch buffet at Villon's design-driven dining destination at the San Francisco Proper. Enjoy Villon's spring bounty of seasonally-inspired dishes and buffet stations featuring: leg of lamb carving, roasted ham, omelets, decadent pastries and more. Villon's Mother's Day Brunch Buffet is priced at $125pp ($65pp for children 12 and under). Reservations available between 10:00am – 4:00pm on OpenTable Experiences.
252 California Street, San Francisco, CA
MINA Group's Estiatorio Ornos opens in the morning on Mother's Day for a special brunch to celebrate all the moms! Enjoy a three-course menu of Greek and greater Mediterranean inspired dishes with selections including Spanakopita Salad, Avocado Toast with poached egg and Dungeness Crab served with red endive, granch and mizithra. Chef Daniela Vergara presents second courses of Shakshuka with poached eggs, feta, peppers, labneh and pita; Galaktoboureko Toast (inspired by the Greek custard baked in filo dessert); and Steak Kebab and Eggs with crispy potatoes and Greek chimichurri. End with Loukomadies (Greek donuts) with honey, chocolate and pistachios or Baklava Cigar with kataifi, walnuts and frozen Greek yogurt. Mother's Day brunch is available from 10am – 2pm and features live entertainment by a local Jazz band. $75 per person for the 3-course menu; $45 for the wine experience. A kids menu is available as well. Reservations can be made via SevenRooms.
Cavaña 🍹
100 Channel Street, 17th floor, San Francisco
Spice up the typical brunch gathering and treat your mom to a boozy and unforgettable celebration with Latin American spirits and music surrounded by spectacular views of the San Francisco skyline. Upon entry Mothers will be gifted with a rose and have an option to indulge in specialty curated bites and cocktails that were inspired by Cavaña team members' own mothers. Cavaña will also offer a special sparkling wine drink only available on May 10th and 14th to make their outing that much sweeter.
South Bay
Adrestia ☕
TETRA Hotel, 400 West Java Drive, Sunnyvale
Chef Hideki Myo presents an "East Meets West" brunch experience, highlighting recognizable favorites alongside dishes inspired by Japanese Yoshoku cuisine, an intriguing Japanese spin on Western dishes, and Washoku, a more traditional approach to Japanese cuisine. Sunnyvale Omelet and Lemon Ricotta Pancakes are served alongside the One-Plate Washoku Breakfast featuring Shio Koji Black Cod, sweet Japanese omelet, pickled vegetables, Tamanishiki rice, furikake, and a King of Mushroom Doria, a classic Yoshoku (or Western-inspired Japanese) dish, features parmigiano, cream and buttered rice. Other highlights include French Toast Sando, made with white cheddar and fried egg, and his Umami Chicken BLT with miso aioli are served on milk bread, which creates a fluffier texture. Raise a glass to mom with a cocktail or cheers with a mimosa flight!
750 San Antonio Road, Palo Alto, CA 94303
Join us for a Mother's Day brunch at Wild Onion Bistro & Bar at Hotel Citrine, located in the heart of Palo Alto. With a menu full of delicious options and a bright and airy atmosphere, Wild Onion is the ideal place to celebrate the special woman in your life. Make sure to try their specialty cocktails, including the "MOM"MOSA with La Marca prosecco and a choice of rose + grapefruit, hibiscus + ginger, or orange blossom + peach flavors. Also available is the "FOR ROSE" cocktail, a delightful mix of Four Roses Bourbon, local honey, grapefruit juice, and Lillet Rouge. And as a special gift, all moms will receive a complimentary Hotel Citrine candle. Don't miss out on this wonderful Mother's Day experience at Wild Onion Bistro & Bar. Reservations.
Sonoma County
Roof 106 🍕
106 Matheson Street, Healdsburg, CA 95448, USA
Enjoy stunning rooftop views overlooking Healdsburg Square at Roof 106 this Mother's Day. Located above The Matheson, Roof 106 will be offering a special six-course 'Best of Chef Best' Tasting Menu exclusively for Mother's Day. Available all day, the tasting menu spotlights seasonal flavors in elevated dishes, including a Citrus Cured Salmon Board, Burrata and Spring Peas, Buttermilk Panna Cotta and more. The menu is designed to be shared between two people and is available for $50 per person. Reservations.
2777 4th St, Santa Rosa, CA 95405
Celebrate Mother's Day in style with a delicious brunch at the Flamingo Resort & Spa in Santa Rosa. The Flamingo's ballroom is the perfect setting to enjoy a mouth-watering buffet featuring classic brunch favorites, a Carving Station with succulent Prime Rib, a gourmet Omelet Station, a refreshing Yogurt Parfait Bar and an array of delectable desserts. The culinary team sources the freshest ingredients from their onsite restaurant, Lazeaway Club, to create an unforgettable dining experience. Guests can choose from seating options available from 8am to 3pm, ensuring ample time to savor the food, the company, and the beautiful surroundings. Treat your mother to a memorable day filled with delicious food and lasting memories. Pricing is $65 for adults and $35 for children 12 and under. Reservations available via Tock.
East Bay
TCHO Chocolate🍫
3100 San Pablo Ave, Berkeley, CA 94702
What says, "Happy Mother's Day," like chocolate? Local producer, TCHO, has countless award-winning options to choose from in their bold new branding. 100% plant-based, all of TCHO's chocolate products are vegan-friendly to suit a variety of dietary restrictions.
For the at-home baker, there's TCHO's baking bundle, a cumulative package of all the baking necessities: one bag each of Crush This, Hawt Chocolate, Super Powder, Sweet & Sassy, and Dark & Bitter. Price: $37.99 per variety pack. For the late night grazer, TCHO's bars are individually wrapped per portion to make for a convenient snack. Price: $5.99 per bar. As of this April, TCHO also just launched a new spring-themed gift box called, "Bee Happy" that's a perfect all-in-one present. Included within is one of each of TCHO's six plant-based bars: Dark Duo, Toffee Time, Choco Latte, Born Fruity, Holy Fudge, and Aww Nuts! Price: $35.99.