Easter & Passover Celebrations in the Bay Area
Spring has sprung in the Bay Area! Celebrate Easter and Passover with delicious food, drinks and special offerings from restaurants and hotels throughout the Bay Area.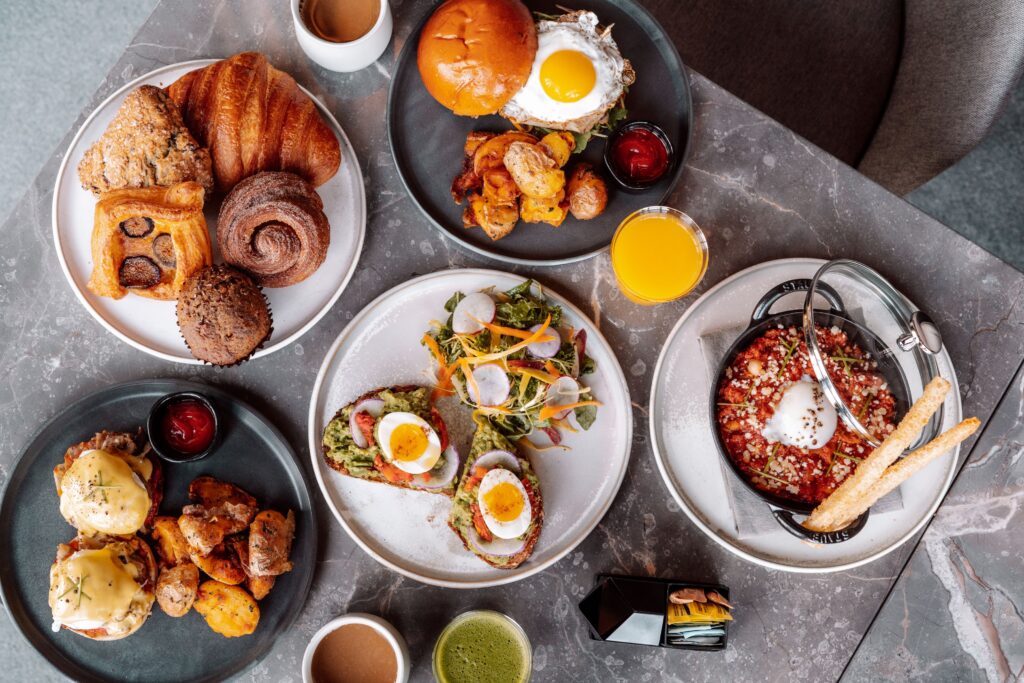 San Francisco
1100 Market Street Hotel Entrance is at 45 McAllister St, San Francisco, CA 94102
Celebrate Easter with a Festive Brunch feast at San Francisco Proper's signature restaurant, Villon. Savor a spread of traditional fare with chef-driven twists, a leg of lamb carving station and a selection of sweet pastries–all paired with hand-crafted libations. $125 per person / $65 children 12 and under. Reservations available via Opentable.
555 California St, San Francisco, CA 94104
The Vault Garden is ringing in Spring and all of its fresh flavors with an Easter Brunch consisting of a three-course tasting menu for $59. The menu features delectable selections like roasted lamb loin and Ahi tuna niçoise, as well as savory supplementary options like the half dozen oysters and caviar service. The Garden's Chef Jason offers a creative menu that the whole family can enjoy; even a $25 two-course menu for children. Reservations available via Opentable.
701 3rd St, San Francisco, CA 94107
Celebrate the Easter Holiday with KAIYŌ Cow Hollow; guests can savor an abundance of exquisite Peruvian Nikkei recipes, as well as classic American brunch dishes with a twist of unique Nikkei flavors. Highlights include Ube Mochi Pancakes, Chicken Karaage & Waffles and Uni Toast, as well as a speciality Easter cocktail, featuring Ube, dreamed up by Bar Manager Carl Brown. Reservations available via Resy.
1 Market St, San Francisco, CA 94105
Celebrate Passover with dinner at One Market Restaurant. The restaurant's four-course dinner includes Matzo Ball Soup, Pickled King Salmon, 12-hour Smoked Brisket with Onion Jus and Flourless Chocolate Cake. The menu will be available for dine-in, pick-up and delivery during the following timeframe: Tuesday, April 4 – Saturday, April 8. The individual dishes will also be available a la carte as well. Pricing: Adults: $65 / Children: $32.50 (half-portions). To order One Market's Passover menu for delivery or pick-up, see here. Reservations can be made here
2272 Market St, San Francisco, CA 94114
For Passover this year, Canela will be offering their annual four-course menu with optional add-ons. The menu will be available for in-person dining and take out orders from Tuesday, April 4th – Thursday, April 15th. Please note that the take out window will only be open from 3-5pm during this timeframe whereas the dinner menu will be available until close. Vegetarian options are available per request.
East Bay
3770 Piedmont Ave Unit B, Oakland, CA 94611
For the first time, Pomella will host a community seder. Like Mica Talmor's popular Chef's Table events, guests will sit at communal tables with food served family style. This multi-course meal is a collaboration with Aliza Grayevsky Somech, chef from Bishulim in San Francisco, who will guide diners through script, story and a tradition of hope and inclusion. Following the blessings will be Matzah ball soup, lamb meatball tagine, potato kugel, spring salad, and vegetarian stuffed artichoke bottoms. For dessert, Pistachio pavlova with rose cream and fruit compote. Guaranteed to be unlike any other seder you've attended. Open to the seder-curious, too! April 6 | 5:30 p.m. $85 per person, including wine. Reserve here.
Pomella is also introducing monthly Sunday brunch, beginning Easter Sunday, April 9. On the menu for Easter and subsequent brunches will be Rose Pistachio Granola; Challah French Toast with Blackberry-Rose Compote and Creme Frâiche Whipped Cream; Shakshuka with Eggs & Feta, Merguez Sausage Hash; House-made Berry Pop Tarts; Blood Orange Mimosas and surprise specials. Pre-orders are encouraged. Brunch items will be available to order onsite, as supplies last. The regular menu is also available during brunch.
South Bay
400 W Java Dr, Sunnyvale, CA 94089
Adrestia is celebrating Easter with the debut of its new brunch menu on Sunday, April 9. The a la carte menu is shaped by local and seasonal ingredients, Japanese and broader Asian cuisines, and the Valley's warm Mediterranean climate. Chef Hideki Myo taps into culinary traditions from Japan while focusing on the modern, seasonal cooking he has done for more than two decades in California. More details on the menu will be available soon. Brunch is available from 9am – 2pm. For reservations visit Opentable.
Wild Onion Bistro & Bar at Hotel Citrine
750 San Antonio Rd, Palo Alto, CA 94303
Hotel Citrine is excited to celebrate Easter with Executive Chef Julie Cablay's debut menu on Sunday, April 9. The California-inspired menu is shaped by local and seasonal ingredients. Chef Julie Cablay, the mastermind behind the menu, has infused her expertise in creating fresh dishes that showcase the flavors of the Golden State. More details on the menu will be available soon. Brunch is available from 11am – 4pm. For reservations visit Opentable.
North Bay
2777 4th St, Santa Rosa, CA 95405
Stop in at Lazeaway Club on April 9th for an Easter Brunch in Flamingo Resort's Ballroom. Tickets will be prepaid coming in at $75 for adults and $35 for kids 12 and under. Fill up on all of your favorites without the pressure to host.
Make a reservation HERE and check out the menu HERE which includes Easter classics such as a prime rib carving station and French Toast Casserole mixed in with some innovative takes on staples like Matcha Pancakes and Veggie Curry Tofu.