Valentine's Day in the Bay Area
Love is in the air and delicious food is on the table. We've rounded up some of our go-to Valentine's (and Galentine's) Day destinations in the Bay Area. Make a reservation before it's too late!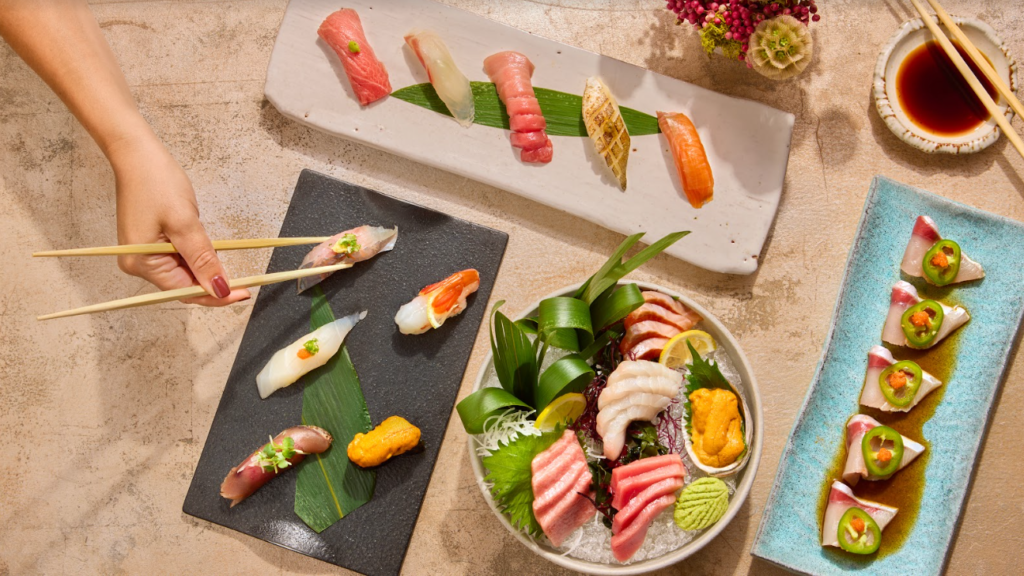 San Francisco
301 Mission Street, San Francisco
Let the sparks fly this Valentine's Day at Michael Mina and Ayesha Curry's International Smoke. In addition to its regular menu featuring indulgent wood fired steaks, seafood, ribs and vegetable preparations, International Smoke presents the following specials: Surf & Turf for Two with 36 oz dry-aged tomahawk ribeye and two grilled lobster tails ($195); Sweet Heart dessert with white chocolate, passionfruit and gold leaf ($12); Kissing Tree Cocktail for two with Gin, Lime, Sugarcane and Raspberry ($25). International Smoke is open from 5pm – 9pm for dine in on Valentine's Day. Create a custom Valentine's Day experience at home and build your own menu with International Smoke for delivery or pickup via SevenRooms. Reservations.
1 Ferry Building, San Francisco
Enjoy an evening of gourmet bites, wines, cocktails, music and art activities celebrating the love of San Francisco at the Ferry Building's "Love Bites" event on February 9th. Eat and drink your way around the Marketplace with small bites paired with wine tastings from over twenty Napa Valley Vintners. The event proceeds benefit Foodwise, the non-profit responsible for the Ferry Plaza Farmer's Market. Purchase tasting tickets here.
101 California Street
Experience the finest at MINA Group's PABU Izakaya this Valentine's Day with its special 7-course Omakase menu by Michael Mina and Keita Tominaga. Featuring locally and globally sourced seafood available – including fish flown in from Japan's famed Tsukiji Market – the Omakase menu is also offered with an optional sake pairing from Sake Master Stuart Morris. Enjoy the signature Happy Spoon with oyster, caviar and ponzu creme fraiche, a selection of sashimi, Crispy Skin Salmon with miso vinaigrette, a 28-day dry-aged Rib Eye, nigiri and more. PABU Izakaya will also offer a special à la carte menu for Valentine's Day, inviting guests to create their own experience. Reservations.
252 California St, San Francisco
Transport your date from San Francisco to Greece on February 14th from 5pm-9pm and enjoy a four-course tasting menu at $145 per person. The menu that evening will feature shareable plates and a selection of entrees, including seafood options ranging from Pink Snapper and Kauai Shrimp to meat options like Spiced Quail and a Surf & Turf for two with Harissa-Rubbed Ribeye alongside Ruby Red Shrimp, creating the ultimate Mediterranean-style dining experience. Led by award-winning Chef Michael Mina in partnership with Girair "Jerry" Goumroian and Chef Nikolaos Georgousis, the restaurant offers an enhanced dining style and social scene – representing Chef Mina's adaptation, innovation, core culinary philosophies, while paying homage to Greek cuisine and sensibilities. Reservations.
1 Market St, San Francisco
One Market Restaurant will host their annual Valentine's Day dinner on Tuesday, February 14th. The menu will consist of an amuse bouche followed by an appetizer, entree, and dessert to complete the three-courses. Diners will be able to choose from a variety of options (if dining with a partner or group, we always recommend trying different dishes and sharing amongst your party). Guests can expect to find Hama Hama Oysters on the Half Shell – ponzu, green apple, wasabi tobiko and Lightly Smoked Tasmanian Sea Trout "Mi Cuit" – rössti, 62 degree egg, pancetta vinaigrette on the appetizer list with Grilled Lamb Loin Chops and Bacon Wrapped Day Boat Scallops available for the entree course. To finish up, lovebirds can choose between OMR's Chocolate Bread Pudding or Meyer Lemon Cheesecake. Reservations.
1100 Market Street Hotel Entrance is, 45 McAllister St at, San Francisco, CA 94102
Celebrate love at the SF Proper's Villon Restaurant by indulging in an elevated tasting menu composed of luxurious ingredients, by Executive Chef Jason Fox. Special guests, LA-based band LA LOM, will also be performing a lineup of live Latin Jazz tunes in the Villon Lounge on Valentine's Day, as well as the Friday and Saturday evening before. $195 per person; optional wine pairing for $75 per person. Reservations are available through OpenTable Experiences.
La Bande at San Francisco Proper Hotel
Join SF Proper for a romantic evening on Valentine's Day in La Bande! Sip on a glass of Cava while enjoying the optional Prix Fixe Menu perfect for two. Get cozy on the heated and covered patio while listening to Live Music from 5pm to 8pm. Enjoy our Porrón wine special with your loved one at Proper's uniquely designed Barcelona-inspired tapas restaurant located in the mid-Market corridor. Available Friday, February 10th, Saturday, February 11th and Tuesday, February 14th. $65 per person; optional porron addition $35 per person 500ml. Reservations are available through OpenTable Experiences.
680 Folsom St, San Francisco, CA 94107
This Valentine's Day enjoy a romantic night out at AFICI, with a decadent 5-course tasting menu including dishes like Dungeness Crab, Spaghetti Carbonara with Wagyu bacon, Duck with brandy, blood orange, and turnip and more for $185 per person. With an additional option to indulge in AFICI's signature white sturgeon caviar. Wine pairing available as well. AFICI will offer its Valentine's Day menu – in addition to its regular menu – on Saturday, February 11th. On Monday, February 13th and Tuesday, February 14th, AFICI will only offer its Valentine's Day menu. Reservations.
2272 Market St, San Francisco, CA 94114
Canela will offer its Valentine's Day Chef's Menu Friday, 2/10 – Tuesday 2/14 (Closed Monday). 4 Courses $79 per person (+tax/grat) (Wine Pairings $45). Reservations.
555 California St., San Francisco
For one night only guests can enjoy a $85 Three-Course Prix Fixe Menu at the festive Vault Garden with an entree option of Alaskan Halibut, Grilled Ribeye or Maine Lobster Agnolotti. For a little something extra patrons can add the Garden's infamous Potato Pave "Tots" with Royal White Sturgeon Caviar for $27. Reservations.
555 California St., San Francisco
Celebrate Valentine's Day with a special $135 Four-Course Prix Fixe Menu available only on Tuesday, February 14th. With an assortment of options, guests can enjoy a Yellowfin Tuna Carpaccio with marinated beets or Green Garlic & Leek Soup with Confit Salmon and Smoked Trout Roe to start followed by a Grilled Ribeye or A5 Wagyu before ending the night with a decadent dark chocolate mousse cake with passion fruit & coconut cream. Reservations.
531 Jackson St, San Francisco
Guests can celebrate love with a $90 four-course prix fixe menu and indulge in a little surf n' turf. For one night only Trestle will be highlighting seasonal ingredients in dishes like the Dungeness Crab Risotto, Blood Orange Kampachi Crudo and Braised Beef Short Rib. Only available on Tuesday, 02/14. Reservations.
2001 Chestnut St, San Francisco, CA 94123
For one night only, The Dorian will be offering a special tasting menu with drink pairings for you and yours. Choose from dishes that delight, including Arancini, Striped Bass Lemon & Herb Risotto, Klingeman Family Farm Porchetta and a Balsamic & Strawberry Crème brûlée. The Dorian's tasting menu is offered at $65pp. Elevate your experience by adding a Double 8 Dairy Ricotta & Perigord Truffle Raviolo for $25. Reservations.
701 3rd St, San Francisco, CA 94107
Celebrate love with a $65, 2-course prix fixe dinner, cocktail specials surrounded by stunning views of the SF skyline and a live performance by Matt Jaffee on Tuesday, February 14th from 4PM-10PM. Guests have the option of additional a la carte Caviar Service, Nikkei Oysters, Sushi and/or a Seafood Platter. Their new Miso Caramel Bread Pudding made from Japanese Milk Bread, Cajeta and Shiro Miso topped with whipped cream will be the highlight of the night! Reservations.
East Bay
388 Grand Ave, Oakland
Fall in love with MAMA's Famous Pan-Fried Beef & Pork Meatballs this Valentine's Day. Available as an add on to their 3-Course Prix Fixe Dinner, $37 per person. Enjoy the warm and welcoming ambiance that Italian-American grandmother, Maria Germano Stacionis, created for visiting guests, ensuring love in the air.
3770 Piedmont Ave Unit B, Oakland
On Sunday, February 12, Pomella will offer a special Lover's Brunch to celebrate the restaurant's loving community. Chef Mica Talmor will be whipping up customer favorites for the occasion: Rose Pistachio Granola, Blood Orange Mimosas, French Toast, Shakshuka and Merguez Hash. There'll also be a special donut from the folks at Donut Savant. For the entire month of February, Pomella will offer a weekly selection of chocolate cake (Oreo Chocolate, Salted Caramel, Triple Chocolate and Malted Chocolate). FInally, on February 14, Pomella will offer its regular a la carte menu, with the special addition of Triple Chocolate Cake. Check Pomella's instagram page for all of the details and pre-orders.
Shipping nationwide
Chocolate is the go-to Valentine's gift for good reason. But TCHO's chocolate is more than just delicious and beautifully packaged; it's ethically sourced and 100% plant based. Go to tcho.com for a variety of colorful gift boxes, from single-origin chocolate to a sweet Valentine's Day box for everyone that you love (coming January 17). Link to gift boxes here ($35.99).
South Bay
Adrestia at TETRA Hotel
400 West Java Drive, Sunnyvale
Chef Hideki Myo and Food & Beverage Director Ana Artadi showcase their respective Japanese and Peruvian backgrounds in a four-course Nikkei-inspired Valentine's Day menu at Adrestia at TETRA Hotel. Nikkei cuisine highlights Japanese flavors combined with traditional Peruvian ingredients. The term Nikkei also refers to the style of cooking that combines techniques from both cultures. The cuisine often emphasizes fish, quinoa and Peruvian ingredients like aji panca presented with a Japanese twist. Dish highlights include Aburi Tuna Tiradito with sweet onion-shoyu leche de tigre, micro chives; Black Cod Nikkei with shio-koji, aji amarillo and kale; Alfajo Helado with matchadoodle ice cream, homemade caramel sauce. RESERVATIONS.
Sonoma County
Roof 106 at The Matheson
106 Matheson Street, Healdsburg
On February 13 and 14, Roof 106 invites you to enjoy an exclusive Galentine's Day experience at the Roof 106 Fire Pits. For $100 a person, you and the gals (or guys!) will be able to enjoy its VIP 'Best of Chef Best' Menu (caviar course included) with a bottle of bubbles and a pitcher of margaritas. This experience is available for groups of 6-10, and bookable with Opentable Experiences. Reservations.
106 Matheson Street, Healdsburg
Chef Dustin Valette's newest concept, The Matheson, will be offering a special five-course Chef's Tasting Menu in the main dining room in celebration of Valentine's Day. Highlights from the menu include Kampachi Crudo, Local Dungeness Crab Melt and Beef Tenderloin. Optional supplements and wine pairings available. Offered only on February 14. Reservations.
344 Center St, Healdsburg
Chef Dustin Valette's eponymous restaurant, Valette, will be offering a special five-course Chef's Tasting Menu for Valentine's Day. Valette's Valentine's Day tasting menu spotlights seasonal flavors in elevated dishes, including American Wagyu Beef Carpaccio, Risotto alla Milanese and more. The menu is available for $125 per person with optional supplements and wine pairings from the best of Sonoma County and beyond. Reservations.