Spring has sprung in the Bay Area! Celebrate Easter and Passover with delicious food, drinks and special offerings from restaurants and hotels throughout the Bay Area.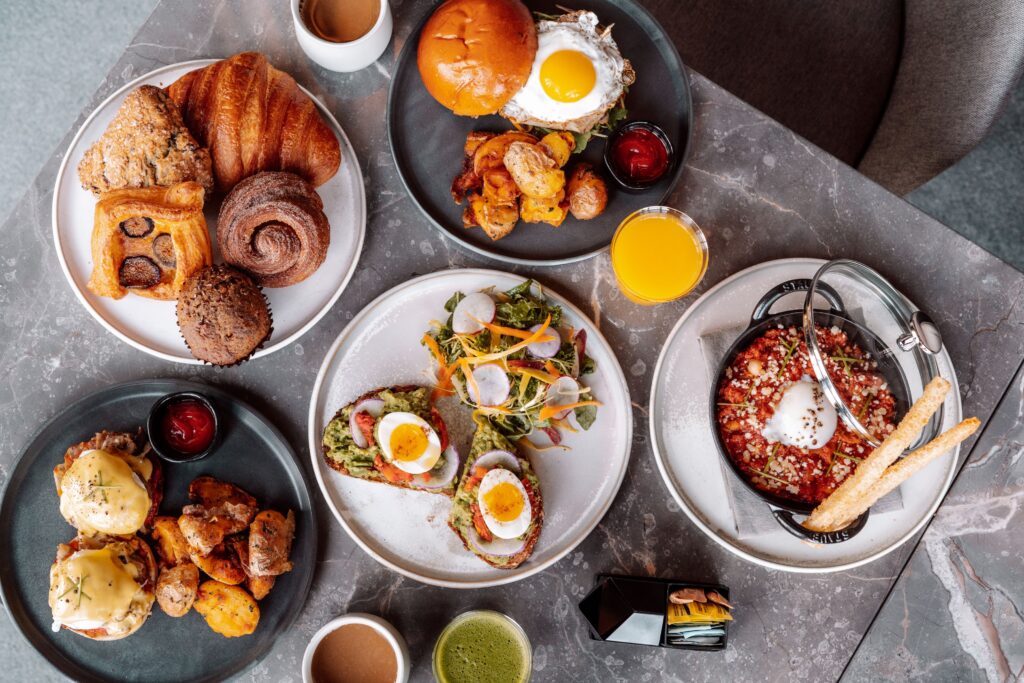 San Francisco
1100 Market Street Hotel Entrance is at 45 McAllister St, San Francisco, CA 94102
Celebrate Easter with a Festive Brunch feast at San Francisco Proper's signature restaurant, Villon. Savor a spread of traditional fare with chef-driven twists, a leg of lamb carving station and a selection of sweet pastries–all paired with hand-crafted libations. $125 per person / $65 children 12 and under. Reservations available via Opentable.
555 California St, San Francisco, CA 94104
The Vault Garden is ringing in Spring and all of its fresh flavors with an Easter Brunch consisting of a three-course tasting menu for $59. The menu features delectable selections like roasted lamb loin and Ahi tuna niçoise, as well as savory supplementary options like the half dozen oysters and caviar service. The Garden's Chef Jason offers a creative menu that the whole family can enjoy; even a $25 two-course menu for children. Reservations available via Opentable.
701 3rd St, San Francisco, CA 94107
Celebrate the Easter Holiday with KAIYŌ Cow Hollow; guests can savor an abundance of exquisite Peruvian Nikkei recipes, as well as classic American brunch dishes with a twist of unique Nikkei flavors. Highlights include Ube Mochi Pancakes, Chicken Karaage & Waffles and Uni Toast, as well as a speciality Easter cocktail, featuring Ube, dreamed up by Bar Manager Carl Brown. Reservations available via Resy.
1 Market St, San Francisco, CA 94105
Celebrate Passover with dinner at One Market Restaurant. The restaurant's four-course dinner includes Matzo Ball Soup, Pickled King Salmon, 12-hour Smoked Brisket with Onion Jus and Flourless Chocolate Cake. The menu will be available for dine-in, pick-up and delivery during the following timeframe: Tuesday, April 4 – Saturday, April 8. The individual dishes will also be available a la carte as well. Pricing: Adults: $65 / Children: $32.50 (half-portions). To order One Market's Passover menu for delivery or pick-up, see here. Reservations can be made here
2272 Market St, San Francisco, CA 94114
For Passover this year, Canela will be offering their annual four-course menu with optional add-ons. The menu will be available for in-person dining and take out orders from Tuesday, April 4th – Thursday, April 15th. Please note that the take out window will only be open from 3-5pm during this timeframe whereas the dinner menu will be available until close. Vegetarian options are available per request.
East Bay
3770 Piedmont Ave Unit B, Oakland, CA 94611
For the first time, Pomella will host a community seder. Like Mica Talmor's popular Chef's Table events, guests will sit at communal tables with food served family style. This multi-course meal is a collaboration with Aliza Grayevsky Somech, chef from Bishulim in San Francisco, who will guide diners through script, story and a tradition of hope and inclusion. Following the blessings will be Matzah ball soup, lamb meatball tagine, potato kugel, spring salad, and vegetarian stuffed artichoke bottoms. For dessert, Pistachio pavlova with rose cream and fruit compote. Guaranteed to be unlike any other seder you've attended. Open to the seder-curious, too! April 6 | 5:30 p.m. $85 per person, including wine. Reserve here.
Pomella is also introducing monthly Sunday brunch, beginning Easter Sunday, April 9. On the menu for Easter and subsequent brunches will be Rose Pistachio Granola; Challah French Toast with Blackberry-Rose Compote and Creme Frâiche Whipped Cream; Shakshuka with Eggs & Feta, Merguez Sausage Hash; House-made Berry Pop Tarts; Blood Orange Mimosas and surprise specials. Pre-orders are encouraged. Brunch items will be available to order onsite, as supplies last. The regular menu is also available during brunch.
South Bay
400 W Java Dr, Sunnyvale, CA 94089
Adrestia is celebrating Easter with the debut of its new brunch menu on Sunday, April 9. The a la carte menu is shaped by local and seasonal ingredients, Japanese and broader Asian cuisines, and the Valley's warm Mediterranean climate. Chef Hideki Myo taps into culinary traditions from Japan while focusing on the modern, seasonal cooking he has done for more than two decades in California. More details on the menu will be available soon. Brunch is available from 9am – 2pm. For reservations visit Opentable.
Wild Onion Bistro & Bar at Hotel Citrine
750 San Antonio Rd, Palo Alto, CA 94303
Hotel Citrine is excited to celebrate Easter with Executive Chef Julie Cablay's debut menu on Sunday, April 9. The California-inspired menu is shaped by local and seasonal ingredients. Chef Julie Cablay, the mastermind behind the menu, has infused her expertise in creating fresh dishes that showcase the flavors of the Golden State. More details on the menu will be available soon. Brunch is available from 11am – 4pm. For reservations visit Opentable.
North Bay
2777 4th St, Santa Rosa, CA 95405
Stop in at Lazeaway Club on April 9th for an Easter Brunch in Flamingo Resort's Ballroom. Tickets will be prepaid coming in at $75 for adults and $35 for kids 12 and under. Fill up on all of your favorites without the pressure to host.
Make a reservation HERE and check out the menu HERE which includes Easter classics such as a prime rib carving station and French Toast Casserole mixed in with some innovative takes on staples like Matcha Pancakes and Veggie Curry Tofu.
April Showers Bring May Flowers (for Mom!) 💐
For so many of us, the month of May is synonymous with Mom. Spring is officially here and with summer on the horizon, there are many opportunities to make the mother figures in your life feel special this month. Read on for all the details!
San Francisco
1 Ferry Building, San Francisco, California 94111
Give the gift of plant parenthood for Mother's Day this year! The Ferry Building front plaza will be filled with a variety of rare indoor and outdoor plants from 10 AM – 4 PM for their monthly Gardeneur Plant Market pop-up event on May 8th.
Then, join the Ferry Building team for a 'Ferry Family Day' of gift making for mothers and mother figures! Create beautiful pop-up cards, jewelry, and flower crafts. Find the activity table across by Cholita Linda and Delica in the central Marketplace. This event is free and open to the public.
1 Market St, San Francisco, CA 94105
Although One Market won't be open for Mother's Day this year due to a private event, Chef Dommen has shared a Swiss family recipe stemming from his mom. Officially known as Zurcher Geschnetzeltes, the recipe instructs how to prepare a Zurich Style Veal in a Cream Sauce.
This is a very traditional dish that my mother would make quite often for dinner. However, veal wasn't always available to us, so she would make it with pork loin or pork tenderloin. It's really quite simple. I've changed it a little by using reduced chicken jus instead of flour as the thickening agent and I cut the amount of cream in half. It makes the dish lighter to eat and it's gluten free. Geschnetzeltes is traditionally served with rösti (recipe also provided).
– Mark Dommen (Executive Chef, One Market Restaurant)
See the recipe for Mark's Mom's Zurcher Geschnetzeltes and Rösti here.
301 Mission Street, San Francisco
Michael Mina & Ayesha Curry turn Mother's Day into a weekend-long celebration, featuring two holiday specials alongside its a la carte dinner menu from May 6 – May 8. Specials include a Chicken & Waffle dish with crispy croquette, buttermilk waffle, pea tendrils and Sambal-maple syrup ($24) and an indulgent Maine Lobster Udon Carbonara with smoked pork belly, hen egg and parmesan ($42). Choose from the restaurant's full menu and other International Smoke signatures like the Truffle Caesar, Wood-Fired Salmon, Maine Lobster Mac N Cheese and the Devil's Food Dark Chocolate Cake. Make reservations here.
VILLON at the San Francisco Proper Hotel 🍸
1100 Market Street Hotel Entrance is at, 45 McAllister St, San Francisco, CA 94102
On Sunday, May 8th, join the San Francisco Proper for a very special Mother's Day in their newly reopened restaurant, Villon, a sophisticated gathering place dressed in dramatic design. Enjoy a decadent brunch buffet by Executive Chef Jason Fox, featuring live stations and vegetarian options.
Villon's Mother's Day Brunch Buffet is priced at $115 per person. Featured Drinks: Bloody Mary & Mimosa Cart (for an additional fee). Reservations are available between 11am-4pm on OpenTable.
2272 Market St, San Francisco, CA 94114
Offer: Mom's Night Off – Dinner Meal Kit to go: Feeds 4 – $195. Meal comes chilled with simple reheating instructions – so simple, even the kids can do it! Includes your choice of Truffled Mushroom Paella or Mixed Seafood Paella – comes in your very own paella pan to keep! (We'll throw in a recipe so you can use it again!), bacon wrapped, cheese Stuffed Dates, Market St. Salad (butter lettuce, dried apricots, pickled green strawberries and carrots, cava vinaigrette, seed mix), Seasonal Tortilla Española and Strawberry Shortcake. Available in Canela's store for pick-up or delivery Friday and Saturday May 6th and 7th from 3 p.m to 5 p.m. Dine in and take out.
Dinner Specials: Truffled Mushroom Paella , deviled eggs with smoked salmon, strawberry shortcake and a free gift for mom to take home! Homemade cookies – Mat's mom's recipe! Reservations here.
Wine and Retail Special: BOGO FOR MAMA! Buy one, get one half off – bottles of wine! 25% off the retail shop both online and in store.
811 Ulloa St, San Francisco, CA 94127
For all the moms out there, Lazy Susan will be offering a condiment-duo gift (jar of Umami Crunch & jar of LS Sriracha) with all purchases of $30 or more through the extended Mother's Day weekend (May 6-8th). All guests have to do is add the duo to their cart and apply the promo code "MomsRock" to receive the complimentary package.
South Bay
Aurum 🇮🇳
132 State St, Los Altos, CA 94022
In Los Altos, Aurum will be celebrating moms with a $60 four course menu. In addition to the menu, moms will also be met upon entry with a special surprise! Vegetarian alternatives are available for all courses. Complete menu here.
750 San Antonio Road, Palo Alto, CA 94303
Celebrate mom over Wild Onion's new brunch menu, featuring all of her favorite dishes like Fresh Berry Pancakes, Challah French Toast with Bailey Irish Creme Anglaise and Wild Onion's Eggs Benedict. All of Chef Ray Garrow's brunch entrees include a choice of Mimosas or Michelada – a treat not just for mom! Cocktails do take center stage on the Wild Onion menu and mom can enjoy everything from Wild Onion's Signature Tomatillo Bloody Mary, several kinds of Mimosas (Classic, Blood Orange and Hibiscus Ginger) or Bellini with peach, pear, raspberry and strawberry. Special offers for mom include a "mom-mosa bouquet" and a special gift from San Francisco's SOMA Small Batch Goods. Reservations are available from 11am – 2pm here.
East Bay
1332 Park St STE D, Alameda, CA 94501
For Mother's Day brunch (11:00am-2:30pm) on Sunday, May 8th, Alley & Vine will offer a three-course menu with multiple options including a special kids menu to satisfy all the young ones in tow. Look for celebratory standouts like Dungeness Crab Cake served with a caper remoulade and frisee salad and Manjari Chocolate Pot de Creme.
You can find the Mother's Day brunch menu here ($55 per person) and Kids Mother's Day menu here ($25 per child). Reservations available here.
Other Mother's Day ideas:
Take mom on a hike and, afterwards, stop by any of Gott's Roadside's seven sunny Bay Area locations for a classic burger and a Frosé — a rosé slushie.
Make a reservation to visit the Monterey Bay Aquarium's new Into the Deep exhibit and come home with TCHO Chocolate's limited-edition Deep, Dark & Salty bar, which was created for the exhibit using locally sourced sea lettuce and sea salt. The bar is available in the aquarium gift shop or online at TCHO.com.
Give your coffee-loving mom some beans from second-generation Italian coffee roaster Mr. Espresso. In addition to its award-winning whole beans, Mr. Espresso's single-serving Steeped coffee, which can be steeped in hot water (like tea!), is an easy, sustainable way for younger kids to make a delicious cup of coffee for mom all by themselves.