Little Red Door is a speakeasy cocktail bar in La Marais, a trendy area of Paris filled with great restaurants, bars, and plenty of shopping. The bar team rotates their cocktail menu every few months, featuring unique combinations unlike anywhere else.
My boyfriend, Jordan, and I were in Paris over the holidays. There are a variety of speakeasy bars throughout the city, and Little Red Door came as a recommendation from a friend. It's also included on a couple of different lists we saw. We arrived at 11:30pm on Friday, December 27th, and there was a long line to get in, comprised mostly of American tourists. We thought immediately that it must have been some kind of tourist trap (never a good sign when there aren't any locals in sight), but decided to stick it out regardless. Because of the line, we figured it would be crowded inside, but soon found out that they only allow as many people in as there seats to sit. After about thirty minutes of standing in line (and after having made a couple of new friends in said line; two of them in one of the photos attached), we entered through the door to the left of the little red door. We were hoping to go through the red door itself, but it was a bit too small (hence the name of the bar — LOL). 
Similar to Trick Dog, the bar team comes up with a completely new cocktail menu concept every few months. The printed menus themselves (or shall I say books?!) are extensive and a bit intimidating. Hefty size, lots to read through, unfamiliar ingredients and unique combinations. I had a hard time understanding the bartender's French, but he explained their menu concept, "Away With Words," as featuring one single word from 13 different countries. Each ingredient in the cocktail then came from that country, and all somehow tied into the featured word/name of the cocktail. We didn't recognize many of the ingredients listed throughout the menu, so we told the bartender what we liked and he recommended what he felt would be best for us, based on the information we shared. I opted for their Spanish-inspired beverage, the Madrugada, made with Altos LRD Blend, Racines de Suze (root aperitif), Aperitif Wine, and Digestif Berries. Meanwhile Jordan got the Naccman, an Arabic-inspired cocktail made with Fermented Agave, Forbidden Fruit, and Hopps. Both cocktails were perfectly to our liking — and we quickly applauded the bartender for getting our taste spot on with the little detail he was provided. We loved it here and are glad we stopped by, though not sure if we'd feel the need to go back and wait in another long line. Either way, I'm sure I'll be keeping tabs on what kind of fun cocktail creations they come up with next. 
A few weeks back, my boyfriend, Kyle, and I had a date night at The House in North Beach. North Beach is one of my favorite spots in the city, so we were delighted to find this gem tucked away down a side street off Columbus. Once we were seated, we quickly realized we were going to get nice and cozy with our neighbors. The place was very small, so the tables were separated by 2 inches of space and the waiter took our order standing behind our seats. This led to some interesting and juicy eavesdropping on the table next to us (drama, drama)!
We started our meal by ordering Choya umeshu (plum wine from Japan with flavors of ripe apricots, sweet plum, and almond) and Hakkaisan (sake from Japan with flavors of apples and roasted nuts). We both agreed we are Sauvignon Blanc people, but it's always fun to venture out. Our meal came with a complimentary small plate of pickles, which were to die for.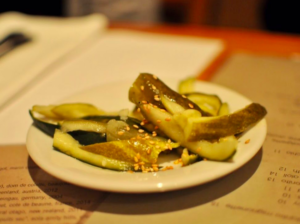 Kyle ordered the warm wasabi house noodles with angus flatiron steak. The thick noodles gave the dish great texture, and the wasabi packed quite a punch. The steak was cooked perfectly medium rare, and the presentation was beautiful topped with cucumber salad and kimchi.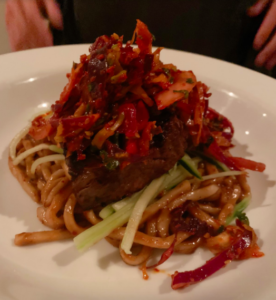 I ordered the chicken breast with roasted mushrooms and white truffle oil. The chicken was presented atop creamy mashed potatoes and a pool of truffle sauce. Crispy veggie strings were piled on top and provided the perfect crunch to finish off the dish. There was not one drop of truffle sauce left on my plate by the end of the meal – it was incredible. It will be hard for me to order any other item on the menu after this dish. 
Overall, The House has to be one of my favorite Asian fusion restaurants in the city thus far.
During a visit to Seattle in December, I headed downtown to try Damn the Weather, a cool "small" (Seattle standards) restaurant that sells itself a little shabby to not be too cool with an awesome cocktail program. Upon arrival, the space was a welcome, warm and festive refuge from the typical Seattle climate (living up to their name!). Our group enjoyed exploring their phenomenal cocktail program and cozy atmosphere. Some of our favorites were the Peruvian Holiday and Curl the Pearl (a cocktail featuring pale ale). We ordered a round of shared starters, including: jalapeño and cheddar hush puppies, cured meats with giardiniera & crackers, and beets & burrata. These were the best and the atmosphere easily felt like we could have hunkered down here all night for drinking!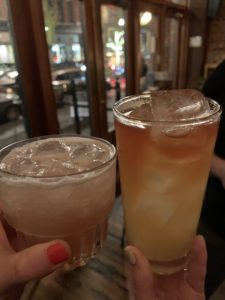 Cocktails:
Peruvian Holiday: pisco, honey, grapefruit, lemon, palo santo
The Woodwork: rey, orange curacao, amargo-vallet, nocino
Espina : tequila, blackberry, elderflower, lime, black pepper
Curl the Pearl: gran classico, cassis, lemon, american pale ale
Starters:
Cured meats with giardiniera & crackers
Jalapeno and cheddar hush puppies
Beets & Burrata 
Entrees:
Grass Fed burger
Pan roasted black cod
Mushroom gumbo
Spaghetti ragout
Eggplant fettuccine