For my birthday this year, I decided to celebrate the weekend in Seattle. Throughout the twenty years I lived in Oregon, I somehow never made my way to explore Washington – and let's face it, the foodie scene is really blowing up there. Naturally, we spent the weekend eating and drinking our way through the city, and below I outline a couple of the spots that made a lasting impression. For this write up, I focus only on the cocktails – I mean who doesn't love a great cocktail?
Stateside: We came here for my birthday dinner. I started off with a Pineapple Margarita (mezcal, plantation pineapple rum, sour pineapple, triple sec) – the mezcal is what really caught my eye this one. I also tried the classic coconut drink, simply called "The Coconut" – and yes, it's served in a whole young coconut with an umbrella on top. The drink also mixes rum, lime leaf and galangal. This fits their tropical interior perfectly. We continued the cocktail celebrations at their bar next door, Foreign National, where, of course, I tried another mezcal cocktail.
East Trading Company – We came here for cocktails. It's a newer spot with a zodiac theme throughout, including twelve cocktails for all twelve zodiac signs. I opted for the Year of the Rooster (gin, aperol, smith & cross, honey chartreuse, grapefruit & lemon, lemon berry sage syrup, brut, butterfly pea flower tea) – but only because I was born the year of the Rooster. As cool as I thought the concept would be, I unfortunately didn't end up enjoying the drink.
The Hart & The Hunter – We came here because this was the restaurant below our hotel. We were staying at the new Palisociety hotel on our last night and figured we would begin the evening with a cocktail and oysters. While the service was not great, I loved my Elliot Bay Gibson cocktail (oyster shell-infused Plymouth gin, blanc vermouth, fino sherry, maldon, bay leaf olive oil, onion). A smooth, savory beverage and the perfect complement to our oysters. Next time, I'll try their famous butter biscuits.
Knee High Stocking Co. – We came here for the cocktails and speakeasy atmosphere. As with other speakeasies, this was a very unassuming bar. I wouldn't have known it existed hadn't someone told me about it. I was craving another savory cocktail, which they unfortunately did not have. I ended up ordering an off the menu drink and simply asked the bartender to surprise me. He mixed a gin-based cocktail similar to a cucumber martini and I loved it!
Chan – We came here because we were craving chicken wings, and the ones we got were quite possibly the best wings I've ever had. None of the cocktails were calling my name, so we ended up trying their house-infused soju flight, which came with five different infused soju. I ended up only really enjoying one of five flavors – the Earl Gray.
This past Labor Day weekend, I had the opportunity to visit Washington D.C. It was my second time exploring the city — this time around, the food was what I was most excited for. Naturally, I made a D.C. "hit list" before heading back East. I won't bore you with all the details, but rather highlight a couple of different places I found particularly unique and outstanding in their own ways.
La Vie – We came to La Vie for the cocktails, but of course had to order a couple of bites to go along with our drinks. I tried both the Cucumber Nasturtium Martini (vodka, dry vermouth, cucumbers, nasturtium) and Relaxed Coconut (Don Julio Reposado, coconut water, corazon bitters). These were both listed under the "Strong, Don't Drown" section of the cocktail menu, which I thought would be perfect given that I tend to gravitate more towards spirit forward and less towards sweet. They were exactly what I wanted — strong but not too strong, crisp, simple. The presentation was gorgeous. For quick eats, we tried the Crispy Brussels (charred brussel sprouts, coriander, honey lemon yogurt) and Truffle Mac n Cheese. To our dismay, we were not ecstatic about either of the bites. Luckily we already had made dinner plans to follow. If you're ever in the area, I would recommend going here just for the sheer beauty and ambiance of the restaurant and bar. The space is sprawling across the fifth floor of a waterfront high rise, overlooking the new D.C. Wharf District. Its varying rooms and aesthetic of each are really something else. Some of the seafood dishes looked delightful as well.

Tail Up Goat — With its eclectic pasta presentations, open face bread options, and unique bar program, Tail Up Goat climbed to the top of my D.C. hit list. Unfortunately, however, they did not have any reservations available throughout the entire weekend. We refused to miss out on this one, so my group of four ended up going at 9:30pm on a Sunday. They close at 10pm. Yes, we were those people, and no, I did not feel good about it. But the good news is, we were able to sit right away (and we were not even the last ones trying to get in). The restaurant is located on a poorly lit side street within the rather residential Adams Morgan neighborhood. The restaurant exterior is unassuming to say the least. We even had a hard time finding it. There is nothing outside of the restaurant to clearly indicate that it exists — it's next to a One Medical office and other homes, with outdoor signage that is almost nonexistent. When we made it inside, the space was almost as dark as it was outside. We sat down at the bar immediately as there were no tables available. One of the owners was there and periodically checked in with my group. She provided us with some of the context behind their newly opened concept and my friend realized that she had met one of the chefs in the Virgin Islands — what a crazy, small world we live in! We tasted a variety of different plates and cocktails and loved each one. To start, the cocktails were strong, seasonal, and well-balanced, yet a bit too far on the sweet side for my taste. I tried the Musetta's Waltz (mezcal, palo cortado sherry, lime, falernum and ginger beer) and Milko & Honey (barrel-aged gin, lemon, lavender-turmeric-infused honey). Some of the dish highlights included: Roasted Carrots (I seriously couldn't stop eating these), Red Fife Brioche (chicken liver mousse, orange and plum jam), Farro Sourdough (eggplant, yogurt, grilled radicchio, hazelnut picada, farro miso), Capunti (tuna conserva, chicories, nebechan, charred lemon, sumac, smoky + cheesy breadcrumb), Pappardelle (spicy pork ragu, spicy kohlrabi, porky breadcrumbs), and Bone-In Pork Chop (collard greens, bacon, rutabaga, cauliflower, nasturtium gremolata, benne seeds). My mouth is still watering thinking about the Pappardelle! Can't wait to go back, but next time I'll reserve a table far in advance.
Milk Bar — I'm a sucker for a great dessert — sometimes I think I could eat sweets during all meal periods. I had been dreaming of Christina Tosi's treats ever since I first saw her episode on Chef's Table. Everything about her Milk Bar locations screams adorable, delicious and craveable. The pink branding and simple white space throughout aligns perfectly with what they're all about. While there, I tried the Cereal Milk Soft Serve ice cream (of course I opted for extra crunch, because how could you not?), and every single cookie sold. You read that right. Every. Single. Cookie. The lineup included the Confetti Cookie (sugar cookie, birthday sprinkles, birthday crumbs), Compost Cookie (pretzels, potato chips, coffee, oats, graham cracker, butterscotch, chocolate chips), Corn Cookie (pretty much just corn), Cornflake Marshmallow Cookie (cornflakes, marshmallows, mini chocolate chips), Chocolate Chocolate Cookie (chocolate cookie dough, chocolate crumbs, salt), and the Blueberry & Cream Cookie (sugar cookie, milk crumbs, blueberries). Everyone raves about the Compost Cookie, but to my surprise, I ended up liking the Blueberry & Cream Cookie the best. I definitely need to go back to taste through Christina's cakes and ice cream shakes. I may just splurge and order a cake or two in the meantime…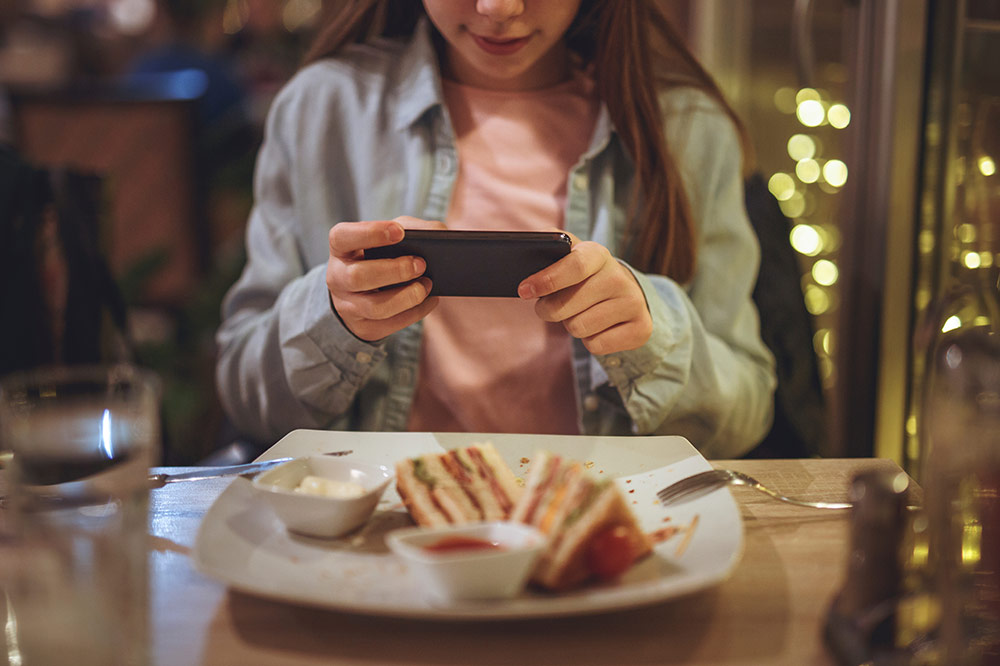 Millennials–you can love them or hate them, but if you're in the hospitality industry, you simply can't ignore them. They've surpassed baby boomers this year as the largest living generation, which means they also have the most collective disposable income to spend on dining out and taking trips. Their purchasing patterns, values and behavior have been analyzed and dissected for years by now, and every restaurant or hotel worth its salt has a strategy in place to bring them in.
But what about Gen Z? It may sound premature, but despite not yet being old enough to legally consume alcohol, those born after 1995 are already making their presence felt in the hospitality industry. They spent $78 billion at restaurants in 2016, and according to a recent QSR article, it's not too soon to start devising a strategy to appeal to Gen Z. However, there are a few important ways that strategy needs to differ from how the industry approaches millennial customers.
Unlike their millennial counterparts, Gen Z has never known a time without smartphones–this includes their dining experiences. While millennials may remember having no choice but to call for reservations, much of Gen Z has likely never placed a phone call for a reservation. Instead, they're used to interacting with apps or tablets. Their comfortability with technology permeates every aspect of the dining experience, even before they enter the restaurant. As such, smart restaurant owners understand that they need to stay ahead of the curve when it comes to technology. A seamless mobile web experience is a basic requirement and a presence on their favorite food delivery apps, like Caviar or DoorDash, is even better–but the golden ticket is a well-designed, easy to use proprietary app that actually enhances the dining experience and fosters brand connection, even when a Gen Z diner is not in the restaurant.
Another key difference is Gen Z's diversity, both in their demographic makeup and their menu expectations when dining out. Gen Z is the most diverse generation ever, with only 54% in the U.S. identifying as Caucasian. This also naturally influences their tastes and preferences, with fusion cuisines being hugely popular. But just blending various global flavors isn't enough–Gen Z-ers, like millennials, also care deeply about authenticity, nutrition and environmental impact. They want to know where their food comes from, how healthy it is, and if it's an accurate representation of that particular culture's cuisine.
Although they share some similarities, Gen Z presents a set of unique challenges for the hospitality industry. The restaurants who are forward-thinking enough to capture this emerging group will be rewarded for their foresight in the long run.