The Restaurant and Hospitality Industry Responds to Crisis
Andrew Freeman
April 2020
If you had told me on March 1st that this month would be unlike anything we have ever experienced, I'd ask who made your cocktail and consider avoiding that particular establishment. It is now April 6th, and there are no open bars or restaurants to have that conversation or a laugh with a cocktail and perfectly paired bite. As I write this, more than seven million workers have been laid off. Millions more who contribute to the restaurant industry, from farmers to beverage suppliers and delivery people are facing immediate uncertain futures. Local, independent restaurants represent 13 million employees nationwide, and $1 trillion contributed to our economy. They are experiencing challenges like never before in the face of circumstances beyond our wildest imaginations.
2020 began with a promising start for all of us at af&co. while we prepared to (and still plan to) celebrate our 15-year anniversary. In January, Candace and I were thrilled to announce the spin-off of our very successful consulting services division into a new sister company, Carbonate. On Monday, March 2nd, we announced and were celebrating af&co.'s merger with Ellipses PR. Just two days later, Coronavirus rumblings began and by Thursday, we began advising clients on messaging around reactions and started discussing the possibility of cancelling a few upcoming events. By Friday, we were grappling with the potential – which almost immediately became the reality – of shuttering restaurants, furloughing employees and going to delivery and take-out only models.
By the following Monday, we were all sheltered in place, realizing that in one week, we'd essentially experienced a global earthquake. The immediacy of this crisis came without warning and has shaken us to the core. The fires and floods of the last three years have shown us what catastrophe entails on a smaller scale, and we've responded with resilience. We learned the hard way that our industry still remains fragile to the ebbs and flows of people coming and going, and that when something stops people from moving, restaurants and hotels experience this first and are hit hardest. That ripple effect extends to everyone who supports the industry. The experiences of recent years helped us stand up immediately to this unprecedented challenge.
Still, as we push forward, it is not without sadness for the loss of so much so fast. I feel for the clients we support. I feel concerned for people and their health and have a newfound fear of touching the elevator button in my apartment building. I strategize 24/7 about how we are going to recover financially (and mentally) and yearn for the day when I can get a haircut and manicure again. As an extroverted gay man (just in case you didn't know), I am used to being surrounded by inspiring and interesting people and being able to give and receive hugs, all while dressed to the nines. I haven't worn a bowtie in three weeks! I miss having delicious meals and drinks at incredible restaurants, enjoying the theatre, spending time with my friends and meeting new people (aka dating). I miss having dogs — this would be the perfect time to be snuggling with Daisy and Tulip. I am happiest as a helper, and I miss taking care of others. I am feeling frustrated that I am not in a position to do that now, at least for the short term, although our number one goal is helping our clients make it through all of this! Boutique agencies are like family, and I am hopeful about bringing ours back together.  We have shared so many major life moments and victories and are surely due for more.  
The hospitality industry's reaction to Coronavirus is inspiring. We immediately came together to continue doing what we do best in new and different ways, and I'm realizing that this is just the beginning. Our clients have risen to the challenge while making difficult decisions to navigate this new landscape. Some have found creative ways to stay open by creating lunch boxes and brunch kits, and executing corner store collaborations. They have brought these ideas to life and literally delivered them in less than a week's time. Others have decided to temporarily shutter and focus on recovery efforts to reemerge when the time is right. We are truly thankful to the media for covering who is open, who is offering take-out and delivery, and other ways that consumers and the government can get involved.
The immediate rally within the restaurant and hospitality community is what makes our industry so resilient and a huge global family. What is also amazing, while we sort through the rubble of our own businesses, is that we are simultaneously looking to provide aid to those in need. The Golden Gate Restaurant Association,  The James Beard Foundation and the Independent Restaurant Coalition, to name just a few, have responded nearly overnight to take care of our employees, their families, and the bravest on the front lines who are supporting those who are sick.  
I am inspired by people like José Andrés, whose World Central Kitchen non-profit is setting up field kitchens with relief teams to provide nearly 100,000 fresh, nourishing, often hot meals every day across the country through #ChefsForAmerica. They have also collaborated with local restaurants in various cities on an initiative called Frontline Foods, that provides meals to medical professionals. Media outlets like EATER, SFist, Food & Wine and The Infatuation have compiled lists of relief funds for restaurant and food service employees while restaurant groups have started their own GoFundMe pages and gift card campaigns to raise much needed funds for displaced employees which have been supported by their loyal customers.
Here at af&co. and at our partner-company Carbonate, like our industry family, we are warriors. Like our clients, we are survivors. From 9/11 to the economic downturn, fires and floods, we have learned how to be resilient, hopeful and committed. I believe that we all will emerge stronger and wiser with the lessons we are learning now. Now that the initial shock has hit, we are working with our clients and the industry at large to focus on what we will do to recover, rebuild and reemerge. We have moved to creating comeback plans and programs. I worked with the Carbonate team to create three resources that we will share in the next few days: Brand Marketing in the Time of Coronavirus, The Effect of Shelter in Place on Food & Beverage Trends, and Turning on a Dime: New Operating Models. All three will be available on the Carbonate website. 
I must acknowledge the af&co. and Carbonate teams that have been working tirelessly through this crisis. You have my endless gratitude for your insights, passion, commitment and the sacrifices you are making right now. Knowing what I know (I'm old!) from more than 20 years in the hospitality and travel industry, I am confident that we will get through this trying time. The Disney Princess in me (no comments please!) says a whole new world of hospitality awaits, and it will be all the more magical when it does.  
Wishing you all the best. Stay healthy, friends.
– Andrew
P.S. If you'd like to set up a virtual cocktail and a chat, I'd love to know what's in your drink and on your mind. Email me at andrew@afandco.com. I am looking for every opportunity to get out of these pajamas. Also, stay tuned for weekly updates through the af&co. website's News You Can Use, and follow us on Facebook and Instagram.
Little Red Door is a speakeasy cocktail bar in La Marais, a trendy area of Paris filled with great restaurants, bars, and plenty of shopping. The bar team rotates their cocktail menu every few months, featuring unique combinations unlike anywhere else.
My boyfriend, Jordan, and I were in Paris over the holidays. There are a variety of speakeasy bars throughout the city, and Little Red Door came as a recommendation from a friend. It's also included on a couple of different lists we saw. We arrived at 11:30pm on Friday, December 27th, and there was a long line to get in, comprised mostly of American tourists. We thought immediately that it must have been some kind of tourist trap (never a good sign when there aren't any locals in sight), but decided to stick it out regardless. Because of the line, we figured it would be crowded inside, but soon found out that they only allow as many people in as there seats to sit. After about thirty minutes of standing in line (and after having made a couple of new friends in said line; two of them in one of the photos attached), we entered through the door to the left of the little red door. We were hoping to go through the red door itself, but it was a bit too small (hence the name of the bar — LOL). 
Similar to Trick Dog, the bar team comes up with a completely new cocktail menu concept every few months. The printed menus themselves (or shall I say books?!) are extensive and a bit intimidating. Hefty size, lots to read through, unfamiliar ingredients and unique combinations. I had a hard time understanding the bartender's French, but he explained their menu concept, "Away With Words," as featuring one single word from 13 different countries. Each ingredient in the cocktail then came from that country, and all somehow tied into the featured word/name of the cocktail. We didn't recognize many of the ingredients listed throughout the menu, so we told the bartender what we liked and he recommended what he felt would be best for us, based on the information we shared. I opted for their Spanish-inspired beverage, the Madrugada, made with Altos LRD Blend, Racines de Suze (root aperitif), Aperitif Wine, and Digestif Berries. Meanwhile Jordan got the Naccman, an Arabic-inspired cocktail made with Fermented Agave, Forbidden Fruit, and Hopps. Both cocktails were perfectly to our liking — and we quickly applauded the bartender for getting our taste spot on with the little detail he was provided. We loved it here and are glad we stopped by, though not sure if we'd feel the need to go back and wait in another long line. Either way, I'm sure I'll be keeping tabs on what kind of fun cocktail creations they come up with next. 
A few weeks back, my boyfriend, Kyle, and I had a date night at The House in North Beach. North Beach is one of my favorite spots in the city, so we were delighted to find this gem tucked away down a side street off Columbus. Once we were seated, we quickly realized we were going to get nice and cozy with our neighbors. The place was very small, so the tables were separated by 2 inches of space and the waiter took our order standing behind our seats. This led to some interesting and juicy eavesdropping on the table next to us (drama, drama)!
We started our meal by ordering Choya umeshu (plum wine from Japan with flavors of ripe apricots, sweet plum, and almond) and Hakkaisan (sake from Japan with flavors of apples and roasted nuts). We both agreed we are Sauvignon Blanc people, but it's always fun to venture out. Our meal came with a complimentary small plate of pickles, which were to die for.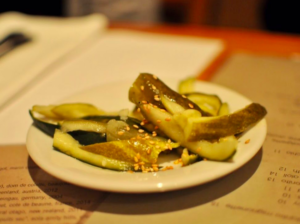 Kyle ordered the warm wasabi house noodles with angus flatiron steak. The thick noodles gave the dish great texture, and the wasabi packed quite a punch. The steak was cooked perfectly medium rare, and the presentation was beautiful topped with cucumber salad and kimchi.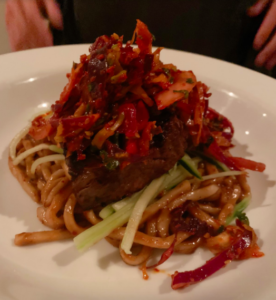 I ordered the chicken breast with roasted mushrooms and white truffle oil. The chicken was presented atop creamy mashed potatoes and a pool of truffle sauce. Crispy veggie strings were piled on top and provided the perfect crunch to finish off the dish. There was not one drop of truffle sauce left on my plate by the end of the meal – it was incredible. It will be hard for me to order any other item on the menu after this dish. 
Overall, The House has to be one of my favorite Asian fusion restaurants in the city thus far.